Recipes
Sour Cherry and Mascarpone Croissants
I cannot adequately describe just how delicious these are, but I'll try. Light, flaky and buttery croissants are the canvas for the bite of sour cherry spread that is counterbalanced by the mellow creaminess of mascarpone cheese. Add in butter, cinnamon and nutmeg and you have a tasty dessert for your outdoor party or perhaps the best breakfast treat you'll ever make. Either way, they are simple, fun and yummy.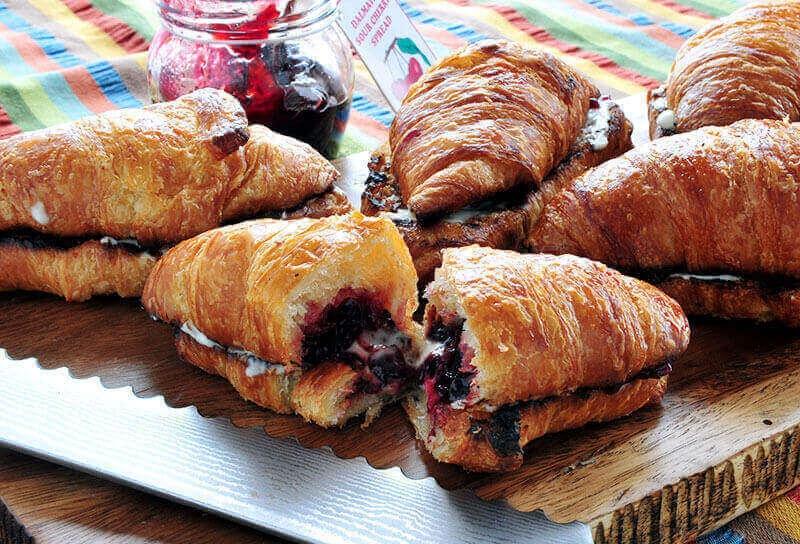 ---
Ingredients
2 teaspoons sugar
1/4 teaspoon ground cinnamon
1/4 teaspoon grated nutmeg
6 mini butter croissants
3 tablespoons butter, melted
About 4 ounces mascarpone cheese
About 4 ounces sour cherry spread (I used Dalmatia Sour Cherry Spread, which I found at the cheese counter)
Directions
Prepare a gas grill, charcoal grill or hybrid grill for direct grilling at about 400ºF.
Combine the sugar, cinnamon and nutmeg to make a seasoned sugar. Slice the croissants open — but not all the way through — so they can lay flat like butterflies on the grill. Brush the sliced faces of the croissants with melted butter and sprinkle liberally with seasoned sugar.
Grill the croissants, buttered-side-down for a few minutes until warmed through and nicely marked. Remove from the grill, spread a spoonful of mascarpone cheese on one side of each croissant and a spoonful of sour cherry spread on the other. Close and serve warm (with extra napkins).