Recipes
Smoked Mozzarella Pizza with Asparagus Ribbons, Orange Wedges and Vermouth Butter Sauce
This is one of my new favorites. I wish I could craft the right words to describe the tastes, but I can′t. You′ll have to try it yourself.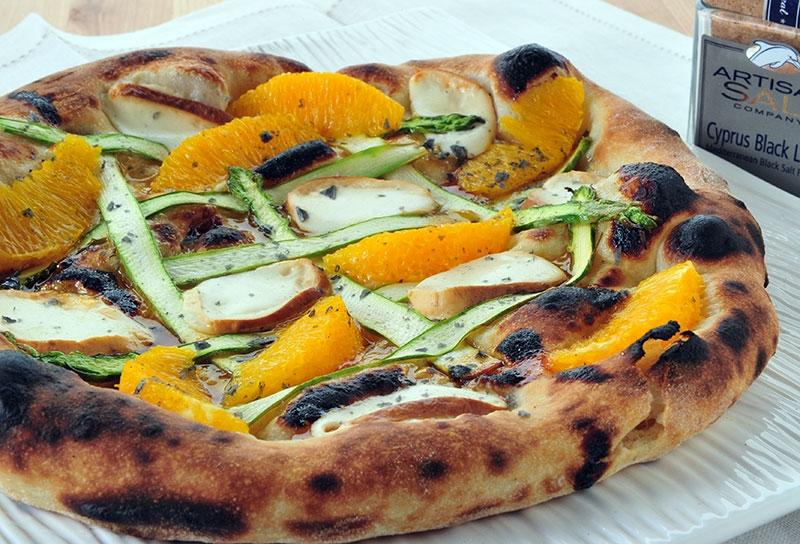 ---
Ingredients
1/2 batch White Wine Pizza Dough, about 14 ounces
1 1/2 cups dry vermouth
2 seedless oranges
1 tablespoon unsalted butter
3 thick asparagus spears
Extra virgin olive oil
3 ounces smoked mozzarella, sliced
Flaky sea salt (I used Cyprus black lava salt, but Maldon is also good)
Directions
Prepare the pizza oven or grill for baking pizza.
Bring the vermouth to a boil along with 1/4 cup orange juice squeezed from 1 of the oranges. Reduce over medium-high heat for about 20 minutes, or until it becomes a thick syrup. Immediately before use, whisk in the butter.
While the vermouth mixture is reducing, cut the bootom third off the asparagus spears and discard. Cut the asparagus spears into ribbons about 2mm thick. I think a mandolin is the best tool for the job, but a vegetable peeler can also be used. Reserve them on a plate drizzled with olive oil.
Cut the remaining orange into sections (supremes) by first cutting off the peel and all white pith. Then remove each section from the orange, leaving behind the membrane that separates each section. Reserve the segments.
Form the pizza dough to about 14″ round and transfer to a pizza prep peel lightly dusted with corn meal. Drizzle on the vermouth sauce and top with mozzarella, asparagus and orange segments.
Bake the pizza until the crust is golden brown and the toppings are hot. At 500 degrees it should take about 10 minutes. At 750 degrees it will take only about 3 minutes.
Remove the pizza from the oven and sprinkle on a couple pinches of salt, crushing the flakes between your fingers.