Recipes
Smoked Fried Chicken
This southern classic doesn't have to create a mess in your kitchen, or leave you with an abundance of used oil to discard. Packed with tons of flavor coming from the seasoning, and the hickory smoke, this chicken is crispy, and delicious. This is a must try the next time you fire up your Shokunin or Hybrid Fire Grill.
---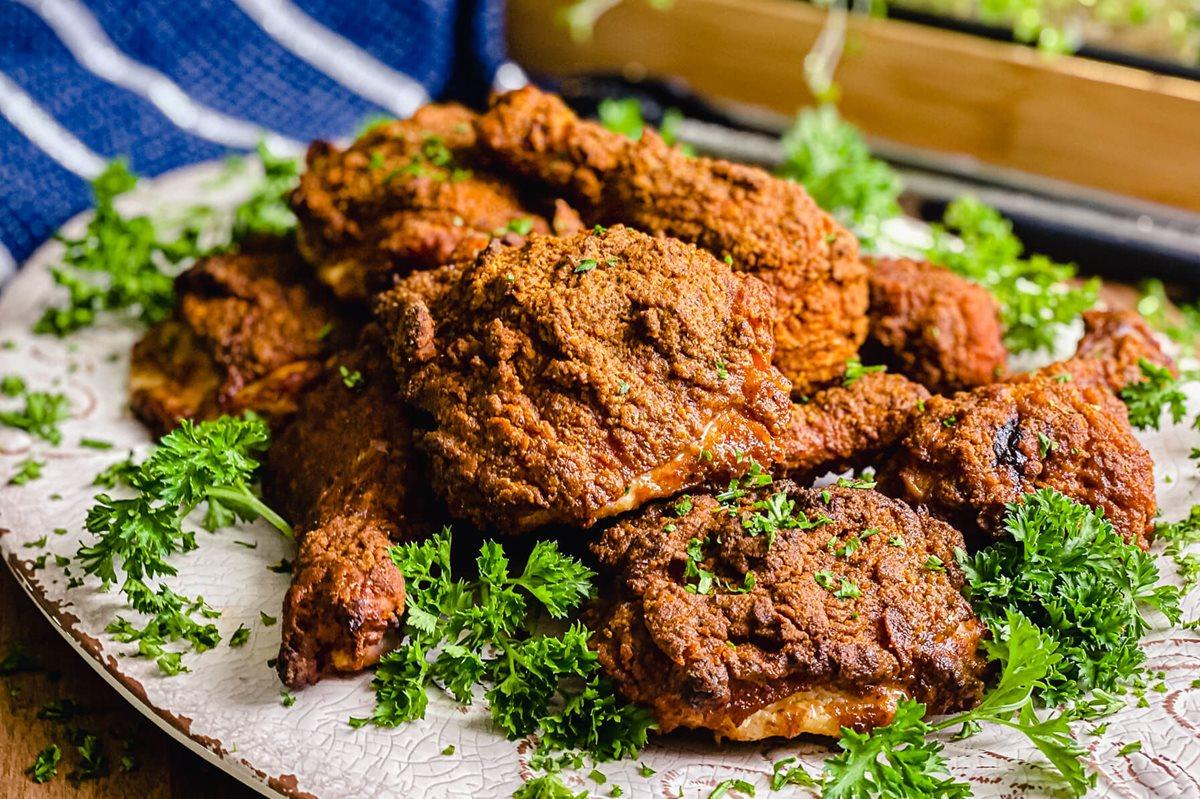 ---
Ingredients
Chicken
5 lbs chicken thighs and drumsticks
1 ½ cups butter milk
1 tablespoon kosher salt
Cooking spray
Parsley for garnish
3 tablespoons honey, optional
Wash
3 extra large eggs
½ cup buttermilk
Seasoning
1 cup all purpose flour
1 cup semolina flour
⅓ cup corn starch
4 tablespoons paprika
2 tablespoons garlic powder
2 tablespoons white pepper
1 tablespoon mustard powder
1 tablespoon ground black pepper
1 tablespoon celery salt
2 teaspoons kosher salt
2 teaspoons dried thyme
2 teaspoons dried sage
1 teaspoon cayenne pepper
1 teaspoon oregano
¼ teaspoon sumac
Directions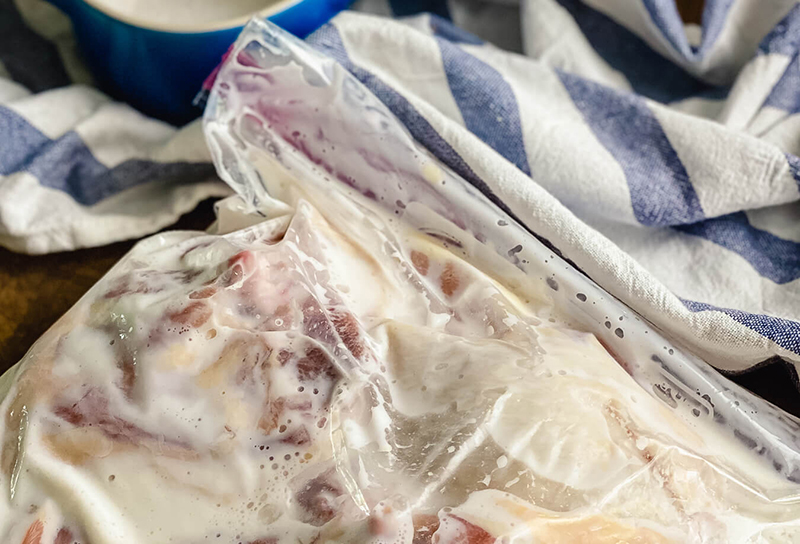 Place your chicken in a sealable plastic bag and add buttermilk and salt. Allow to marinate for at least 2 hours, overnight is preferable. Light your Shokunin Kamado grill and set it up for cross flow roasting, establishing temperature at 400°F. While your grill is preheating, prepare the chicken.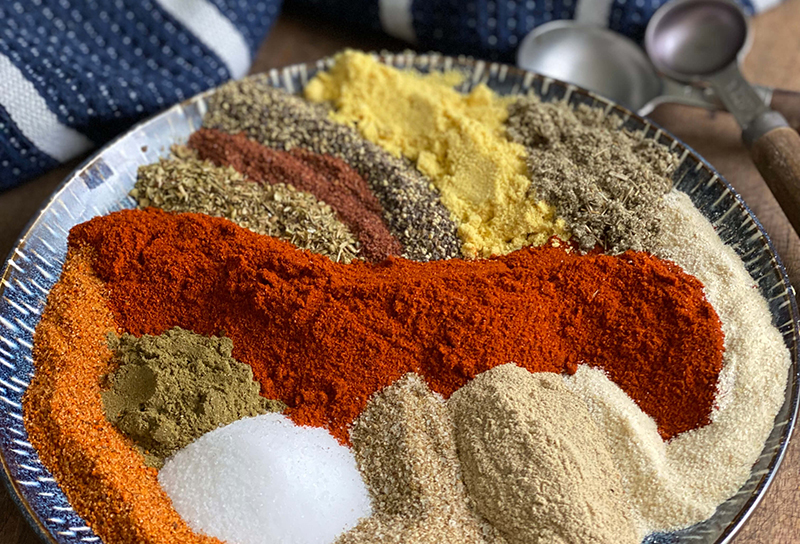 Start with whisking the wash ingredients together in a mixing bowl. In a second mixing bowl, whisk together all of the seasoning ingredients. Remove chicken from the marinade and allow any excess buttermilk to drip off. Place one piece of chicken at a time in the seasoning mix to coat it, then transfer the chicken to the wash to coat it before again coating it with the seasoning. Place the chicken on a wire cooling rack leaving at least one inch of space between pieces.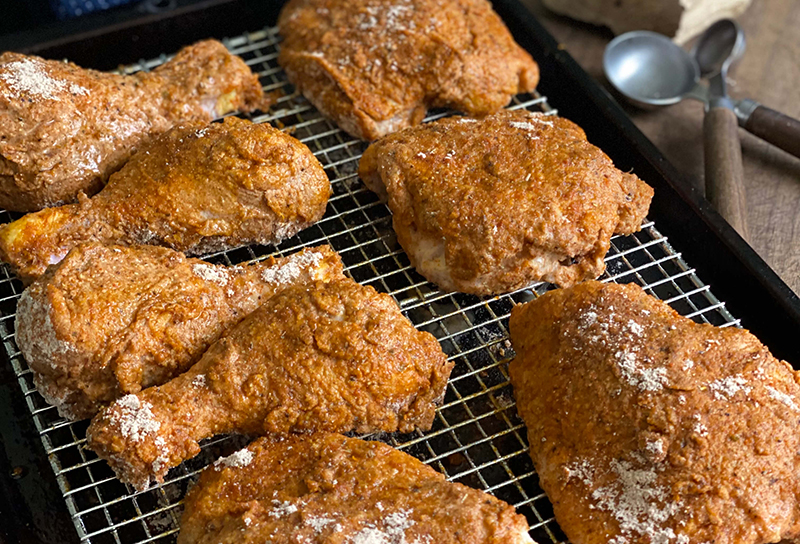 Repeat this until all the chicken is coated and discard leftover marinade, wash, and seasoning. Allow the chicken to sit for about 20 minutes, until the moisture from the wash has soaked into the seasoning.

Tip: Allowing the wash to soak into the seasoning helps it to stick to the chicken during the cooking process.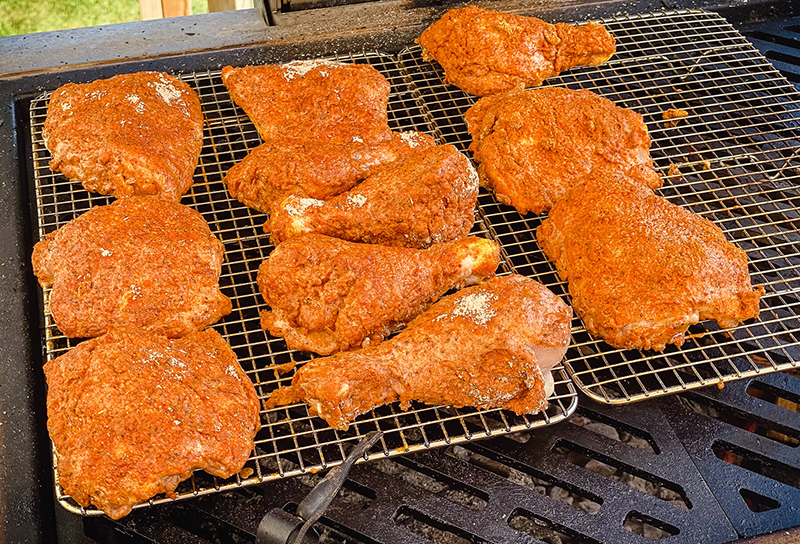 Then, place the chicken on the grill over indirect heat, close the lid and allow the chicken to smoke roast for 15 minutes. Open the lid, spritz the chicken with a light coating of non-stick cooking spray and turn chicken over.

Close the lid and allow the chicken to smoke roast for another 15 minutes. Then, turn the chicken again, coat with another spritz of cooking spray and allow the chicken to cook for ten minutes.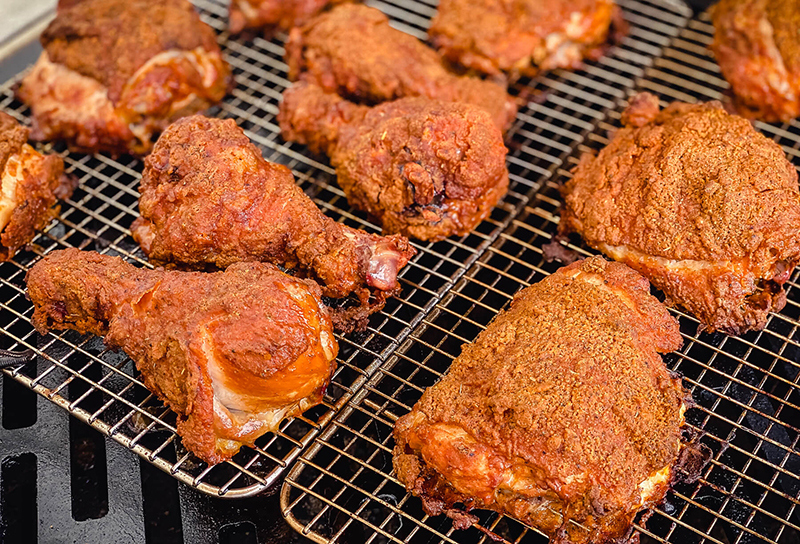 Turn the chicken one last time, coat again with cooking spray and allow to smoke roast for ten more minutes. After a total of 50 minutes, your chicken should be at an internal temperature of about 180°F — perfect for crunchy, and incredibly juicy dark meat chicken.

Plate chicken and dress with parsley for service with optional drizzle of honey.