Recipes
Smoke-Roasted Rack of Lamb with Garlic Rosemary Rub
Alder wood smoke lends its subtle support to this recipe highlighting the tenderness of perfectly-cooked lamb and the flavors of rosemary and garlic.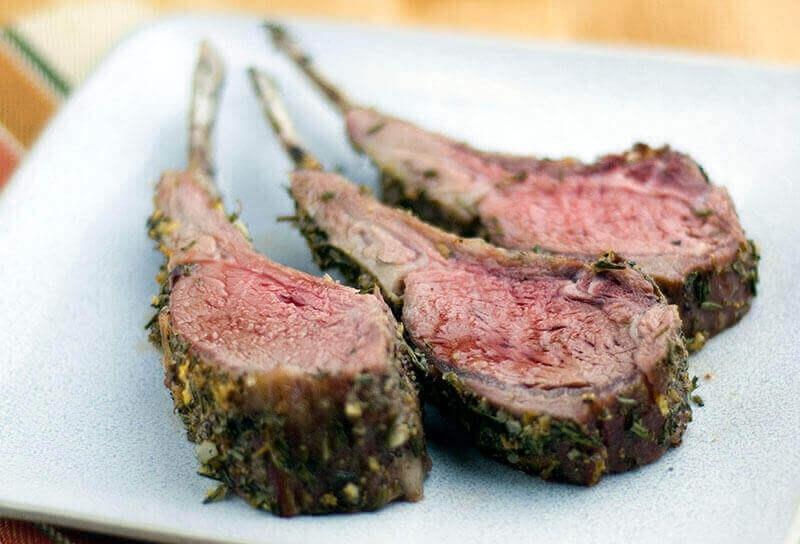 ---
Ingredients
2 racks of lamb, Frenched, 2 to 2 1/2 pounds total
6 large cloves garlic, minced
4 tablespoons fresh rosemary, finely chopped
3 teaspoons coarse sea salt
3 teaspoons coarsely ground black pepper
Garlic Roasmary Rub
Finely grated lemon zest from 2 lemons
Extra virgin olive oil
2 cups alder wood chips, soaked
Directions
Prepare the grill for indirect cooking at 350 to 375°F.Let the lamb racks rest and come up to room temperature for about 20 minutes. While they are doing so, prepare the savory rosemary rub by combining the garlic, rosemary, lemon zest, salt and pepper.Brush the lamb racks on all sides with olive oil. Press the savory rosemary rub onto all sides except the two ends of each rack.
Wrap the exposed bones with aluminum foil to prevent the bones from burning and becoming brittle. Place the lamb racks in the indirect cooking zone with the bone-side down, and the bones pointed away from the heat source. Add the alder wood chips for smoke (learn about smoking techniques) and roast with the hood closed until an instant-read thermometer measures 135 to 140°F, about 30 to 40 minutes.
Remove the lamb from the grill and let it rest for about 2 minutes before slicing. Slice the racks into chops and serve on a pre-heated platter.