Recipes
Smoke-Roasted Leg of Lamb with Gremolata Sauce
This Tuscany inspired leg of lamb could easily replace the prime rib at your next family gathering or holiday dinner. The slow roasting process uses wood smoke to create incredible flavor, and temperature manipulation to achieve the perfect internal doneness and thick external crust.
---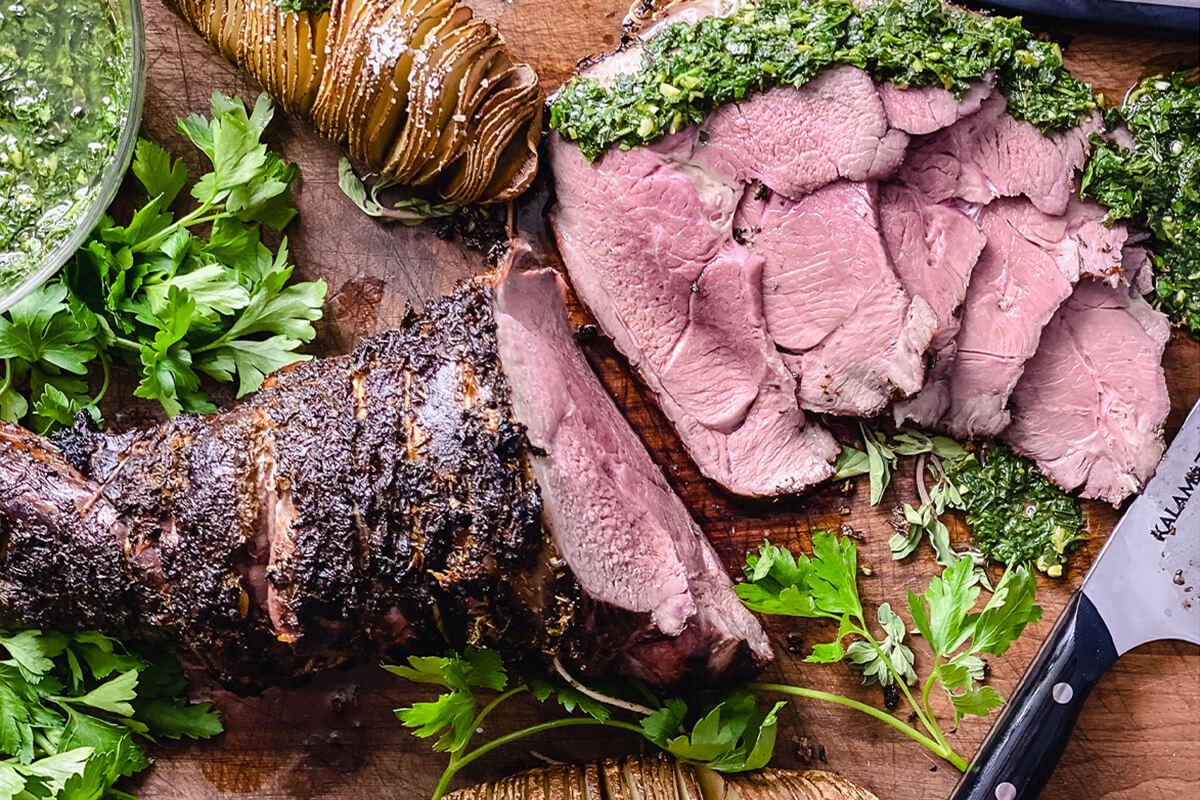 ---
Ingredients
1 leg of lamb, semi boneless 7 pounds
Herb Paste
3 tablespoons fresh rosemary, finely chopped
6 cloves of garlic, finely minced or shredded
1 tablespoon fresh oregano, finely chopped
Zest of one lemon
Juice from one lemon
1 teaspoon kosher salt
2 tablespoons olive oil
Gremolata
1 cup fresh parsley, chopped
½ cup fresh mint, chopped
2 tablespoons fresh oregano, chopped
3 cloves garlic, finely chopped
Zest from one lemon
Juice from half a lemon
¾ cup olive oil
1 teaspoon kosher salt, or to taste
Directions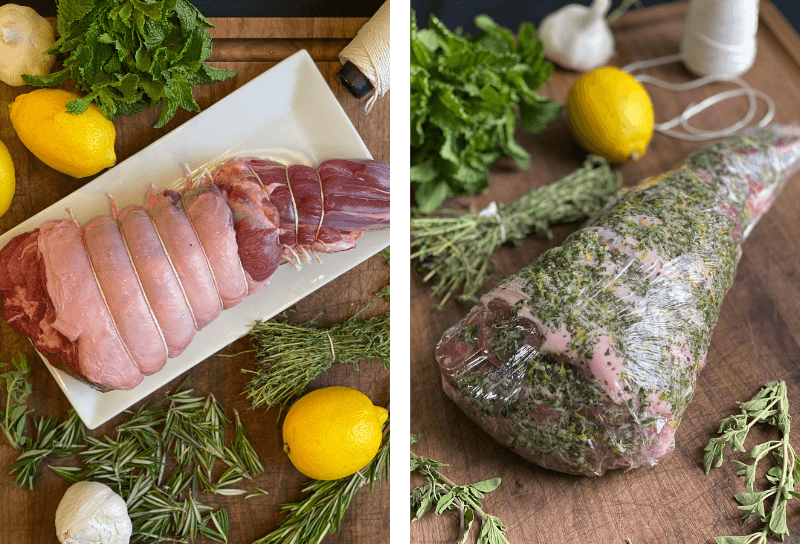 Start by combining the herb paste ingredients with olive oil and mixing together. Tie a series of tight loops around the leg of lamb about every inch or so with butcher's twine in order to maintain its shape. Then, place the leg of lamb on a large piece of plastic wrap and rub the paste over the entire surface of the lamb. Wrap the lamb tightly with plastic wrap, place it on a plate and put it in the refrigerator for three to five hours.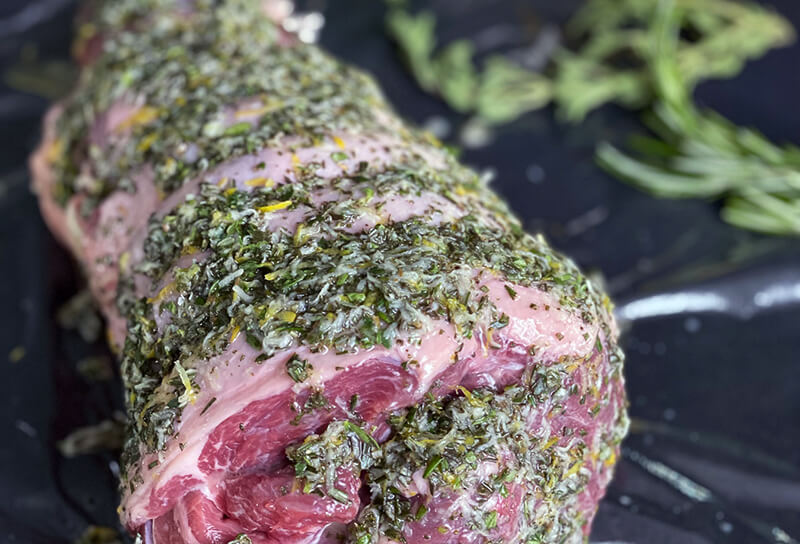 Remove the lamb from the refrigerator, unwrap it while it's still cold, and allow it to sit out at room temperature for 45 minutes while you prepare your Shokunin Kamado. Follow the guide here for cross flow roasting and adjust the vents to achieve 250°F. When the temperature is stabilized, add one oak wood chunk to the hot coals, insert a reliable leave in meat thermometer into the thickest portion of the lamb and place it on the cooking grate on the opposite side of the heat source for indirect cooking.

Tip: Placing the lamb on a cooling rack for roasting makes it convenient to put on and take off the grill.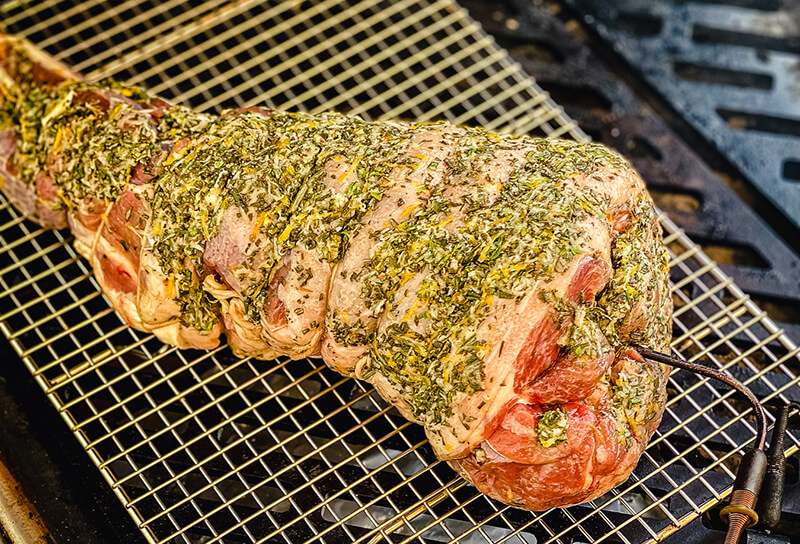 Close the lid on your grill and allow the lamb to slow roast until internal temperature reaches 110°F, about one hour and 20 minutes depending on the size of the leg of lamb. While the lamb is roasting, combine all ingredients for the gremolata in a small bowl and whisk together. Allow it to sit at room temperature until served.

When the lamb has reached the desired temperature, remove it from the grill and leave the lid open for 7 minutes to allow oxygen to stoke the coals. Close the grills lid and adjust the vents to maintain 425°F. Return the lamb to the grill and allow it to roast using indirect heat for an additional 10 - 15 minutes, or until the lamb reaches 130°F internal temperature.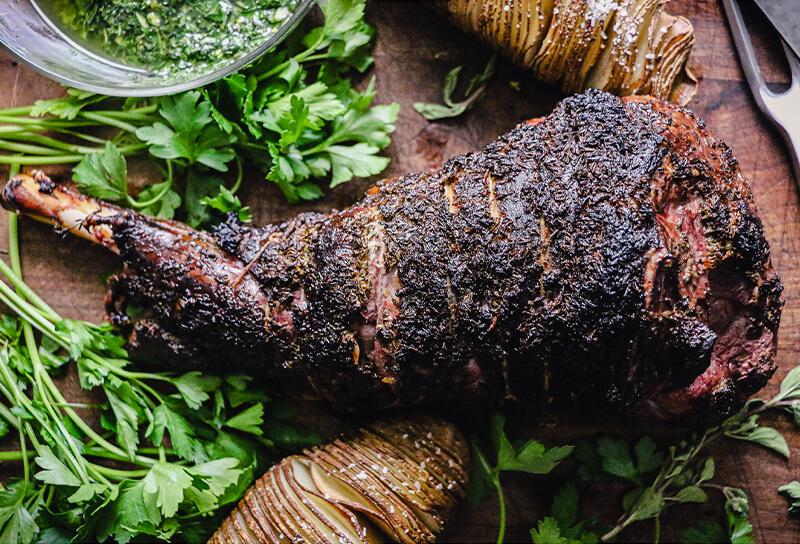 Remove the lamb from the grill, loosely tent it with aluminum foil and allow it to rest for 10 minutes before slicing it with a large slicing knife. Serve with gremolata.