Recipes
Smoke-roasted Ginger Apples
Cored, filled and roasted apples are a Steven Raichlen classic. I have enjoyed creating variations on the theme ever since I had the pleasure of attending Barbecue University years ago. I think this version is ideal for small holiday gatherings with the festive flavor of ginger and rich mascarpone and butter. This quick dessert cooks at the same temperature, with the same grill setup as our Buttermilk-brined Turkey Breast.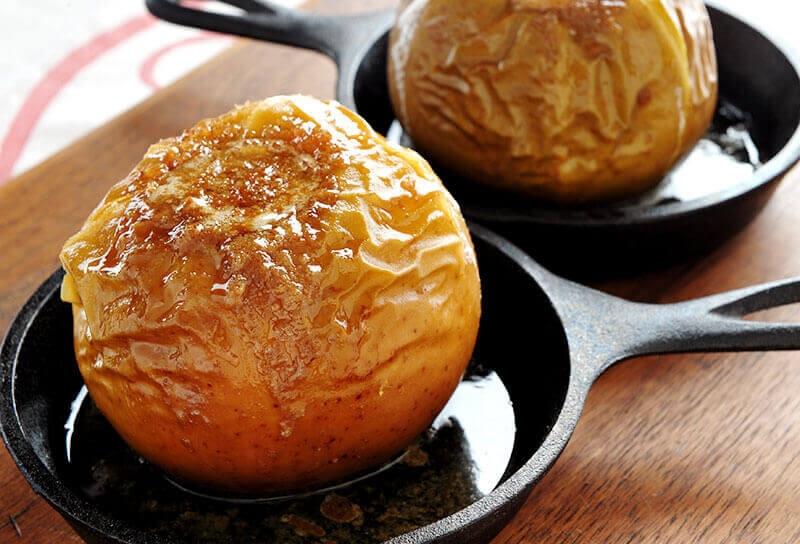 ---
Ingredients
4 large Fuji apples
1 tablespoon mascarpone cheese
1 tablespoon (loosely packed) finely chopped crystalized ginger
1 tablespoon plump raisins
1 tablespoon plus 4 teaspoons light brown sugar
1 tablespoon unsalted butter
Directions
Prepare the grill for roasting (indirect grilling) at 350°F with wood smoke from foil smoking envelopes.
Use a melon baller to core the apples without punching through the very bottom. Work from the top to remove the stem and seeds while keeping the bottom intact to hold the filling.
Stir together the mascarpone and ginger to beak up the small pieces and help prevent them from sticking together. Stir in the raisins and 1 tablespoon of brown sugar. Split this filling into the cored apples. Stuff 1/2 tablespoon butter into each apple and then top with 2 teaspoons of brown sugar in each.
To keep the apples steady, place them in mini cast iron skillets or create foil donuts. You can also purchase grill rings.
Place the stabilized apples in the indirect grilling zone and add a smoking envelope above the direct grilling zone. Close the hood and cook for 1 hour until the apples are soft.