Recipes
Smash-roasted Red Potatoes
My good friend Eric Wolff introduced me to this amazing method for preparing potatoes last summer, and I've been hooked on it ever since. Smashing the potatoes creates thousands of nooks and crannies that become crisp and flavorful when roasted. You can simply make it in the oven, or cook it on the grill like I prefer to do to add a subtle smoky flavor. I've also added some sweet, caramelized shallots to the mix to really amp things up. This is sure to become a go-to side in your entertaining repertoire.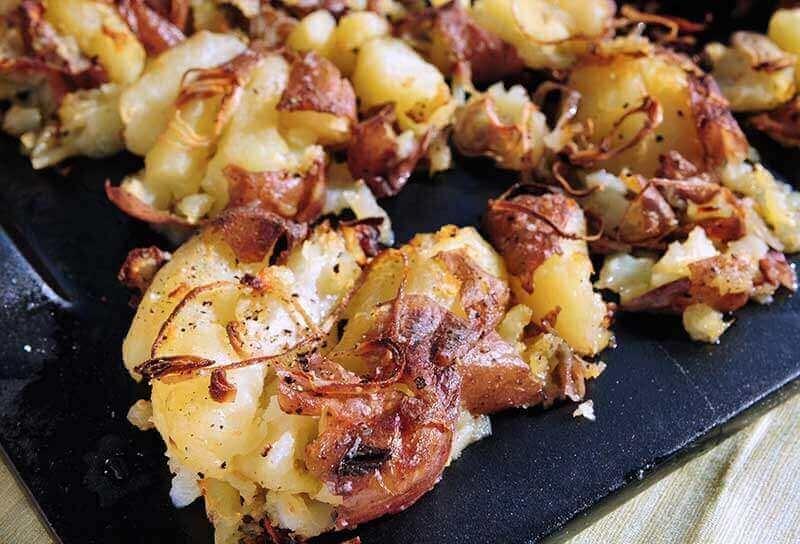 ---
Ingredients
3 pounds red potatoes, washed
Extra virgin olive oil
Kosher salt
Freshly-ground black pepper
1 large shallot, thinly sliced
Wood chips (we prefer to use oak)
Directions
Prepare the grill for indirect grilling at 450° to 500°F with a little wood smoke.
Place the potatoes in a large pot. Fill with water to cover the potatoes by 1 inch. Bring to a boil over medium-high heat, then boil for 20 minutes more. Remove from heat and drain the potatoes.
Place the potatoes on a heavy, grill-safe baking sheet. I like to put them on a Silpat mat placed inside the sheet pan. Smash the potatoes to flatten and break them open. Drizzle generously with olive oil and season with salt and pepper. Distribute the sliced shallots on top.
Place the pan in the indirect grilling zone, add some wood chips to the fire (I suggest oak wood in a smoking envelope) and close the hood. Roast in the indirect zone for 45 minutes, rotating the pan 180 degrees half way through.
Remove from the grill, serve and enjoy.