Recipes
Sliced Sweet Potato Roast
As soon as we saw this recipe from Smitten Kitchen, we knew we had to make it on the grill. A little wood smoke and slightly more intense heat really help bring out extra flavor. We have adjusted the cooking time and temperature so this can be roasted alongside our pesto rolled lamb leg.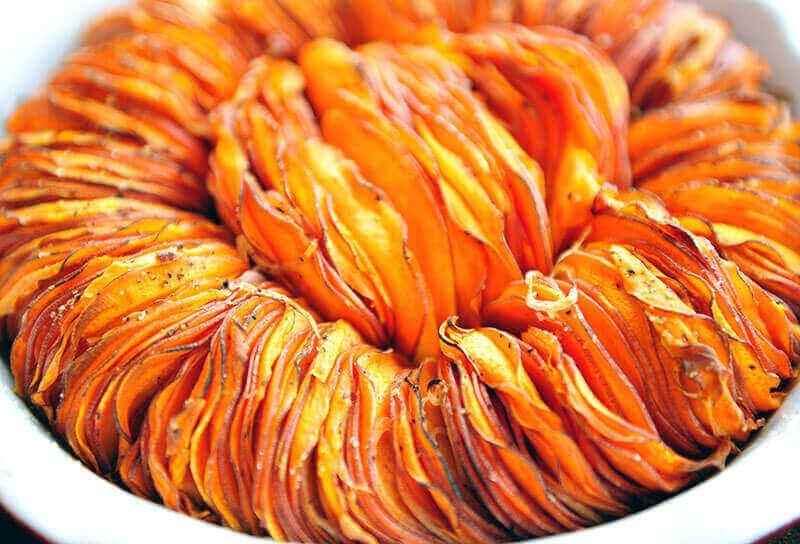 ---
Ingredients
3 pounds garnet yams (skins left on)
1 large shallot, peeled
3 tablespoons melted butter (or use clarified butter to reduce the moisture content, recommended. To make your own clarified butter check out this info from Alton Brown.)
3 tablespoons extra virgin olive oil
Fine sea salt
Fresh-ground black pepper
Directions
Cut off and discard the pointed ends of the yams. Slice the remainder thinly and uniformly. We used our trusty ceramic-blade Kyocera mandolin to make short and precise work of this task, slicing at 0.5mm thickness. Slice the shallot as thinly as possible as well. Reserve.
Prepare the grill for indirect grilling at 450°F. If desired, prepare wood chips for smoking during the final 30 minutes of cooking (recommended).
Whisk together the melted butter and olive oil, and pour about 1/4 of it into an 8-inch round, grill-safe baking dish or cast iron skillet. Spread evenly on the bottom and season liberally with salt and pepper.
Arrange yam slices in the dish, starting around the perimeter. After every 5 or so slices, add a sliver of shallot between yam slices. It is better to add the shallot as you go, rather than trying to insert them after all the yams a layered in place. Once the dish is filled with tightly-arranged slices, brush the remaining butter and oil mixture over the top and season liberally with salt and pepper.
Cover the dish with foil and place in the indirect zone of the grill. Roast, covered, in the indirect zone for 45 minutes. Rotate the dish halfway through for even roasting. Remove the foil cover and continue roasting for 30 minutes more so the edges of the yams become browned and crispy. Remove from the grill and let rest for 5 minutes before serving.