Recipes
Sliced Garlic Baked Potato
I don't know who first came up with the idea for sliced baked potatoes, but it's a great one. Our recipe hides a slice of garlic inside the cuts in the potato and is roasted on the grill for amazing flavor. We top it off with three cheeses and a sprinkling of chives.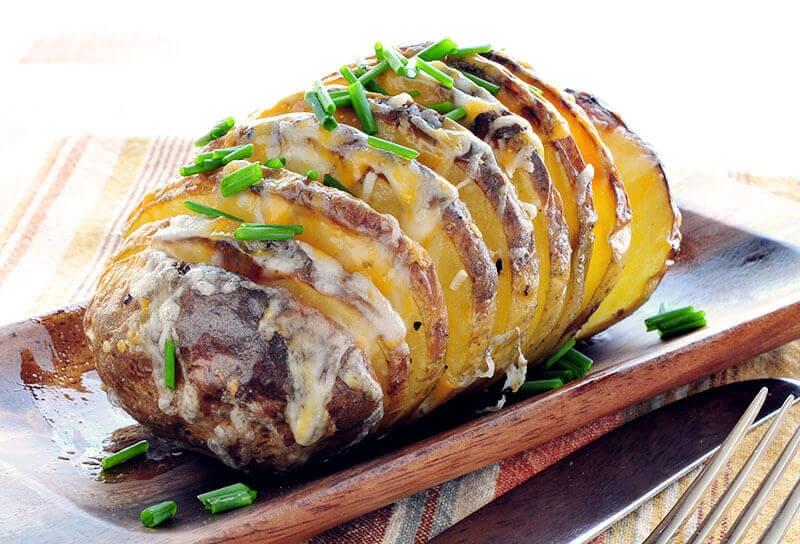 ---
Ingredients
4 Yukon gold potatoes, cleaned
2 large cloves of garlic, sliced very thinly (I use a mandolin)
6 tablespoons butter
Fine sea salt
Coarsely-ground black pepper
1/8 cup grated Parmigiano-Reggiano cheese
1/4 cup grated Asiago Fresco cheese
1/4 cup grated aged cheddar cheese
Chopped fresh chives or thinly-sliced green onions
Directions
Prepare the grill for indirect grilling at 500ºF. (If you are making the Tomahawk Chops with Grilled Mushrooms and Garlic Scapes, start the potatoes in the grill 30 minutes before starting the chops on the grill.)
Slice the potatoes into 1/4-inch thick slices without going all the way through. A good tip is to place old wooden spoons on each side of the potato when slicing to keep the knife from going all the way down to the cutting board.
Depending on how many slices of garlic you were able to cut, place a slice of garlic into each slit or every other slit in each of the potatoes.
Melt 3 tablespoons of the butter. Brush onto the outsides and into the slits in the potatoes. Season the outside and inside the slits with salt.
Place the potatoes directly onto the grill grate (slits-up) in the indirect zone. Close the hood and roast for 45 minutes, rotating every 15 minutes for even cooking.
Melt the remaining three tablespoons of butter and brush onto the potatoes. Season them lightly with pepper and sprinkle the cheese on top. Close the grill hood and continue roasting for 10 minutes more.
Carefully remove the sliced baked potatoes from the grill and top with fresh chives or green onions.