Recipes
Skillet Cornbread with Chiles, Corn and Cheddar
Many people acknowledge that you can bake on a grill, but most of them believe it is too much work to bother with. I believe using your Kalamazoo Hybrid Grill as a wood-fired oven is not only worth it, but it is quite easy to do as well. This recipe, like most cornbread recipes, is very forgiving in its baking requirements, and it is a great opportunity to try your hand at baking on the grill.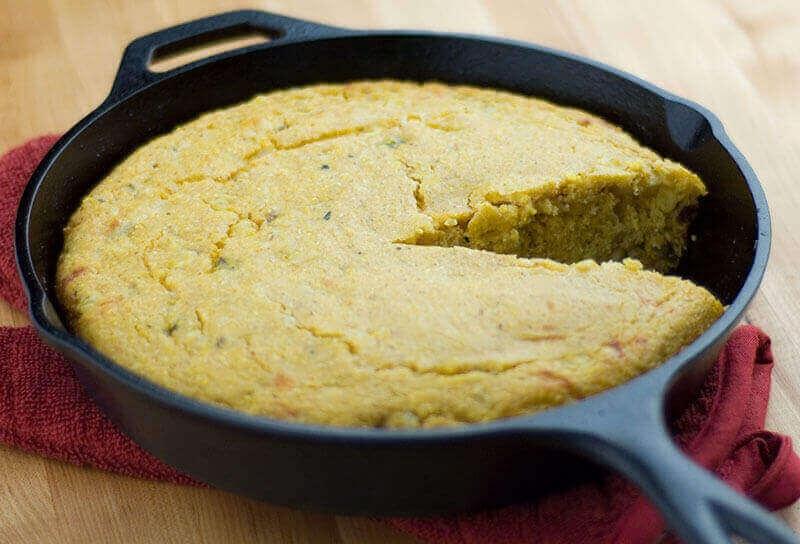 ---
Ingredients
1 or 2 poblano chiles, depending on whether you want mild or medium cornbread
2 ears corn, shucked
2 cups stone-ground corn meal
2/3 cup all-purpose flour
1 teaspoon baking powder
1/2 teaspoon baking soda
1/2 teaspoon blackening spice blend
1 teaspoon kosher salt
2 eggs
3 tablespoons honey
2 cups buttermilk
2 tablespoons vegetable oil
1/2 cup shredded mild cheddar cheese
Directions
Prepare the grill for indirect cooking at a target temperature of 400°F. A wood fire is best. For a gas fire, add a small amount of wood chips for a subtle smoke flavor when the cornbread goes onto the grill (see smoking techniques).
Preheat the cast iron skillet in the indirect cooking zone.
Quickly roast the poblano(s) over direct heat on the hottest part of the grill. Turn them occasionally until all sides of the skin are blackened and blistered. Transfer from the grill to a paper bag. Close the bag and let the poblanos steam in the bag for at least 5 minutes.
Quickly grill the ears of corn over direct heat until they are nicely marked on all sides. Remove from the grill while the corn is still crisp and barely cooked.
Whisk together the dry ingredients in a large bowl. In a separate bowl, beat the eggs and then whisk in the honey, buttermilk and vegetable oil.
Cut the corn from the cobs and separate the kernels. Scrape the burnt skin off the poblano(s) and discard along with the seeds. Finely dice the poblano flesh.
Once the grill is at a steady 400°F in the indirect zone, add the buttermilk and egg mixture to the cornbread mixture. Stir until moist. Do not over-mix. Stir in the corn, poblanos and cheese.
Add the butter to the skillet and spread around to coat the bottom and sides. Pour in the cornbread batter and cook with the grill hood closed until the center is cooked through, about 30 minutes.
Let cool for at least 10 minutes, then slice and serve.