Recipes
Shrimp Calzone with Olives and Tomatoes
Sweet and tender shrimp are wrapped in pizza dough along with brightly-flavored tomatoes, a white wine and olive oil reduction, briny olives and smooth scamorza cheese.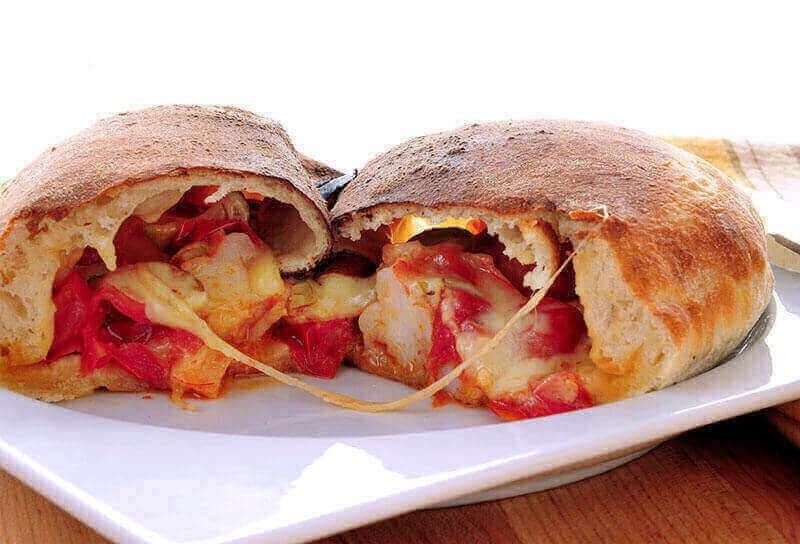 ---
Ingredients
1 batch White Wine Pizza Dough, about 28 ounces
1 pint grape tomatoes, halved
8 Spanish queen olives, pitted and sliced
2 cloves garlic, thinly sliced
1/4 cup extra virgin olive oil
1/2 cup Chardonnay
1/2 teaspoon kosher salt
16 fresh shrimp, 20-count size, peeled and deveined
6 ounces shredded scamorza cheese
Directions
Prepare the pizza oven or grill for baking pizza.
Combine the tomatoes, olives, garlic, oil, wine and salt in a large skillet. Bring to a simmer over medium heat. Continue simmering for 15 minutes, stirring frequently, until the liquid has thickened. Add the shrimp to the pan and cook to 3/4 doneness, about 3 minutes per side. Remove from heat.
Divide the pizza dough into fourths. Using as little flour as possible, roll one piece at a time into a 10-inch circle. Sprinkle flour onto the top of the circle and then flip the dough over so that the sticky side is up. Onto one half of the circle, place 1/4 of the shrimp mixture and top with1/4 of the cheese. Fold the dough over the filling and crimp well around the edges to seal. Repeat with the remainder of the ingredients to make 4 calzones.
Transfer to the oven using a pizza peel dusted with corn meal. I prefer to transfer the calzone one at a time.
Cook directly on the stone deck until the dough is golden brown. If you are working at 500°F, this will take about 10 minutes. If you are working at 750°F, this will take about 4 minutes.
Remove the calzones from the oven, let rest for 2 minutes, and serve.