Recipes
Shrimp and Spinach Pizza
I was a little bit surprised to notice I have shared a shrimp calzone recipe, but not a shrimp pizza recipe. The time to change that is now. Succulent shrimp are matched perfectly with bright, juicy tomatoes, garden fresh spinach, garlic and toasted pine nuts. The preparation is simple, but make sure you undercook the shrimp before assembling the pizza. If you pre-cook the shrimp too much, it will over-cook on the pizza.
Serves One 11 to 12 inch pizza
---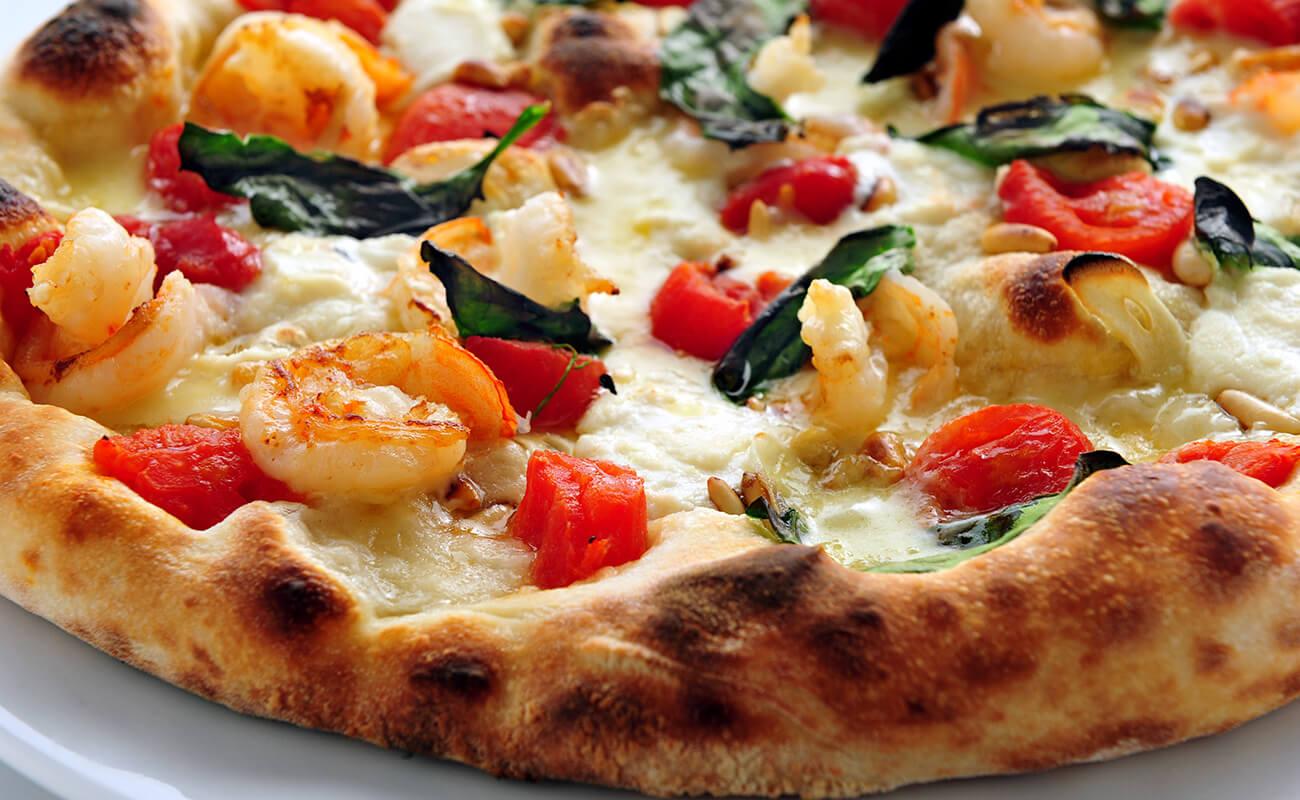 ---
Ingredients
1/2 batch White Wine Pizza Dough, about 14 ounces
Extra virgin olive oil
5 jumbo shrimp, 12 to 16 per-pound-size
1 large clove garlic, sliced very thin
1/2 ounce grated Parmigiano Reggiano
4 teaspoons ricotta (I used Miceli's)
1 tablespoon pine nuts, toasted
2 ounces Fontina Fontal
4 plum tomatoes from a can of whole peeled San Marzano tomatoes, drained and cut up
About 12 fresh spinach leaves, torn in half
Fine sea salt
Directions
Peel and devein the shrimp. Cook in a small amount of olive oil in a non-stick pan until the outside edges are opaque, but the interior is still translucent. The shrimp will finish cooking on the pizza. Remove the tails and slice the shrimp in half lengthwise. Cover and refrigerate until you are ready to assemble the pizza.
Prepare the outdoor pizza oven or grill for cooking pizza
Form the dough to roughly a 12-inch pizza crust. Depending on your personal preference, place the dough on a pizza peel with enough flour or corn meal beneath to allow the pizza to slide easily — or assemble your pizza on the work surface and then slide the peel underneath at the last minute. Either way, the less time the dough spends on the peel, the less likely it is to stick.
Top the dough with the sliced garlic and grated parmesan. Add 1/2 teaspoon dabs of the ricotta, followed with the pine nuts, fontina, tomato and shrimp. Tuck the torn spinach leaves down into the other ingredients and then season the pizza with a little salt. Transfer to the oven or grill and cook until the crust is done and the cheese is thoroughly melted. Cooking in a hot pizza oven will take less than 3 minutes. Cooking in a conventional oven at 500⁰F or on a grill will require closer to 10 minutes.
Enjoy!