Recipes
Shrimp and Peach Kebabs with Habanero Honey Glaze
Our first foray into combining peach and habanero flavors was our delicious and popular Peach Bourbon Habanero Hot Wings. The wings, I am afraid, were pretty complicated, but I am happy to say these kebabs are a snap to make.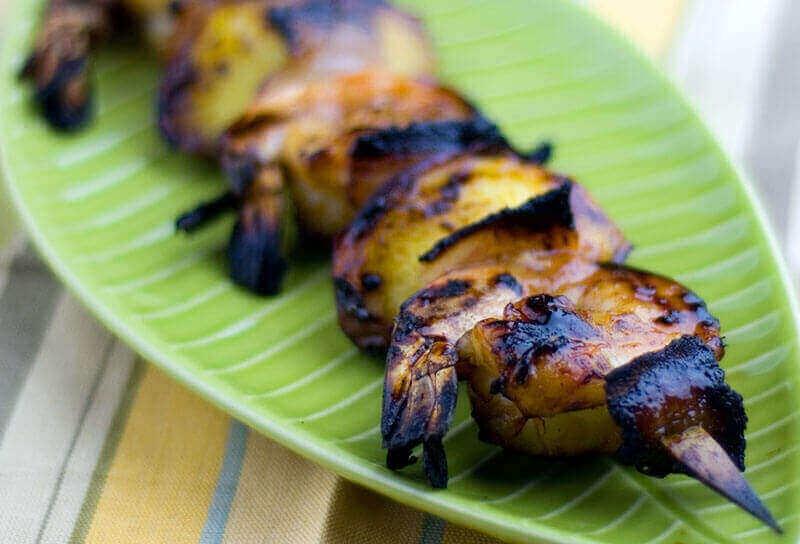 ---
Ingredients
3/4 cup honey
3 tablespoons fresh lime juice
2 to 4 habaneros, halved
About 6 thick slices of bacon
18 shrimp, peeled (the bigger, the better)
2 fresh peaches, pitted and sliced thick
6 flat skewers, about 8 inches long
Directions
Prepare the grill for direct grilling at about 500°F.Combine the honey and lime juice in a small, non-stick pan and warm up to a very low simmer over low heat.
Slice 2 to 4 habanero chiles in half and place in the honey mixture. Use 2 chiles for a mild version of the dish, more for added fire.
Let the chiles simmer in the honey while you prepare the kebabs. Be careful not to boil the honey.
Cut the bacon slices crosswise into square pieces. Skewer the shrimp, peach slices and bacon pieces, using a piece of bacon between each shrimp and peach slice.
Remove and discard the habaneros from the honey.
Grill the shrimp kebabs over direct heat on the grill for about 4 minutes per side until the shrimp and bacon are cooked through.
Baste ocassionally with the Habanero Honey Glaze along the way. Serve hot.