Recipes
Savory Squash Pie with Tart Apples and Sweet Onion
This pie is a perfect side dish for your dinner table in place of a traditional casserole. It is guaranteed to receive rave reviews from your family and guests.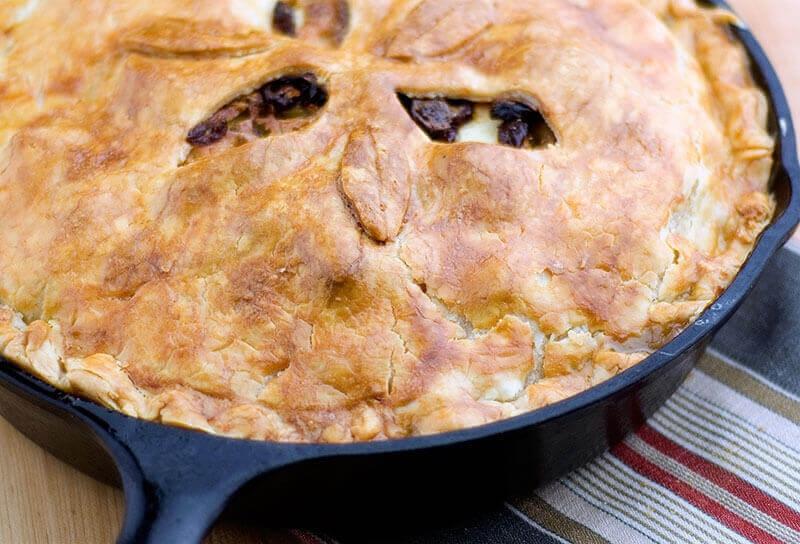 ---
Ingredients
1 whole large acorn squash
2 9-inch rolled frozen pie crusts, such as Pillsbury
2 cups grated manchego cheese
2 granny smith apples, cored and thinly sliced (skins left on)
1 cup sweet onion, cut into quarters and then thinly sliced
1 cup dried cranberries
3 eggs
1 cup heavy cream
2 tablespoons light brown sugar
1 teaspoon kosher salt or sea salt
1/4 teaspoon ground white pepper
2 tablespoons unsalted butter, cut into 6 pieces
2 cups alder wood chips, soaked
Directions
Prepare the grill for indirect cooking at 350 to 375°F.
Place the whole squash in the indirect zone with the hood closed. Cook until softened, about 45 minutes, turning once.
Remove from the grill and allow to cool. You may also choose to roast the squash in an oven at the same temperature without any appreciable difference in flavor. The squash may be roasted up to an hour in advance of the rest of the pie preparation.
Cut the squash in half. Remove and discard the seeds. Remove all of the flesh from the shells and discard the shells. Slice the squash about 1/4" thick. Line a 9-inch cast iron skillet or heavy ceramic pie plate with the bottom pie crust. Trim off any excess at the skillet's edge.
Proceed to fill the pie, beginning with a thin layer of manchego cheese, followed by thin layers of apples, onions, squash and dried cranberries, using about 1/3 of each for each layer. Repeat the layering two more times. The pie should be over-filled and quite tall. The filling will settle when baked.
Whisk together 2 of the eggs with the cream, sugar, salt and pepper. Pour over the pie filling. Add the pieces of butter to the top. Lay on the top pie crust. Trim off the excess and crimp the edges all around. Cut slits into the top to vent steam.
Place the skillet or pie plate on a large sheet of aluminum foil. Bring the foil up to loosely wrap the edges of the pie and help prevent the perimeter of the crust from overcooking. Place the pie in the indirect cooking zone.
Add the alder wood chips for smoke (learn about smoking techniques) and bake the pie with the hood closed for 90 minutes total, turning the pie every 30 minutes for more even baking.
With 20 to 30 minutes remaining, pull the foil back away from the edges. Beat the last egg and brush about half of it onto the top pie crust and continue baking for a perfectly golden presentation. Serve warm as a side dish.