Recipes
Sausage Breakfast Pizza
There are many ways to use your pizza oven to cook a delicious breakfast, from perfectly baked biscuits, to caramelized cinnamon rolls. Breakfast pizza, of course, is a natural. This recipe combines hearty breakfast sausage links, hash browns and scrambled eggs, with the bright flavor of grape tomatoes and nutty, earthy Gruyere cheese. If you're a fan of breakfast pizzas, we suggest you also try our Alpine Breakfast Pizza recipe.
Serves 1 10 to 12-inch pizza
---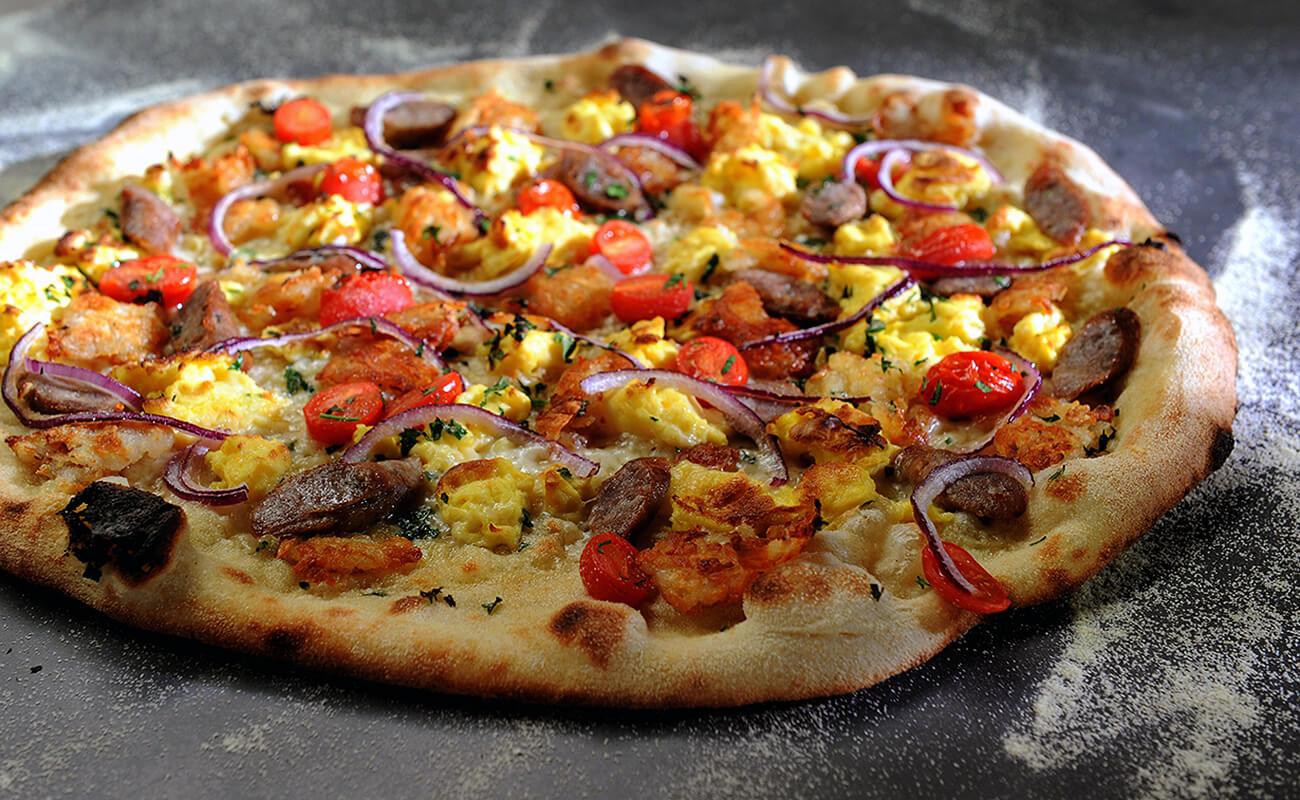 ---
Ingredients
1 10-ounce ball Artisan Fire Pizza Dough
Extra virgin olive oil
1/2 cup shredded Gruyere cheese
2 eggs, scrambled (we add 1 tablespoon heavy cream when we beat the eggs), slightly undercooked
1/2 cup fully-cooked and browned hash browns, crumbled
1 thin slice of red onion
2 breakfast sausage links, cooked and sliced on the bias
8 grape tomatoes, halved lengthwise
1 tablespoon chopped parsley
Flaky sea salt
Directions
Prepare the outdoor pizza oven or grill for cooking pizza.
Instructions for pizza on the grill
Working on a lightly-floured surface (we use Caputo '00 flour or semolina flour), gently form the dough with your hands into a 10 to 12-inch pizza.
Generously drizzle the crust with olive oil. Distribute the cheese evenly over the top. Add the eggs, hash browns, onion, sausage and tomatoes. Season with salt.
Place the pizza on a pizza peel and then transfer to the oven or grill. Cook until the cheese is melted and the crust is nicely browned.
Cooking in a hot pizza oven will take less than 3 minutes. Cooking in a conventional oven at 500⁰F or on a grill will require closer to 10 minutes.

Tips for cooking in the Artisan Fire Pizza Oven:
Pizzas with a lot of toppings like this one need a bit more time for the crust to cook through – especially in the center. Cook this pizza with the lower burner control set to LOW, and the upper burner control set to HIGH. After the bottom of the pizza has taken on a moderate amount of color cooking directly on the ceramic cooking deck, slide a pizza screen underneath to slow down the cooking from below, or simply hold it up off the surface using your banjo peel.