Recipes
Sausage and Cranberry Stuffed Sweet Potatoes
We received a request to create a sweet potato recipe for the grill this Thanksgiving. I am glad we did because I am very happy with the result you see here. If your family's taste buds permit, I suggest substituting spicy sausage for the mild. If you are lucky enough to cook on a Kalamazoo 900 Series Grill, you should have room for these potatoes next to the turkey in the same indirect cooking zone. They cook at the same temperature and will benefit from the apple wood smoke. Add them to the grill after the first hour of cooking the turkey. Note: Select the most rounded sweet potatoes you can find.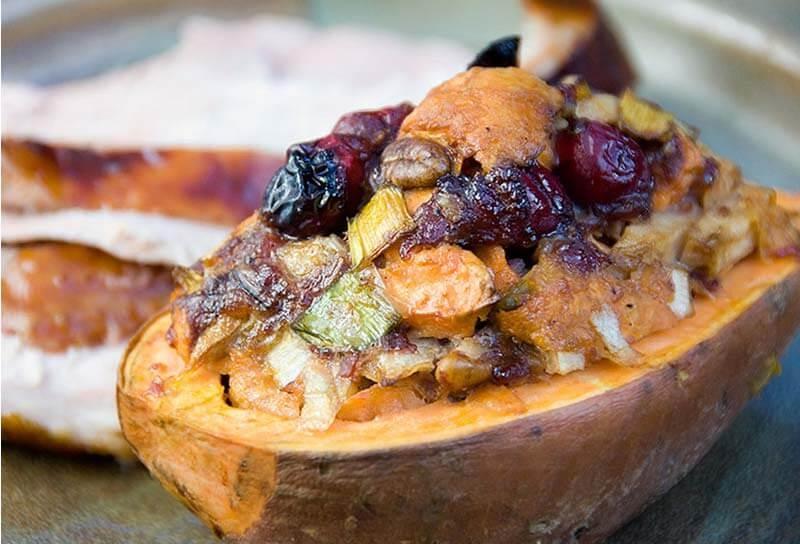 ---
Ingredients
1 sweet onion, diced
¾ cup diced leeks
1 cup pecan pieces
1 honeycrisp apple, cored and diced
1 ½ cup fresh or thawed frozen cranberries, whole
3 turkey sausages, casings removed and broken up
1/3 cup light brown sugar
3 tablespoons finely grated celery root
1 cup shredded Manchego cheese
2 eggs, beaten
2 teaspoons sea salt
6 sweet potatoes
Canola oil for brushing the sweet potatoes
Directions
Combine all the ingredients except the sweet potatoes in a large bowl and mix well. This, plus a little sweet potato, will serve as the stuffing.
Clean sweet potatoes and carefully remove any unpleasant spots from the outside. Cut each sweet potato in half lengthwise. Using a melon baller, hollow out each sweet potato half, leaving about ½ inch of sweet potato flesh all the way around. Reserve the pieces taken from four of these sweet potato halves and stir into the stuffing mixture.
Lightly oil the outsides of the sweet potato halves. Place each hollowed-out sweet potato half into a tinfoil "nest" that will both protect the outer skin from burning and stabilize the potato on the grill.
Press the stuffing mixture into each sweet potato half, mounding over at the top. Place the sweet potatoes in the indirect cooking zone of a 325 F degree grill and roast until the sweet potatoes and sausage are fully cooked, about 90 minutes.
After the first hour, if the stuffing mixture has already browned sufficiently, cover them all loosely with foil. Remove from the grill, discard the foil and serve.