Recipes
Roasted Tomatillo Salsa
Salsa Tomate Verde Asado
If all-raw tomatillo salsa is all light-fresh-immediate, roasted tomatillo salsa is richer and more settled, balancing freshness with the sweet caramel of pan-roasting. I love the way it perks up grilled steak tacos or makes a black bean tostada a dish to dream about. And a soft tortilla full of chorizo sausage and browned potatoes plays incredibly well with roasted tomatillo salsa. You can make the base of this salsa in advance—as much as several days. But I'd advise you to add the cilantro (finely chop it) and onion when you're ready to serve.
---
Ingredients
4 medium (about 8 ounces total) tomatillos, husked, rinsed and halved
2 large garlic cloves, peeled
Hot green chiles to taste (I like 2 serranos or 1 jalapeño), stemmed and roughly chopped
About 1/3 cup (loosely packed) roughly chopped cilantro
1/2 small white onion, finely chopped
Salt
Directions
Set a large (10-inch) non-stick skillet over medium-high heat (if a non-stick skillet is unavailable, lay in a piece of foil). Lay in the garlic and tomatillos (cut side down). When the tomatillos are well browned, 3 or 4 minutes, turn everything over and brown the other side. (The tomatillos should be completely soft.)
Scrape the tomatillos and garlic into a blender or food processor, and let cool to room temperature, about 3 minutes. Add the chile, cilantro and ¼ cup water. Blend to a coarse puree. Pour into a salsa dish and thin with a little additional water if necessary to give the salsa an easily spoonable consistency.
Scoop the chopped onion into a strainer and rinse under cold water. Stir into the salsa. Taste and season with salt, usually about ½ teaspoon.
Riffs on Roasted Tomatillo Salsa: Though it's common and easy to use small hot green chiles in this salsa, one of my favorite versions includes a whole roasted/peeled/seeded poblano chile coarsely pureed with the other ingredients. It may sound like heresy to Mexican cooks, but a dash of Worcestershire, balsamic or coarse-grain mustard is good in this salsa. If I'm serving this salsa with something off the grill, I'll slow-grill a large green onion or two (or just a slice of white onion), chop it and add it in place of the raw onion. To underscore the tomatillo's natural citrusy tang, I sometimes add a little fresh lime juice. (For more citrus (and herb) ideas, read the Riff on Fresh Tomatillo Salsa—page 000.) Or go full-bore fruity and stir in finely chopped pineapple, apple or pear.
Pasta with Roasted Tomatillos, Chicken or Salmon: Put on a pot of water to boil, then make the salsa without letting the ingredients cool. Boil 12 ounces pasta (fusilli or shells are good choices) in salted water until it's al dente. Drain, reserving ¼ cup cooking liquid. Return pasta to the pot, along with the salsa, the reserved cooking liquid and 2 cups coarsely shredded cooked chicken or salmon—I usually buy rotisserie chicken or pepper-coated hot-smoked salmon that's easy to flake. Sprinkle on a generous cup Mexican queso añejo or Parmesan, toss and serve with chopped cilantro, extra cheese and a few wedges of lime for each hungry eater to add to their liking. Wonderful at room temperature for a picnic.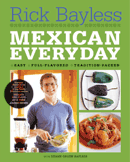 Recipe from Mexican Everyday by Rick Bayless with Deann Groen Bayless.