Recipes
Roasted Sweet Potato and Poblano Tacos with Crispy Shallots and Cilantro Yogurt Sauce
It is difficult to adequately describe just how delicious these tacos are, but I can share with you that they are a unanimous staff favorite here at Kalamazoo. Even if you never make the tacos, I highly recommend you make the Cilantro Yogurt Sauce for dip with chips and vegetables, or serve it with grilled meat. As a key component of these tacos, the sauce provides the bright and tangy flavor needed to balance the roasted goodness of the sweet potatoes. Tender poblano offers an easy-going heat while crispy shallots deliver a welcome crunch. Together with a warm tortilla fresh off the grill, these ingredients make a perfect combination.
Serves 4, Yields 12 Tacos
---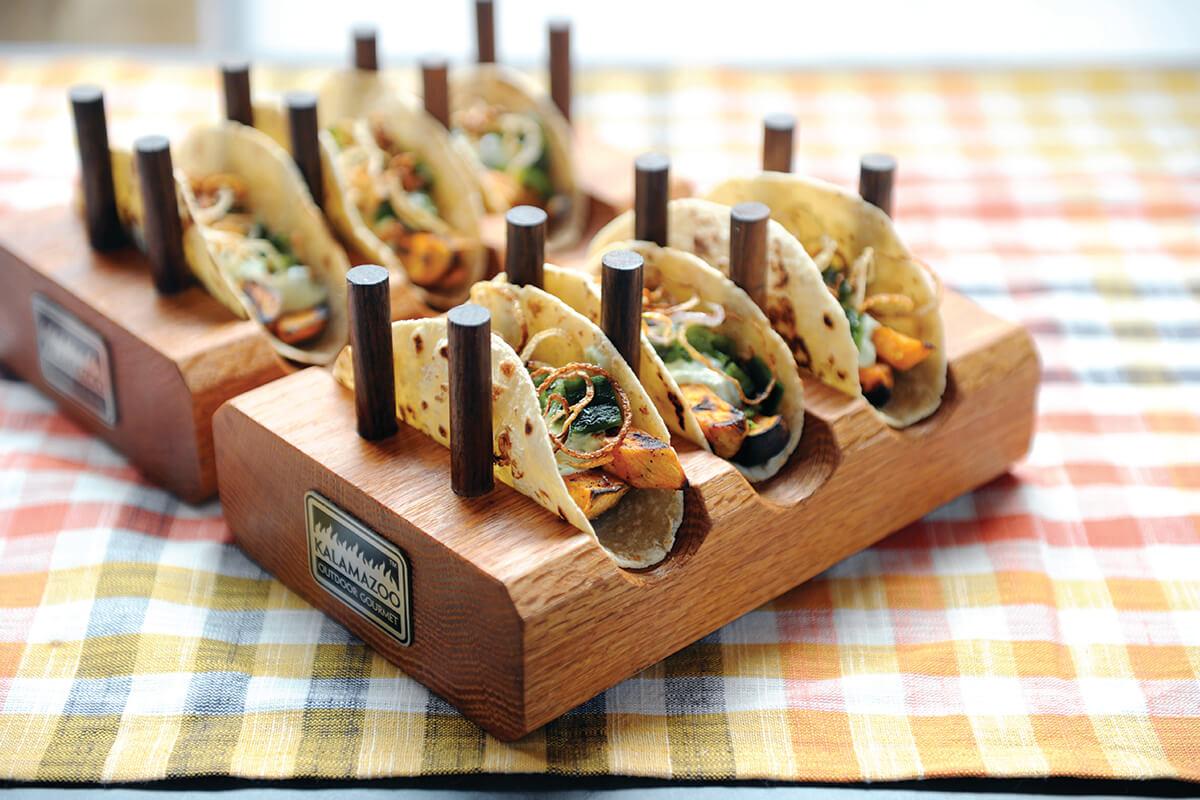 ---
Ingredients
10 ounces plain Greek yogurt (we use Fage Total)
1/2 ounce fresh cilantro leaves, roughly chopped
2 cloves garlic, peeled and roughly chopped
1/2 ounce freshly-squeezed lime juice
2 large shallots, peeled
Canola oil
4 sweet potatoes, peeled and cut into 1/2 inch sticks
2 poblano chiles
Extra virgin olive oil
Kosher salt
Freshly-ground black pepper
12 soft white corn tortillas (or 24 if they are thin because you'll want to double them up)
Directions
To make the Cilantro Yogurt Sauce, combine the yogurt, cilantro, garlic and lime juice in the bowl of a food processor. Add 1/2 teaspoon kosher salt. Process until smooth. Cover tightly and refrigerate until serving time.
Prepare the grill for multi-zone grilling with a HIGH heat direct zone and an indirect zone at between 350 and 400°F.
Thinly slice the shallots (I suggest using a mandolin).
Preheat a small, cast iron skillet on the direct zone of the grill. Fill with 1/2 inch of canola oil, and bring the oil to a temperature of about 350°F. Add the sliced shallots to the hot oil. Fry, stirring occasionally, until golden brown. Remove fried shallots from the oil and dry them on paper towels. Reserve.
Roast the poblanos over the hottest part of the fire on the grill. Turn them occasionally until they are blackened all over. Transfer to a bowl and cover with a plate to lock in the steam.
Lightly coat the sweet potato sticks with olive oil. Season generously with salt and pepper. Place them in the indirect zone and close the grill. Roast the sweet potatoes until tender and browned, about 25 to 30 minutes. Turn them once or twice during this time for even browning.
While the sweet potatoes are roasting, scrape the blackened skins off of the poblanos and discard. Stem and seed the chiles, then dice the remaining flesh. Reserve.
After the sweet potatoes are done and off the grill, lightly grill the tortillas in the direct zone.
To serve, place 3 sweet potato sticks in each tortilla. Top with sauce, then diced poblano and crispy shallots. Enjoy!