Recipes
Roasted Mushroom and Bacon Pizza
Using wild mushrooms makes a remarkable difference in the taste of a pizza. We roast shitake, morel and chanterelle mushrooms before putting them on the pizza to concentrate the earthy flavors and really make them the stars of this pie. Creamy, rich sottocenere cheese adds the assertive and indulgent flavor of truffles while smoky bacon rounds things out.
Serves Two 11 to 12 inch pizzas
---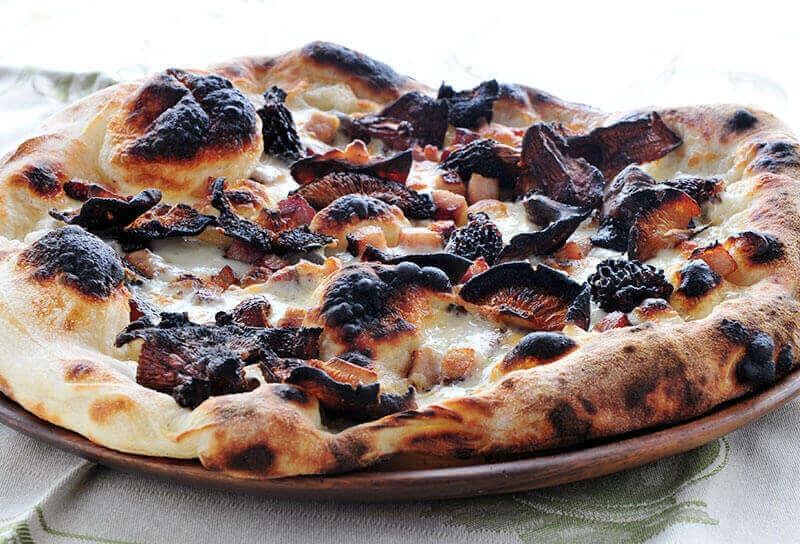 ---
Ingredients
Note
Because of the extra prep work required for roasting the mushrooms and cooking the bacon, this recipe is written to yield 2 pizzas.​
1 batch White Wine Pizza Dough, about 28 ounces, split into two equal parts
1/4 pound slab bacon, cut into 1/4 inch cubes (I used a bourbon maple bacon made from Berkshire pork belly)
1 ounce morel mushrooms
2 ounces chanterelle mushrooms, cut in half
3 ounces shitake mushrooms
Extra virgin olive oil
Fine sea salt
Coarsely-ground black pepper
4 ounces sottocenere cheese (a medium-soft Italian cheese laced with truffles and with an ash rind), cut into smallish pieces
4 ounces Quadrello di Bufala cheese (similar to Taleggio but with a less intense odor and more milky taste), cut into smallish pieces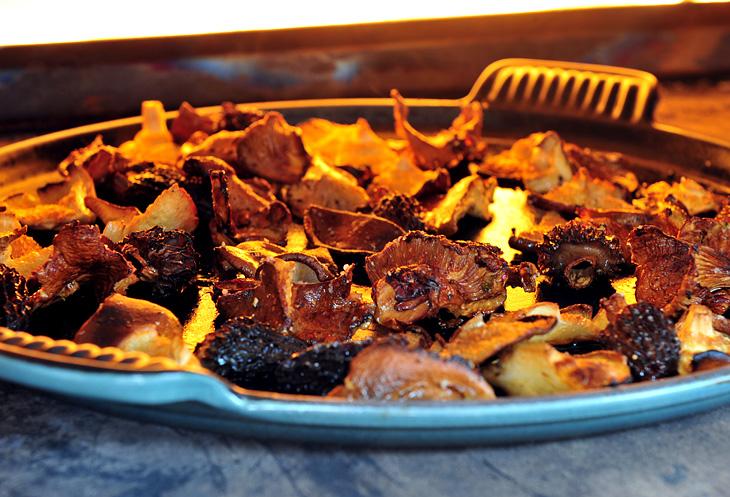 Roasting mushrooms in the Artisan Fire Pizza Oven
Directions
Prepare the outdoor pizza oven or grill for cooking pizza. See our instructions on how to cook pizza on the grill.
Cook the bacon in a skillet until done but not crisp. Reserve.
Toss the mushrooms in olive oil and season liberally with salt and pepper. Either place them in the pizza oven on a fajita skillet and roast until browned, about 5 minutes; or grill them directly over a hot fire on the grill for about the same amount of time. Remove from heat and reserve.
Form one dough ball to roughly a 12-inch pizza crust. Depending on your personal preference, place the dough on a pizza peel with enough flour or corn meal beneath to allow the pizza to slide easily — or assemble your pizza on the work surface and then slide the peel underneath at the last minute. Either way, the less time the dough spends on the peel, the less likely it is to stick.
Top the dough with half of each type of cheese, half the mushrooms and half the bacon. Transfer to the oven or grill and cook until the crust is done.
Enjoy!