Recipes
Roasted Butternut Squash and Hazelnut Pizza
This pizza is not one of the prettiest we've created, but it is one of the tastiest. A thin crust is topped first with a mixture of ricotta cheese, olive oil and lemon zest, and then with red onions and butternut squash caramelized with balsamic vinegar. Roasted hazelnuts provide the perfect finish.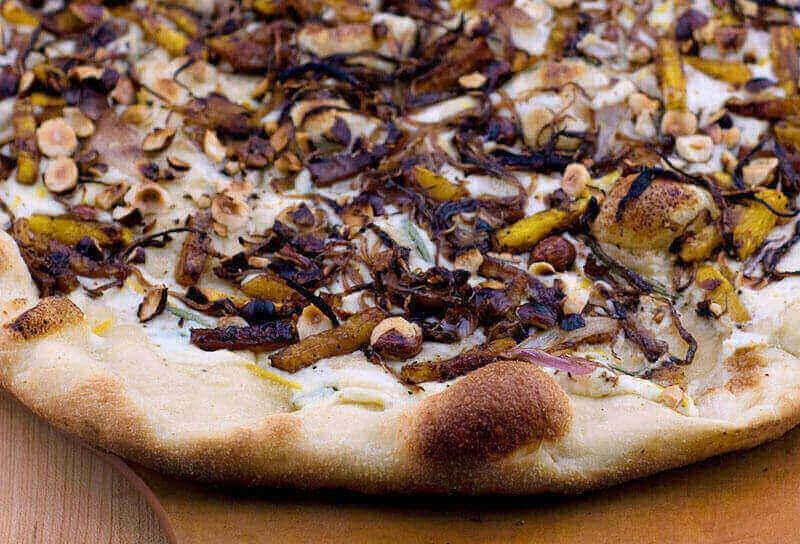 ---
Ingredients
1/2 batch White Wine Pizza Dough, about 14 ounces
1/2 butternut squash, sliced ¼" thick and then cut into ¼" strips
1/2 red onion, thinly sliced
Extra virgin olive oil
Balsamic vinegar
Sea salt
1/3 cup cracked hazelnuts
1/2 cup ricotta cheese
Finely grated zest of ½ lemon
About 20 very fresh (soft) rosemary leaves
Directions
Prepare the pizza oven or grill for baking pizza at 500°F (see our guide for perfect pizza on the grill).Prepare your grill for indirect cooking at 400°F to roast the squash and onions. Or, if your grill is not available for this task, preheat your indoor oven to 400°F.Spread the onion and squash in a single layer on a cookie sheet covered in parchment. Drizzle with balsamic vinegar and olive oil and sprinkle with salt. Roast at 400°F until caramelized, about 30 minutes, turning once.
With a cooktop burner, toast the hazelnuts in a small pan over medium heat until browned and crunchy. Toss with a little sea salt and reserve.
In a small bowl, combine the ricotta, lemon zest and rosemary leaves with a little olive oil and salt to taste.
Roll out the pizza dough to about 17" and transfer to a pizza prep peel lightly dusted with corn meal. Spread the cheese mixture over the dough. Sprinkle the caramelized squash and onions over the cheese and then add the hazelnuts.
Bake the pizza until the crust is golden brown and the toppings are hot, about 10 minutes.