Recipes
Roasted Brussels Sprouts and Squash with Onion Jam
In our Grilled Cheese Issue from October, we shared a recipe for Spicy Sweet Onion Jam. We mentioned it was great with roasted Brussels sprouts. This led to a few recipe requests, so we created this beauty of a side dish. Roasted butternut squash joins caramelized Brussels sprouts, bacon and the onion jam. More than just a side, it might be the perfect meal in its own right for any crisp winter day.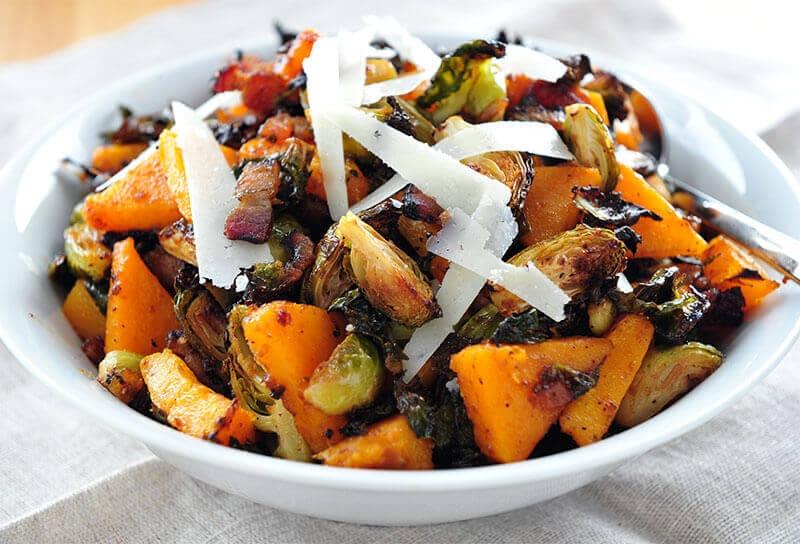 ---
Ingredients
1 1/2 pounds fresh Brussels sprouts
1 medium butternut squash
2 tablespoons extra virgin olive oil
3/4 teaspoon kosher salt
3/4 teaspoon freshly-ground black pepper
1 pound bacon (I used maple bourbon bacon), sliced ¼-inch thick and then cut into ½ inch pieces
1/2 cup Spicy Sweet Onion Jam
Pecorino Romano cheese
1 cup apple wood chips (1/2 cup soaked, 1/2 cup dry) for a foil smoking envelope
Directions
Prepare the grill for roasting (indirect grilling) at 450°F with wood smoke from a foil smoking envelope.
Remove the base and quarter each sprout lengthwise. Slice the squash lengthwise into 8 wedges, remove the shell and seeds, and then cut each wedge cross-wise into ½-inch pieces.
Toss the sprouts, squash, salt and pepper together in the olive oil, and then spread out in a single layer on an aluminized steel half-sheet pan lined with a Silpat cookie sheet liner. The liner will help prevent the bottoms of the sprouts and squash from burning.
Place the pan in the indirect cooking zone and close the hood. Roast the vegetables for about 45 minutes, tossing and turning them for even browning every 15 minutes.
While the vegetables are roasting, cook the bacon on a cooktop in a large skillet until nearly crisp. At the 45-minute mark, add the bacon and the onion jam to the vegetables and toss together. Close the hood and continue roasting for 5 to 10 minutes more (50 to 55 minutes total roasting time). The sprouts should be browned around the edges and the loosened leaves well-caramelized. The squash should be soft and fully-cooked.
Transfer the roasted vegetables to a serving dish and top with shaved Romano cheese.