Recipes
Roasted Acorn Squash Stuffed with Wild Rice and Cranberries
A tasty side with a lovely presentation, stuffed squash is perfect for the Thanksgiving table. The acorn squash removed from the shell goes back into the dish along with wild rice, fresh sage, sauteed leeks, dried cranberries and walnuts.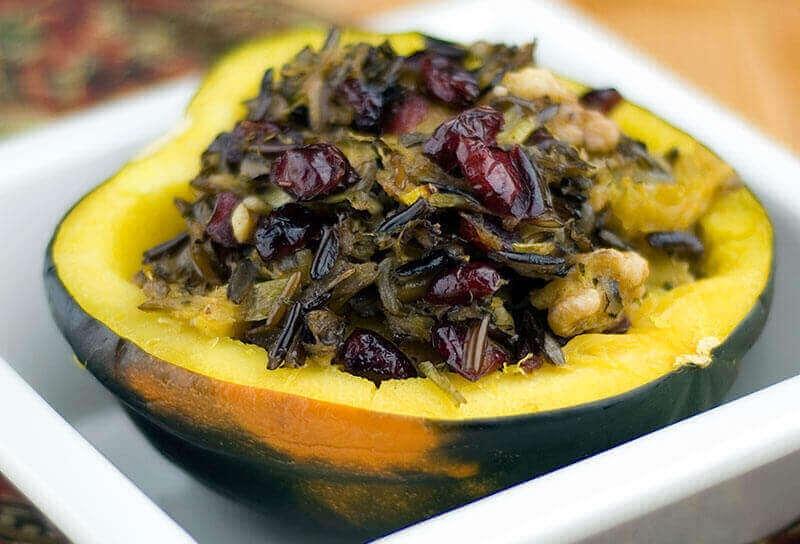 ---
Ingredients
2 whole acorn squash
3 tablespoons butter
1/2 cup chopped fresh leeks
4 teaspoons finely chopped fresh sage
2 cups cooked wild rice
Freshly-grated zest of 1 lemon
1/2 cup dried cranberries
1/4 cup chopped walnuts
1/2 teaspoon fine sea salt or kosher salt
1/2 teaspoon black pepper
Directions
Prepare the grill for indirect cooking at 350 to 375°F.
Place the whole squash in the indirect zone with the hood closed. Cook until softened, about 45 minutes, turning once. Remove from the grill and allow to cool. Cut the squash in half. Remove and discard the seeds.
Hollow out the squash, reserving the flesh and leaving between 1/4" and 1/2" of flesh all the way around. Coarsely chop the squash you removed from the shells. Melt the butter in a large skillet over medium heat.
Add the leeks and sage, and sauté until the leeks start to become transparent. Add the rice, lemon zest, cranberries, walnuts and squash to the skillet and stir gently to combine. Season with salt and pepper.
Spoon the rice stuffing into the hollowed-out squash shells and return to the indirect zone on the grill. Heat the filled squash with the hood closed for about 20 minutes. Serve warm.