Recipes
Pumpkin and Sausage Pizza with Parmesan Cream Sauce
This pizza is much more than a fall season novelty. Sausage and squash taste great together, and the Parmesan cream sauce with a hint of nutmeg makes the perfect base.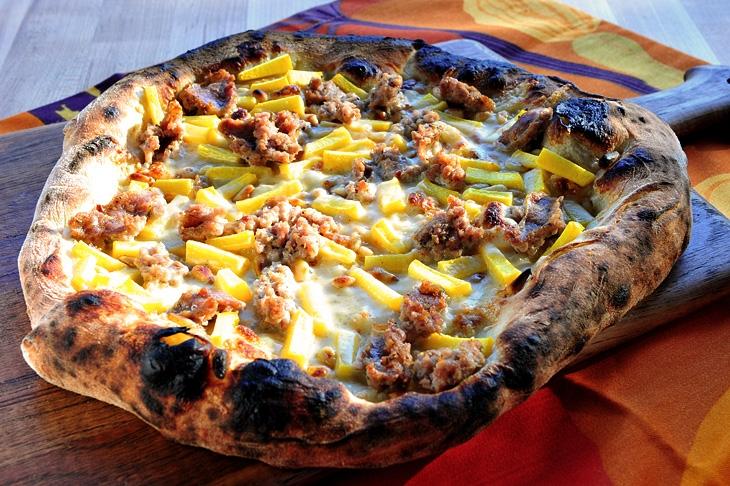 ---
Ingredients
1/2 batch White Wine Pizza Dough, about 14 ounces
1/4 cup chicken broth
1/4 cup heavy cream
1/2 cup grated Parmesan cheese (I use Parmigiano Reggiano)
Freshly-grated nutmeg
1/2 cup pie pumpkin, cut to thick matchsticks
1 Italian sausage, cooked (I use chicken sausage)
1/8 cup pine nuts, toasted in a frying pan
Directions
Prepare the pizza oven or grill for baking pizza (see separate instructions below).
Combine the chicken stock and cream in a small saucepan. Heat through over medium heat. Immediately before assembling the pizza, whisk in ¼ cup of the grated Parmesan. Add a pinch of nutmeg.
Form the dough to roughly a 12-inch pizza crust. Ladle on 3 to 4 ounces of the Parmesan cream sauce. Top with the remaining cheese. Add the pumpkin, sausage and pine nuts.
Transfer to a pizza peel.
For the Artisan Fire Pizza Oven (3 minute cooking time)
Preheat the oven with the back burner on HIGH and the bottom burner on LOW for at least 20 minutes.
Transfer the pizza to the oven. Cook the pizza for 2 to 3 minutes, rotating a couple of times for even cooking. Check the bottom after a minute or so and insert a pizza screen if you wish to slow down the cooking of the bottom. Remove and serve when the perimeter is golden brown and beginning to blister.
For the Grill (12 minute cooking time)
Preheat the grill with the hood closed and a pizza stone on the grill grate until the stone is thoroughly heated to 500ºF. This can require up to 1 hour. (Some stones must be used in the indirect zone. Some can be placed directly over the fire.)
Transfer the pizza to the stone. Close the hood and cook for about 10 minutes. Rotate as needed for even cooking. Remove from the grill when the crust is golden brown.