Recipes
Pulled Pork Sandwiches
Nothing can beat the flavor of a good pulled pork sandwich. And, amazingly, pulled pork is just about the easiest of the classic barbecue favorites to make. The cooking time, temperature and smoke are very forgiving because a pork shoulder roast can handle almost anything you throw at it. Pulled pork holds up well for leftovers, so we recommend smoking two shoulders (doubling the recipe) while you're at it.
Following our instructions will yield moist meat with an amazing bark on the outside. Add a delicate brioche roll, a rich bourbon barbecue sauce and the brightly flavored pickled onions and cabbage for the perfect combination of flavors and textures.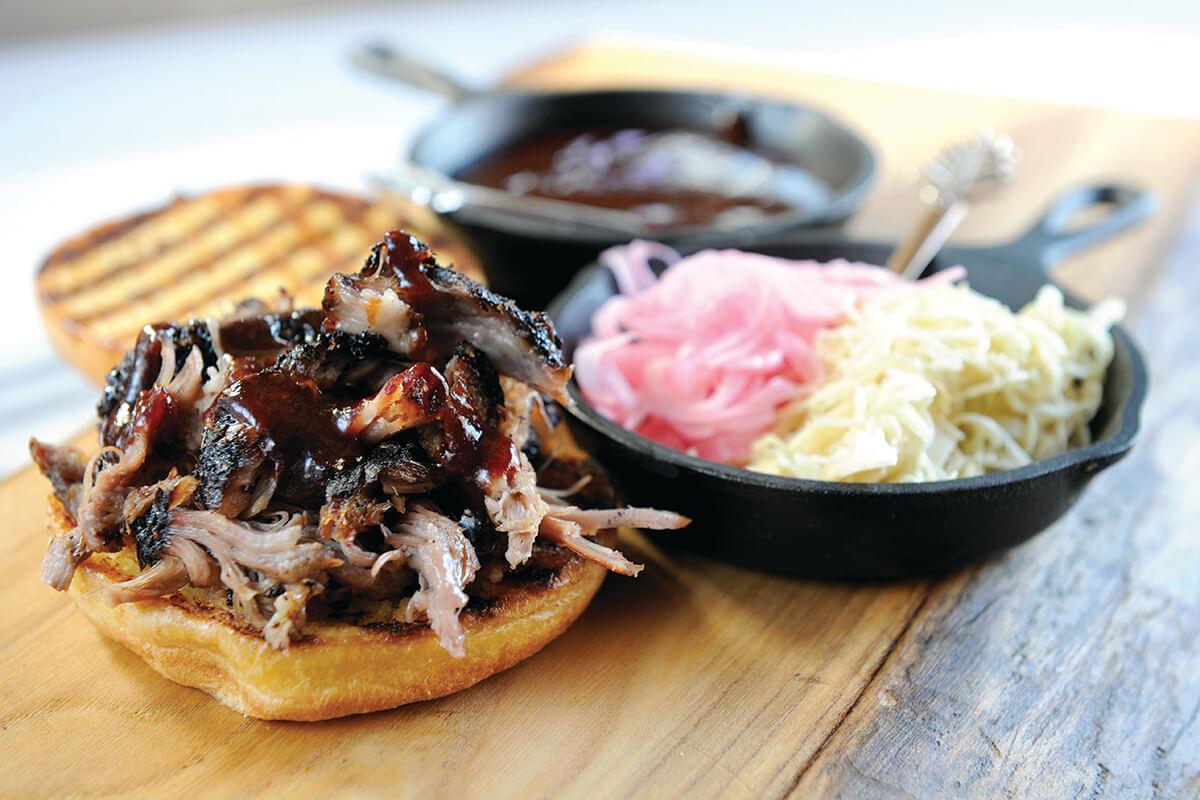 ---
Ingredients
5 pound bone-in pork shoulder roast (Boston butt), closely trimmed
1/2 cup Basic Barbecue Rub

1 cup filtered water
2 cups apple cider vinegar
1 cup honey
4 teaspoons kosher salt
1/4 green cabbage, thinly sliced
1/2 red onion, thinly sliced


1 batch Bourbon Barbecue Sauce
6 brioche hamburger buns
1/4 cup mayonnaise
Directions
Rub down the pork roast with the Basic Barbecue Rub. Let the roast rest at room temperature for about an hour.
Prepare the grill for indirect grilling at 250°F with wood smoke. If you are cooking on a Kalamazoo Hybrid Fire Grill, specific methods for barbecue are described here.
Place the roast, fat-side-up, inside the grill away from the heat. We recommend placing an inexpensive oven thermometer next to the roast to monitor the temperature exactly where it matters most. Smoke the pork at 250°F until the internal temperature (measured away from the bone) reaches 200°F, about 8 hours cooking time. Rotate the roast every 2 hours along the way.
While the pork is smoking, prepare the pickled vegetables. Combine the water, vinegar, honey and salt in a sauce pan. Bring to a simmer over medium heat. Place the cabbage and onion in a nonreactive, heat-resistant bowl. Pour the liquid over the onions and cabbage, making sure all of the veggies are submerged. Cover the bowl tightly and allow to pickle for 30 minutes. Drain off and discard all of the liquid. Refrigerate the pickled onion and cabbage until serving time.
When the pork is nearly cooked, prepare or warm up the Bourbon Barbecue Sauce.
Once the internal temperature has reached 200°F, remove the pork from the grill and let rest on a carving board for 10 minutes.
Slice the rolls and spread a thin layer of mayonnaise inside. Grill the rolls with the mayonnaise-side-down on a grill pan until nicely toasted.
Pull the pork and discard any large chunks of fat. We recommend using Bear Paws to make short work of the task and to keep from burning your hands.
To assemble the sandwiches, add a generous amount of pulled pork to the grilled rolls, drizzle with a little Bourbon Barbecue Sauce and top with some pickled veggies. Enjoy!