Recipes
Portobello Grilled Cheese Sandwich
So many portobello sandwiches feature the mushroom as the star, but here it plays second fiddle to fantastic artisan cheeses. We grill the mushrooms to create a more complex flavor, and to drastically reduce the moisture content so we can concentrate those flavors. We also chop those grilled mushrooms into small pieces so that every bite can maintain the perfect balance. Now, for the cheeses... Quadrello di Bufala is a version of Taleggio, but it is made with water buffalo's milk rather than cow's milk. It is creamy and well-balanced, and it melts beautifully. We use a little Parmigiano Reggiano as a sharp counterpoint.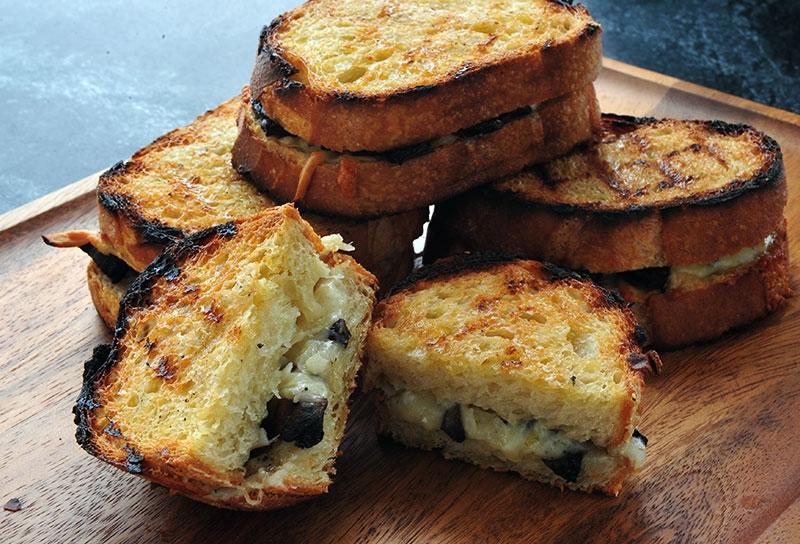 ---
Ingredients
2 large portobello mushrooms
Extra virgin olive oil
Fine sea salt
Freshly-ground black pepper
8 slices Tuscan bread, 3/4" thick
8 ounces Quadrello di Bufala, shredded
1 ounce Parmigiano Reggiano, shredded
Directions
Prepare the grill for direct grilling with a two-zone fire: one with a medium fire (about 400°F); and one with a very hot fire (600°F +).
Remove and discard the portobello stems. Cut the caps into 3/8" thick slices. Brush the slices on both sides with olive oil and season liberally with salt and pepper.
Grill the mushrooms over the hottest part of the fire. Turn them occasionally until well-browned and reduced to about half their original size. Remove from the grill, chop and reserve.
Brush one side of each slice of bread (the outside of each sandwich) with olive oil. Fill the sandwiches with the cheeses and chopped mushrooms. Top off each sandwich with the other slice of Tuscan bread.
Place the sandwiches on the grill. Keep the hood closed as much as possible while grilling to help melt the cheese. Turn once after the first side is toasted and lightly marked by the grill grate, about 2 minutes. (Note: for cross-hatched grill marks, rotate the sandwich about 90 degrees halfway through grilling each side.)
After turning the sandwiches over, grill the second side until toasted, about 2 more minutes. If the cheese is not thoroughly melted by the time the bread is toasted to your liking, lay out a sheet of heavy-duty aluminum foil on the grill grate (preferably in the coolest zone of the grill) and transfer the sandwiches on top of the foil. Close the hood and continue cooking until the cheese is melted through (up to 6 minutes more).
Paired with Two Brothers Domaine Dupage French Country Ale at our Grilled Cheese and beer event September 29.