Recipes
Plank Smashed Potatoes with Shishito Peppers
The subtle perfume of oak infused roasted vegetables really raises the flavor to the next level. The result is a fabulous side dish for the perfect grilled steak. These are similar to our Smash-roasted Red Potatoes recipe, but we've added zesty shishito peppers and smashed garlic cloves. Then, instead of roasting them on a sheet pan, we roasted them on an oak board to add a delicious smoky wood flavor. For more information about plank grilling, view our helpful guide.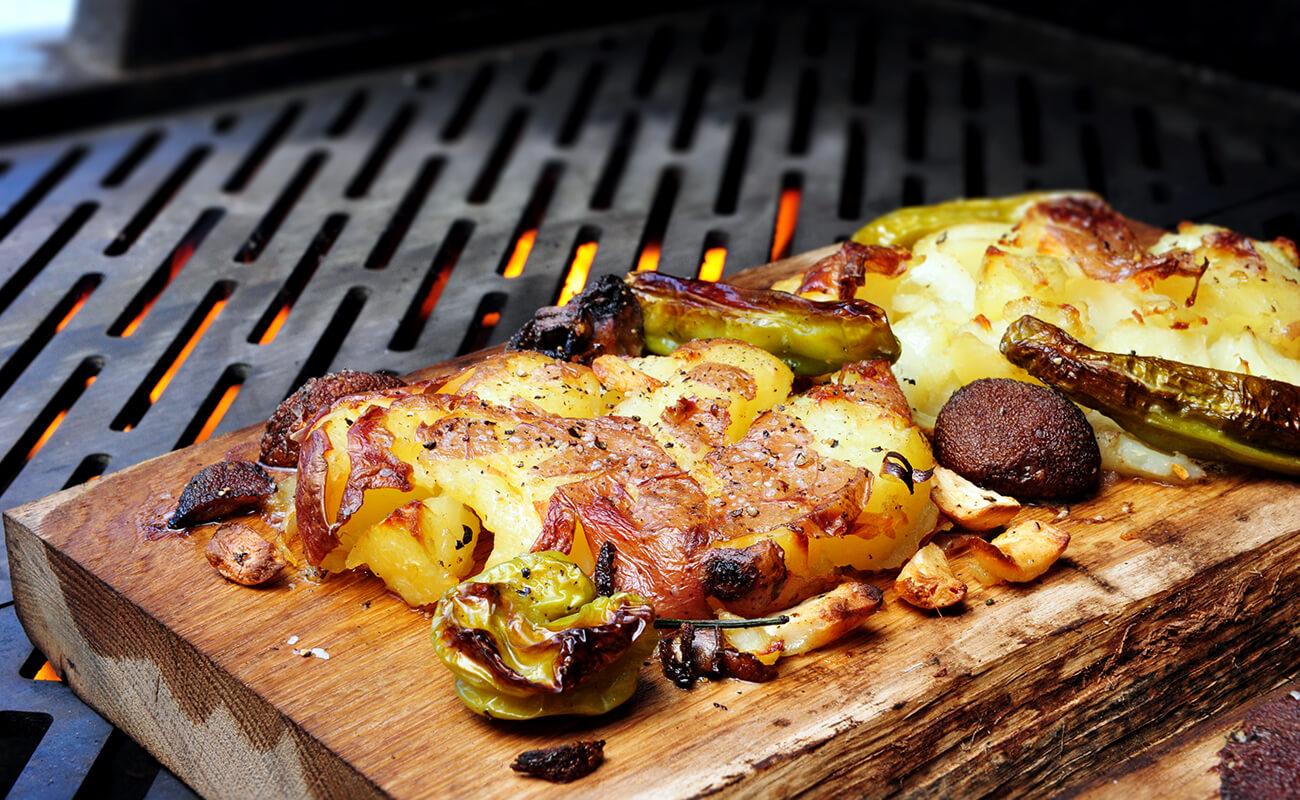 ---
Ingredients
2 oak planks, about 7 inches by 12 inches, soaked for 90 minutes (we like to use thicker planks than is common, 1 ¼ inches in this case)
Oak wood chips or chunks for smoking
4 red potatoes, cleaned
8 cloves garlic, peeled
8 shishito peppers
8 baby bella mushrooms, larger mushrooms cut in half
Extra virgin olive oil
Coarse kosher salt
Freshly-ground black pepper
Directions
Place the potatoes in a large pot. Fill with water to cover the potatoes by 1 inch. Bring to a boil over medium-high heat, then boil for 20 minutes more. Remove from heat and drain the potatoes.
Prepare the grill for indirect grilling at 400° to 450°F with a little wood smoke.

TIP: On a Kalamazoo K750 Hybrid Fire Grill, you can achieve this temperature by running a single (far left or far right) Dragon Burner on high, and all other burners off. Add two oak wood chunks at a time in the hybrid grilling drawer over the running burner to generate smoke and boost the flavor.
For other gas grills, I suggest a foil smoking envelope filled with oak wood chips.

Smash the potatoes to flatten and break them open. Smash the garlic cloves as well to crack them open. Drizzle the potatoes, garlic, shishito peppers and mushrooms generously with olive oil. Season with salt and pepper.
Place the soaked oak plank directly above the fire for one minute to heat it up. Flip it over and move it to the indirect zone. Place all of the vegetables except for the shishito peppers on the plank in a single layer. Close the grill and roast for 1 hour total cooking time. Add the shishito peppers after the first 20 minutes. Rotate the plank as needed for even cooking. Keep the temperature below 500 degrees to reduce the chances of the plank catching fire. Use a spray bottle of water to douse any flames on the plank should this happen.
Remove from the grill, and place the plank on a heat-resistant trivet to serve. Caution, the plank will be hot. If you would like, you can transfer the roasted vegetables to a platter and remove the hot plank to a safe location.