Recipes
Pit Beef with Tiger Sauce
Kalamazoo Outdoor Gourmet is a proud sponsor of Project Fire with Steven Raichlen. Raichlen is an acclaimed authority on all things barbecue and smoking related. This recipe was created by Raichlen on Season 2 of his television show using the Hybrid Fire Grill. He builds incredible crust on the beef then slices it thin and piles it on a roll with Tiger Sauce, onions, tomatoes and lettuce. Photography: Chris Bierlein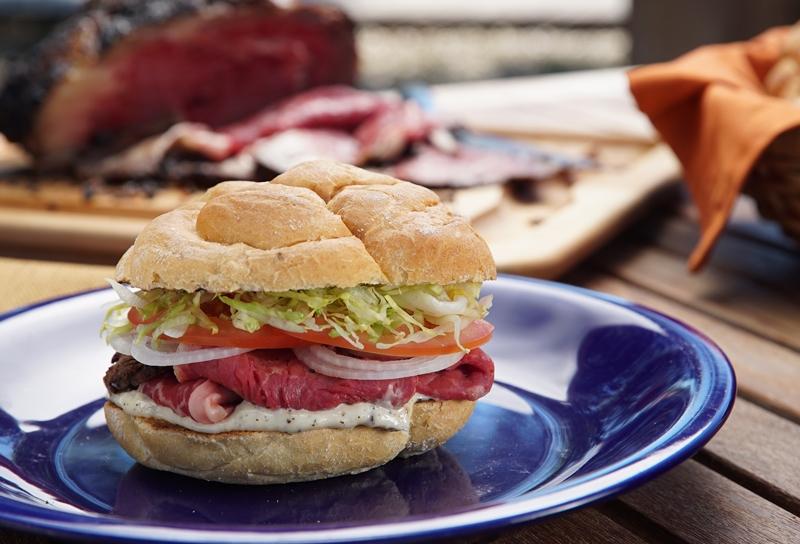 ---
Ingredients
For the meat and serving
One 3- to 4-pound boneless rib roast
8 kaiser rolls
2 sweet white onions, sliced paper thin (optional)
3 ripe tomatoes, thinly sliced (optional)
Iceberg lettuce, thinly sliced (optional)
For the rub
2 tablespoons coarse sea salt
2 tablespoons cracked black pepper
1 tablespoon smoked paprika
1 tablespoon granulated garlic
1 tablespoon onion powder
1 tablespoon dried oregano
For the Tiger Sauce
1 1/2 cups mayonnaise
3/4 cup prepared horseradish, or more to taste
Directions
Combine the ingredients for the rub in a small bowl and mix with your fingers. Sprinkle the beef all over with the rub, patting it into the meat. For maximum flavor and crust, place in a baking dish, cover with plastic wrap, and let marinate for 1 hour. Combine the mayonnaise and horseradish, then cover and refrigerate
Set up your Kalamazoo grill for indirect grilling or rotisserie roasting and preheat to medium-high.
Cook the beef until the outside is crusty and dark golden brown (even black) and the internal temperature is about 130 degrees for medium-rare, or to taste. Transfer the beef to a cutting board and let it rest for 5 minutes.
Slice the beef by hand as thinly as possible using a sharp knife. To serve, have each guest pile the beef high on a roll or bread thickly slathered with Tiger Sauce. Garnish with onions, tomatoes, and lettuce, if desired, and eat while it's hot.


Watch as Raichlen builds incredible crust on the beef then slices it thin and piles it on a roll with Tiger Sauce, onions, tomatoes and lettuce.