Recipes
Picanha with Molho à Campanha and Farofa
(Spit-roasted Sirloin with Country Salsa and Toasted "Flour")
Kalamazoo Outdoor Gourmet is a proud sponsor of Steven Raichlen's Planet Barbecue. This recipe was made with Kalamazoo's Gaucho Wood-Fired Grill on episode 108 (Brazilian Grill), but can be made on the Hybrid Fire Grill or Gas Grill Head as well.
Traditionally, Brazilian picanha is spit-roasted to take full advantage of the basting properties of the melting fat. You can also direct grill it—a technique used by grill masters in neighboring Argentina. Yes, more and more Argentineans and Uruguayans are discovering the virtues of this singular beef cut. I hope North America won't be far behind. If your butcher looks perplexed when you ask for picanha, ask for top cap sirloin.
---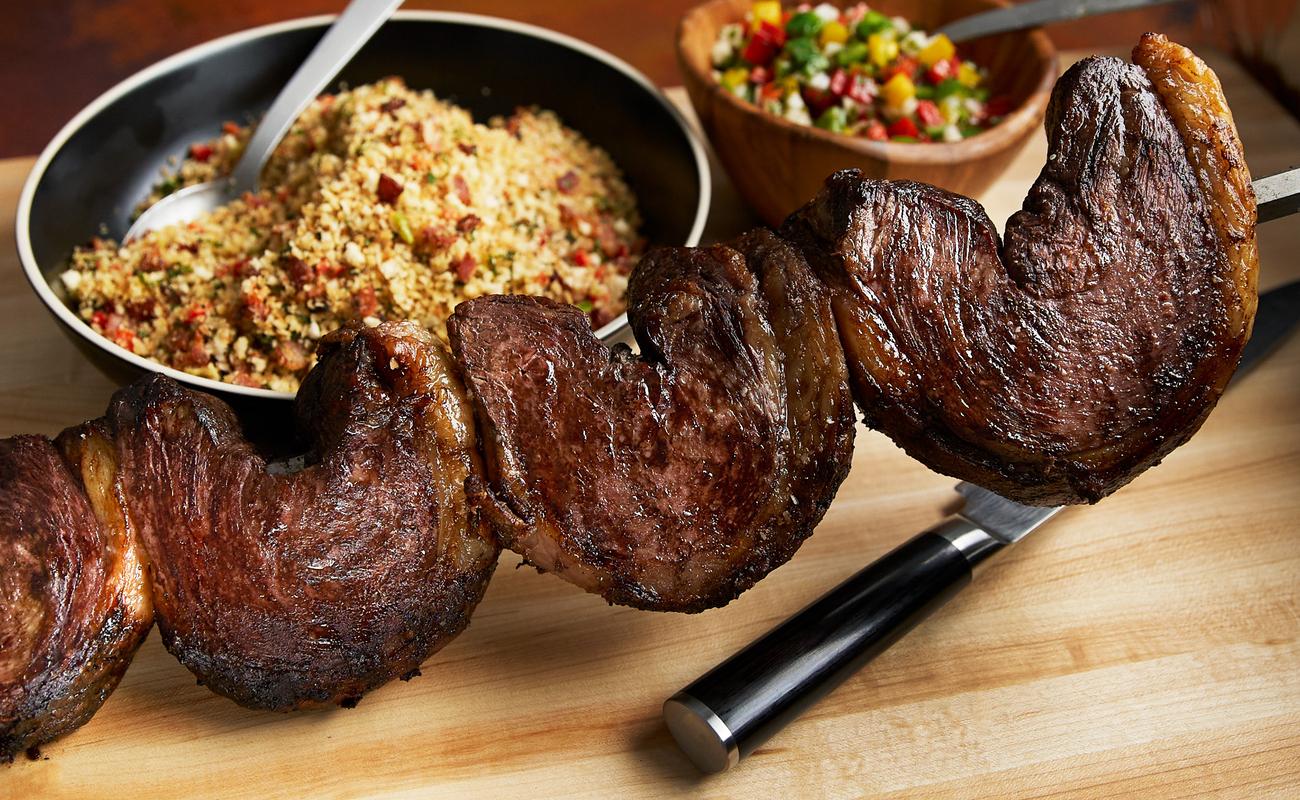 ---
Ingredients
A 2 pound slab of top sirloin (also called picanha) with a 1/2 inch of fat on top
Coarse salt (sea or kosher)
Molho à Campanha
3 tablespoons red wine vinegar, or more as needed
Coarse salt (sea or kosher)
Freshly ground black pepper
1/2 each red, green, and yellow bell peppers, cored and diced
1 serrano pepper, cored and minced (optional)
1/2 sweet onion, peeled and diced
3 tablespoons chopped fresh flat-leaf parsley or cilantro
3 tablespoons extra virgin olive oil, or more as needed
Farofa
4 tablespoons butter, unsalted or salted
3 slices bacon, diced
1/2 red bell pepper, cored and diced
2 scallions, trimmed, white and green parts thinly sliced
2 cups panko or cassava flour
Coarse salt (sea or kosher)
Freshly ground black pepper
Directions
Rotisserie method: Set up your grill for spit-roasting and preheat to high. (To be strictly authentic, spit-roast over charcoal or wood, preferably mesquite.)
Cut the top sirloin crosswise. across the grain, into slices about 1 1/2 inches thick. Skewer each slice on the spit through the ends in such a way that the fat forms a rounded curve on the outside like the letter "C." Skewer the pieces one next to the other—you want the meat to abut and you should have 3 or 4 in a row. Season the meat on all sides with salt.
Attach the spit to the rotisserie motor and spit-roast the meat until the fat cap is sizzling and the meat is darkly browned on the outside, but still rare to medium-rare inside (125 to 135 degrees), 12 to 15 minutes, or as needed.
To serve the picanha Brazilian-style, carefully carry the spit, hands protected by heavy-duty grilling or welders' gloves, to the table. Carve the meat into thin slices onto each person's plate (small tongs help). Alternatively, transfer the picanha to a cutting board and thinly slice it across the grain, including a bit of fat and a bit of meat in each slice. Shingle the slices on a platter or plates. (Be sure to capture the juices.)
Serve with Molho à Campanha and/or Farofa, if desired.
Direct grill method: Here's how picanha is grilled in Brazilian homes, not to mention at grill joints in neighboring Uruguay and Argentina.
Cut the top sirloin crosswise (across the grain) into slices 1 1/2 inches thick.
Set up your grill for direct grilling and heat to high. Brush and oil the grill grate.
Arrange the meat pieces fat side down on the grill. Direct grill until fat is partially rendered, crisp, and brown, 2 to 4 minutes, moving the meat as needed to dodge flare-ups. Turn each piece of meat on its side and grill until browned, 2 minutes per side. Grill the bottom the same way. You're looking for medium rare—an instant-read meat thermometer inserted in one of the narrow ends to the center of the meat will read about 125 to 135 degrees.
Transfer the picanha to a cutting board, fat side up, and let rest for a couple of minutes. Carve it into thin slices across the grain, including a bit of fat and a bit of meat in each slice. Serve with Molho à Campanhna and Farofa, if desired.
Molho à Campanha
In a medium bowl, combine the vinegar, about 1 teaspoon of salt, and 1/2 teaspoon of black pepper. Whisk until the salt crystals dissolve. Add the peppers, onion, and parsley. Drizzle the olive oil over the vegetables and mix well. Taste for seasoning, adding more vinegar, salt, and pepper as needed. Best when served within hours of making.
Farofa
A popular accompaniment to picanha, farofa (typically made from cassava or manioc flour) is a flavorful sponge for the beef's meaty juices. Here, Japanese panko (bread crumbs) sub for sometimes hard-to-find cassava flour. Even our Brazilian guest on the show approved.
On the stovetop or the side burner of your grill, melt the butter over medium heat in a skillet. Add the bacon and sauté until the bacon begins to brown and renders its fat. Stir in the bell pepper and scallions and sauté for 3 to 5 minutes, or until the vegetables begin to soften.
Stir in the panko and season to taste with salt and pepper. Sauté until the bread crumbs are golden brown. Serve warm.
Barbecue and grilling expert, Steven Raichlen featured the Kalamazoo Gaucho Wood-Fire Grill on episode 108 of his TV show Planet Barbecue. Watch as he prepares Picanha with Molho à Capanha and Farofa (spit-roasted sirloin with country salsa and toasted "flour").