Recipes
Pearl Couscous with Grilled Eggplant and Sweet Onion
Grilled eggplant can be a little bitter for some palates. If you would like to avoid the bitterness, you can slice the eggplant and then hit the slices on both sides with a very generous dose of coarse salt. Leave them for about 30 minutes and then brush away all the salt, which will have drawn out a good portion of the bitterness. Select a firm eggplant on which the leafy part still seems moist.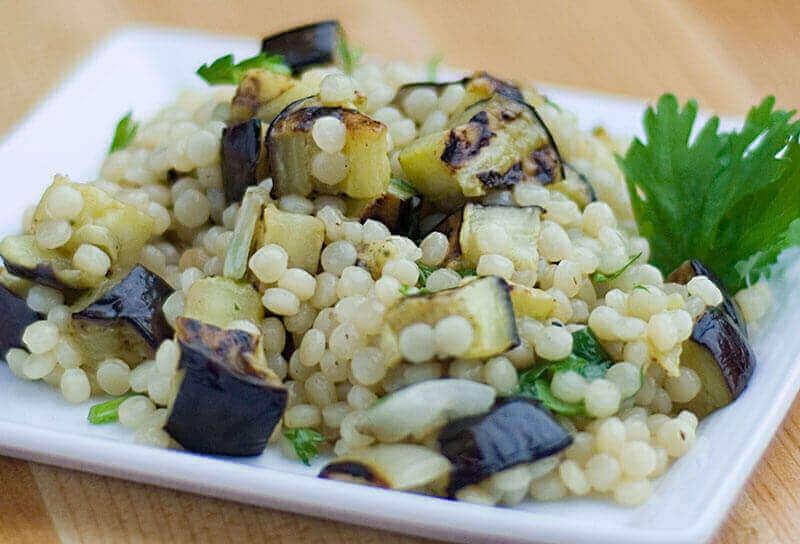 ---
Ingredients
1 baby eggplant, stem removed and sliced 1/4" thick
1 slice sweet onion, 3/8" thick
Extra virgin olive oil
Fine sea salt
1 1/2 cup low sodium chicken stock
1/2 cup pearl couscous
1 teaspoon fresh lemon juice
1 tablespoon chopped fresh cilantro
Directions
Prepare the grill for direct grilling over a medium fire (about 400°F).
Insert a toothpick into the side of the onion slice to keep the rings together while grilling. Brush with olive oil and sprinkle with sea salt. Very lightly brush the eggplant slices with olive oil and sprinkle with sea salt.
Grill the onion over direct heat for about 12 minutes, turning occasionally until softened. Grill the eggplant slices over direct heat for about 8 minutes, turning once until tender.
Remove the onion and eggplant slices from the grill. Stir couscous into boiling chicken stock.
Return to a boil and reduce heat to a simmer. Stir occasionally, uncovered, until the couscous is somewhere between al dente and tender. Add more chicken stock along the way as needed.
While the couscous is cooking, dice the eggplant and onion slices. Strain/drain the couscous and place in a medium bowl.
Stir in 1 teaspoon olive oil, 1 teaspoon lemon juice, 1/4 teaspoon salt and the cilantro. Fold in the eggplant and onion, being careful not to break up the eggplant.
Adjust seasoning as needed with salt or cilantro. Serve warm as a side or cold as a salad.