Recipes
Pear Dessert Pizza with Praline Pecans
I can't think of a better finale for a successful pizza party than this wonderful dessert pizza. The combination of fresh pears, creme fraiche and praline pecans is not too heavy, not too sweet, and very satisfying. Slicing the pears to a paper-thin thickness of half a millimeter allows them to just cook through without losing their texture.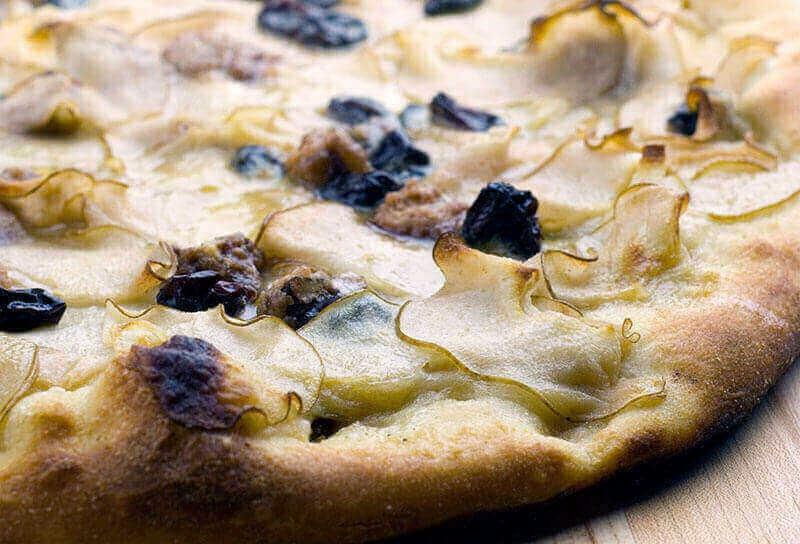 ---
Ingredients
1/2 batch White Wine Pizza Dough, about 14 ounces
4 ounces creme fraiche
4 teaspoons light brown sugar
1 1/2 d'anjou pears
1/4 cup raisins
1/3 cup praline pecans, very coarsely chopped
Directions
Prepare the pizza oven or grill for baking pizza at 500°F (see our guide for perfect pizza on the grill).Combine the creme fraiche and sugar in a bowl.
Core the pears and slice paper-thin (see mandolin recommendation) to help them cook quickly. You can peel them first, but I prefer to leave the skins on.
Layer the pear slices on the pizza, loosely folding each slice over on itself for a more airy pizza. Add the raisins and pralines and then drizzle creme fraiche mixture over the top.
Transfer to the preheated pizza stone and bake for about 15 minutes until the crust is crisp and the edges of the pears are browning.
Recommendation: After years of frustration with my old mandolin, I have finally found an adjustable mandolin from Kyocera that is easy to use, easy to clean and stays sharper longer thanks to its ceramic blade. The pears in this dessert pizza were quickly and easily sliced to just .5 mm thick. It has become an essential tool in my kitchen.