Recipes
Peanut Butter Sliders with Jalapeno Jelly
We love grilling sliders at Kalamazoo Outdoor Gourmet because we like our burgers to be thick. On a regular-size hamburger bun, that means a full half-pound of ground beef. Slider-sized burgers allow us to maintain the perfect patty thickness for grilling, without going into a post-meal burger coma.
These sliders have a generous spread of creamy peanut butter that melts irresistibly into the bottom side of the bun, and a spicy-sweet jalapeno jelly on the top side of the bun. Grilled bacon adds a salty smokiness, while the unique pillowy sweetness of King's Hawaiian Rolls makes each slider the perfect little package.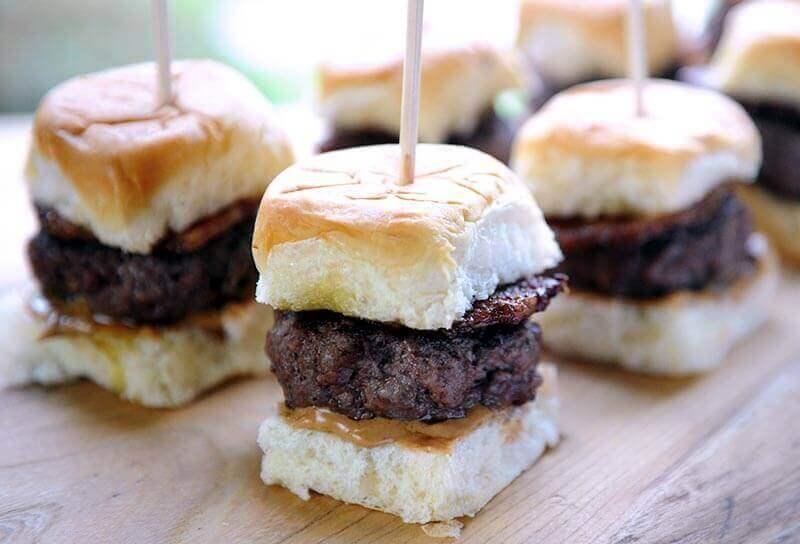 ---
Ingredients
1 1/2 pounds of 85/15 grass-fed ground beef
Extra virgin olive oil
Fine sea salt
4 ounces creamy natural peanut butter
2 ounces jalapeno jelly
8 thick bacon slices, cooked to your preferred crispness, then cut in half
Directions
Prepare the grill for direct grilling at 600° to 700°F. A charcoal or wood fire is always preferred to produce the best results.
Form the ground beef into 8 3-ounce patties. Start by loosely forming a ball for each patty. Use care not to overwork the beef and compress the grind. Shape into a patty that is 3 inches in diameter and has a recessed center. Burgers contract in size and puff up when cooked. To counteract this, we form patties so that they're larger in diameter than the rolls, with recessed centers to compensate for this reaction.
Brush all 8 patties on both sides with a little olive oil and season with salt.
Slice the rolls and spread a little peanut butter on the bottom half of each roll. Spread a little jalapeno jelly on the top halves. Reserve.
Grill the burgers, turning once, until cooked at least to medium (160°F), about 3 minutes per side.
Transfer the burgers directly to the rolls to melt the peanut butter. Add the bacon on top of the patty and finish with the top half of the roll with jalapeno jelly.