Recipes
Pasture-Raised Veal Chops with Garlic Herb Cheese Butter and Fried Sage Leaves
The garlic herb cheese butter in this dish is outstanding with the veal chop or as a steak topper. In fact, we grilled split lobster tails for Valentine's Day, and the butter was perfect for finishing those off as well. The fried sage leaves are a quick and easy way to dress up a perfectly grilled dish. I strongly suggest grilling the chops directly over a wood fire for the best flavor.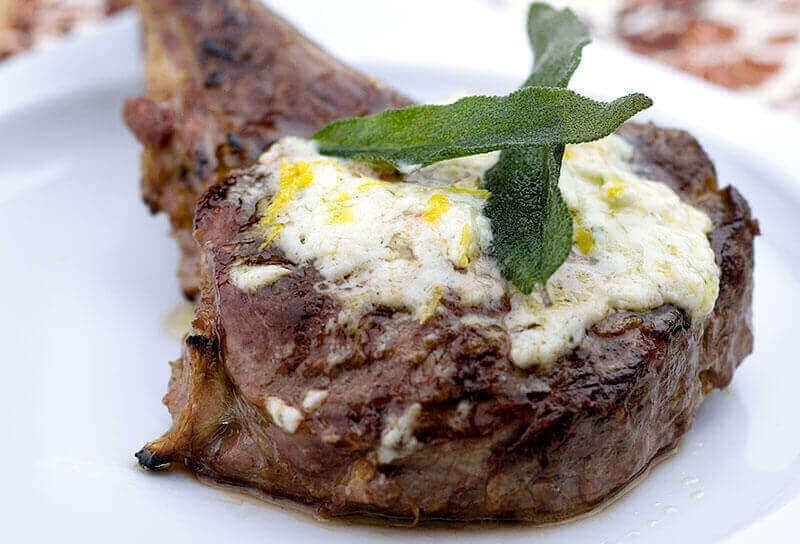 ---
Ingredients
2 pasture-raised veal rib chops, about 2/3 pounds each
Extra virgin olive oil
Fine sea salt
2 tablespoons European-style butter at room temperature
2 tablespoons Boursin soft garlic and herb cheese
1/2 teaspoon freshly-grated lemon zest
1/2 teaspoon medium-coarse sea salt
4 fresh sage leaves, rinsed and thoroughly dried
Canola oil
Directions
Prepare the grill for direct cooking at 400 to 500 °F.Brush the chops all over with olive oil and sprinkle on both sides with fine sea salt. Let the chops rise to room temperature while you are getting the fire ready, about 20 minutes.Thoroughly combine the butter, cheese, lemon zest and coarse sea salt in a small dish. Use the backside of a table spoon to blend the butter and cheese together against the sides of the dish.
Also while the grill is getting ready, heat an 8-inch frying pan over medium heat. Once heated, add 3/8″ canola oil to the pan. Once the surface of the oil begins to wrinkle, add the 4 sage leaves. Fry the leaves until they are crisp and deep green in color. If they begin to brown, they have been fried too long. I find it best to use chop sticks for moving the leaves around and removing them from the oil. You can also pick them up to see when they are crisp and ready to remove. Transfer the fried leaves to a paper towel until serving.
Grill the chops over direct heat, turning once, about 6 minutes per side for medium (140 to 150°F internal temperature). About two minutes before they are done, top each chop with 1/3 of the butter/cheese mixture and close the grill hood to melt. Check after 1 minute. If too much of the topping has run off, you can add more from the 1/3 you reserved. Transfer the chops to a pair of pre-heated plates and top with the fried sage leaves.
Try this recipe with sides of Grilled Bread and Green Bean Salad