Recipes
Orange Teriyaki Spareribs
Kalamazoo Outdoor Gourmet is a proud sponsor of Project Fire with Steven Raichlen. Raichlen is an acclaimed authority on all things barbecue and smoking related. This recipe was created by Raichlen on Season 4 of his television show using the Kalamazoo Hybrid Fire Grill. These decadent spareribs inspired by Hawaiian Huli-Huli are slowly cooked by rotating on the rotisserie of the grill. This turning process bastes the meat and crisps the exterior. The ribs are finished with a glaze featuring Sambal Oelek, an Indonesian chili paste.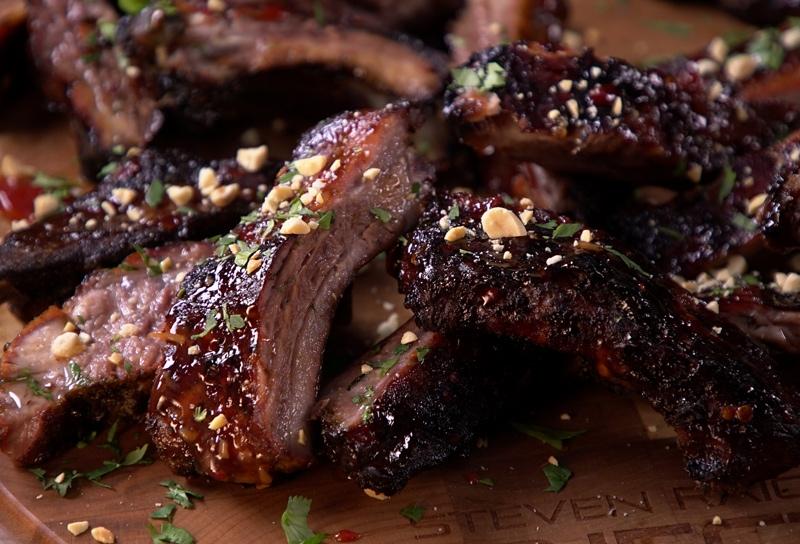 ---
Ingredients
For the orange teriyaki glaze
1/2 cup soy sauce
1/2 cup freshly squeezed orange juice
1/2 cup packed brown sugar
2 tablespoons garlic-chili sauce (optional)
1 tablespoon minced fresh ginger
1/4 cup toasted sesame oil
For the ribs
3 racks pork spareribs, trimmed and peeled
2 tablespoons kosher salt
2 teaspoons Chinese 5-spice powder
Thinly sliced scallions, for serving
Crushed peanuts, for serving (optional)
Directions
In a saucepan, combine the soy sauce, brown sugar, orange juice, garlic-chili sauce, if using, and the ginger. Whisk in the sesame oil. Bring to a boil over medium heat, then simmer until the mixture thickens and glazes a spoon. Set aside.
Combine the salt and 5-spice powder in a small bowl and season the ribs on both sides. Using a sharp, slender knife and starting on the bone side, make starter holes in the meat between every two ribs. Twist the knife blade to widen the holes. This makes it easier to insert the spit. Use an over-and-under weaving motion to thread the ribs through the holes, onto the spit.
Set up your Kalamazoo Hybrid Fire Grill or Gaucho Grill for rotisserie grilling over a wood fire according to the manufacturer's instructions. (Or you can use the infrared option on the Hybrid Grill, if desired. Place a drip pan under the ribs.) Attach the spit to the motor as directed.
Grill the ribs for 1 1/2 to 2 hours (the time will depend on the distance between the ribs and the fire) until the ribs are tender. Rewarm the glaze, if necessary. Periodically baste the ribs with the glaze during the last 30 minutes of cooking. Watch carefully as the sugars in the glaze can burn easily.
Carefully remove the ribs from the spit and glaze one final time. Sprinkle with the scallions and crushed peanuts, if desired. Slice into half slabs or individual bones for serving. Have plenty of napkins on hand!


Watch as Raichlen slowly cooks these these decadent spareribs on the rotisserie of the Hybrid.