Recipes
Orange Teriyaki Beef Kebabs
Beef tri-tip is tender and perfect for kebabs, and the homemade teriyaki gets a flavor boost from fresh orange for a winning combination.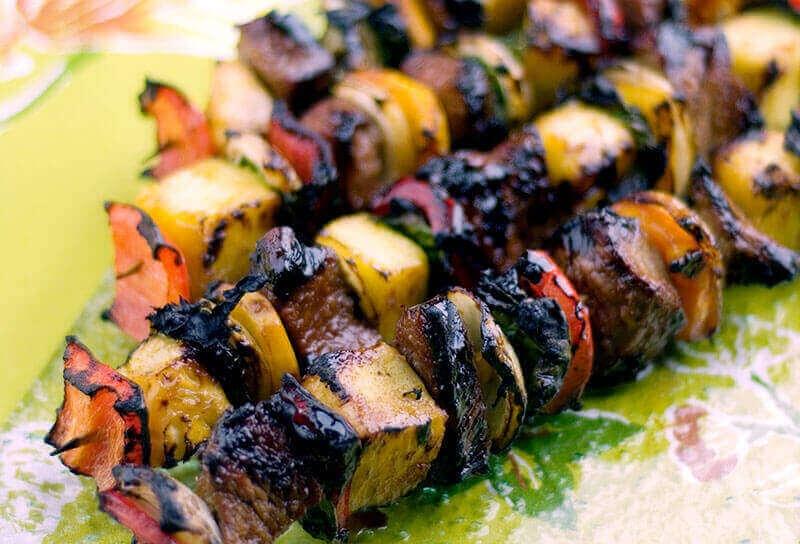 ---
Ingredients
3 cups freshly-squeezed orange juice
1-1/2 cups light brown sugar
3/4 cup toasted sesame oil
3/4 cup soy sauce
2 tablespoons freshly-grated garlic (use a microplane)
4 tablespoons freshly-grated ginger (use a ginger grater or microplane)
1-1/2 pounds tri-tip beef, cubed
1 red pepper, cut into squares
1 orange pepper, cut into squares
1/2 pound cubed fresh pineapple
1 sweet onion, cut into squares
24 large fresh spinach leaves
6 skewers, about 8 inches long
Directions
In a medium saucepan, reduce the 3 cups of orange juice down to 1 cup over medium heat. Whisk 1 cup of light brown sugar together with the sesame oil, soy sauce, garlic, ginger and orange juice reduction.
Combine all but 1/2 cup of the teriyaki with the tri-tip in a zip-lock freezer bag. Remove as much air as possible, seal and refrigerate for about 2 hours. Stir the remaining 1/2 cup light brown sugar into the reserved 1/2 cup teriyaki. Cover and refrigerate to use later for basting.
When it is time to prepare for cooking, get the grill ready for direct grilling at about 400°F.
Assemble the kebabs, alternating between beef, bell peppers, sweet onion, pineapple and folded spinach leaves.
Grill the kebabs over direct heat for a few minutes per side, brushing with the reserved teriyaki glaze each time you turn the kebabs. Total cooking time should be about 10 minutes for beef cooked to medium doneness. Be careful not to slop too much teriyaki glaze onto the grill while you baste because the sugars will burn quickly.
Serve hot.