Recipes
Onion Marmalade Barbecue Sauce
Layers of flavor are the key to a great barbecue sauce. This one is rich and chunky, with a base of sweet, caramelized onions. A hit of red wine vinegar balances the sweetness, and barley malt syrup is the ingredient that will keep them guessing. This sauce is worth the time investment. If you're making barbecue ribs, stirring the sauce gives you something to do with your free hand (the one without the beer in it) while the ribs are smoking.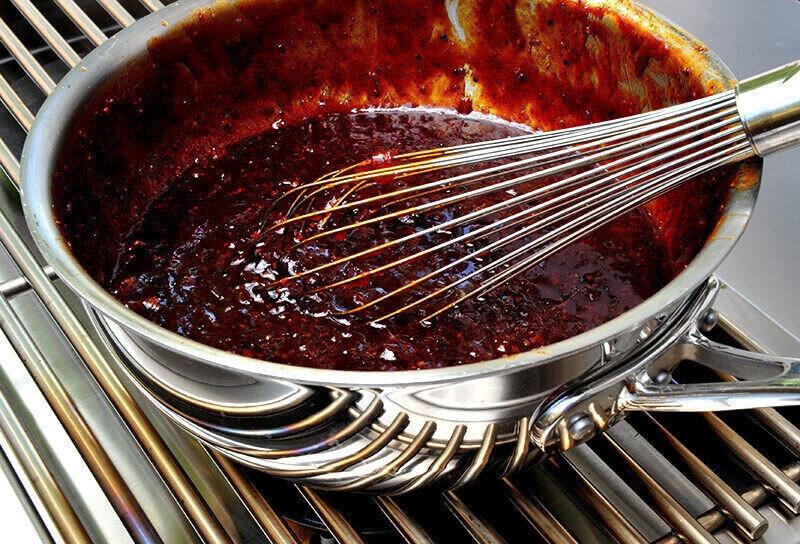 ---
Ingredients
2 tablespoons unsalted butter
1 large red onion, diced
4 cloves garlic, minced
1 tablespoon smoked paprika
1/2 teaspoon ground cayenne pepper
1/4 teaspoon ground cloves
1/2 cup barley malt syrup (check near the honey at your organic market)
1/4 cup red wine vinegar
1/2 cup ketchup
1/4 cup whole grain mustard
3/4 cup light brown sugar
2 teaspoons kosher salt
1/2 teaspoon ground black pepper
Directions
Melt the butter over medium heat in a large saucepan. Add the onions and garlic, turning occasionally. After 5 minutes, turn the heat up to high. Stir frequently until the onions are browned, completely soft, and reduced to 1/4 their original volume.
Stir in the paprika, cayenne and cloves to distribute evenly. Whisk in all the remaining ingredients except for the pepper. Bring to a simmer, stirring occasionally. Maintain at a simmer for as little as 1 hour or as much as 2 hours, stirring as often as needed to prevent burning on the bottom of the pan.
Stir in the pepper and test for taste. Add more salt or brown sugar as desired. The finished sauce should be thick and chunky with a deep burgundy color. When cool, it will become quite sticky. Keep warm until time for use. Leftover sauce can be refrigerated in an air-tight container for 1 week.