Recipes
Nicoise Tuna Burgers
The traditional Nicoise Salad gets transformed. Here we take it off the plate and put it on a bun. This recipe mixes tuna, potatoes, olives and capers into patties. The potatoes become wonderfully crispy on the outside of the burger and the olives and capers are briny little surprises inside every bite. The grilled green beans give a delightful crunch.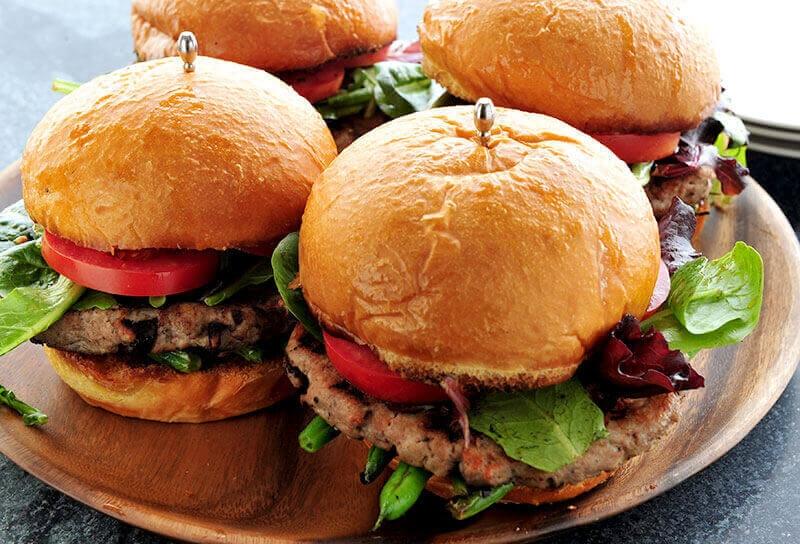 ---
Ingredients
2 small new potatoes, halved
1 pound fresh tuna steak, cut up, cold
1 tablespoon salt-cured capers
About 20 nicoise-style olives
1 teaspoon anchovy paste
Extra virgin olive oil
1 tablespoon plus 1 teaspoon freshly squeezed lemon juice
About 24 fresh green beans, trimmed
Sea salt
4 soft sandwich rolls, sliced
1 teaspoon balsamic vinegar
Mixed baby greens
Tomato slices
Directions
Place the potatoes in a small pan. Fill with enough water to cover the potatoes. Cover the pan and bring to a simmer over medium heat. Continue cooking until the potatoes are al dente, about 7 minutes more. Drain and let the potatoes cool.
Prepare the grill for direct grilling over a medium-hot fire. If you don't have a Kalamazoo laser-cut vegetable grilling surface, preheat a grill basket or perforated grilling pan for the green beans.
Cut up the cooled potatoes. Place them in a food processor along with the cold tuna pieces, capers, olives, anchovy paste and 1 tablespoon olive oil. Pulse-process until the texture is such that the mixture can be formed into patties but is still chunky. Form into 4 equal patties and lightly brush the outsides with olive oil.
Whisk together 1 tablespoon olive oil and 1 tablespoon lemon juice in a medium-sized bowl. Toss the green beans in the bowl to coat. Season the beans with salt.
Brush the insides of the sandwich rolls with a generous amount of olive oil and season with salt.
Whisk together 1 tablespoon olive oil, 1 teaspoon lemon juice and 1 teaspoon balsamic vinegar in a medium-sized bowl. Reserve.
Lightly toast the sandwich rolls in a cooler area of the grill. Grill the nicoise tuna burger patties over the hottest part of the fire. Flip them over when halfway done and add the green beans to the grill, discarding the liquid. Grill the green beans until nicely marked but still crisp. Remove everything from the grill when done.
Divide the grilled green beans evenly onto the bottom halves of the rolls. Place the tuna burgers on top of the beans. Re-whisk the lemon vinaigrette and dress enough mixed baby greens for the four burgers. Top the burgers with the dressed greens and tomato slices. Enjoy!