Recipes
Mirepoix Gravy for Smoke-Grilled Turkey
Drippings are the one thing that often aren't utilized after roasting a turkey. Grill-roasted turkeys don't typically yield a lot of drippings - usually not enough for a gravy base. But the drippings are incredibly flavorful and a real shame to waste. So we've come up with a gravy recipe that uses a classic aromatic vegetable base, a browned roux and those rich, flavorful smoked turkey drippings. If your turkey doesn't yield enough juice, don't worry – this recipe is still incredibly delicious sans drippings. Enjoy!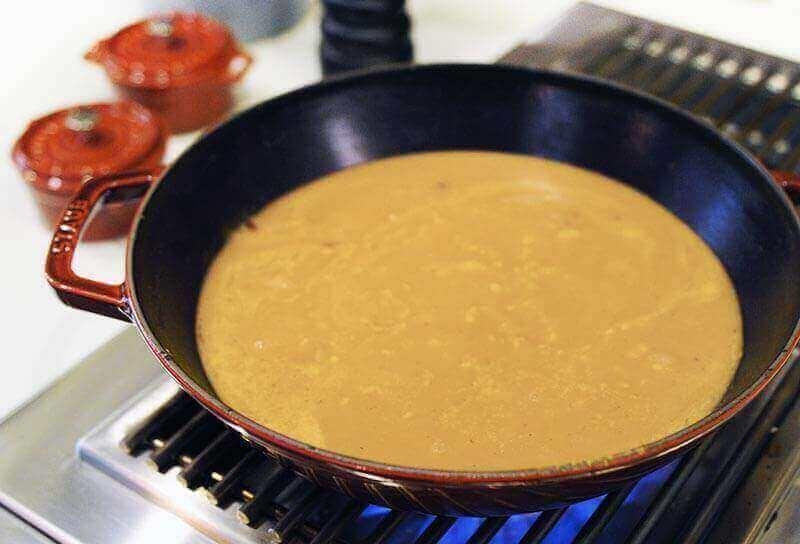 ---
Ingredients
1 cup diced sweet onion
1/2 cup diced celery
1/2 cup diced carrots
1 tablespoon plus 3 tablespoons butter
6 tablespoons all-purpose flour
32 ounces low sodium chicken broth
1 teaspoon kosher salt
Turkey drippings (optional)
Directions
Sauté the diced vegetables in a large pan with 1 tablespoon butter until softened and slightly browned. At the same time, melt the remaining butter in a separate pan over medium heat. Add the flour, and stir slowly until you have a medium-brown roux. Remove from heat and reserve.
Combine the sautéed vegetables and chicken broth in a blender or food processor and process until the texture is perfectly smooth. Return this to the sauté pan over medium heat. Add any turkey drippings you may have collected from the grill or carving board. Add the roux and bring to a boil to thicken while stirring slowly. Season with salt to taste. Remove from heat and transfer to a gravy vessel.