Recipes
Mint Goat Cheese Pesto Rolled Leg of Lamb
The flavor of this pesto is bright and herbaceous, and a perfect pairing for roasted lamb. It also works well as a condiment with a variety of grilled meats.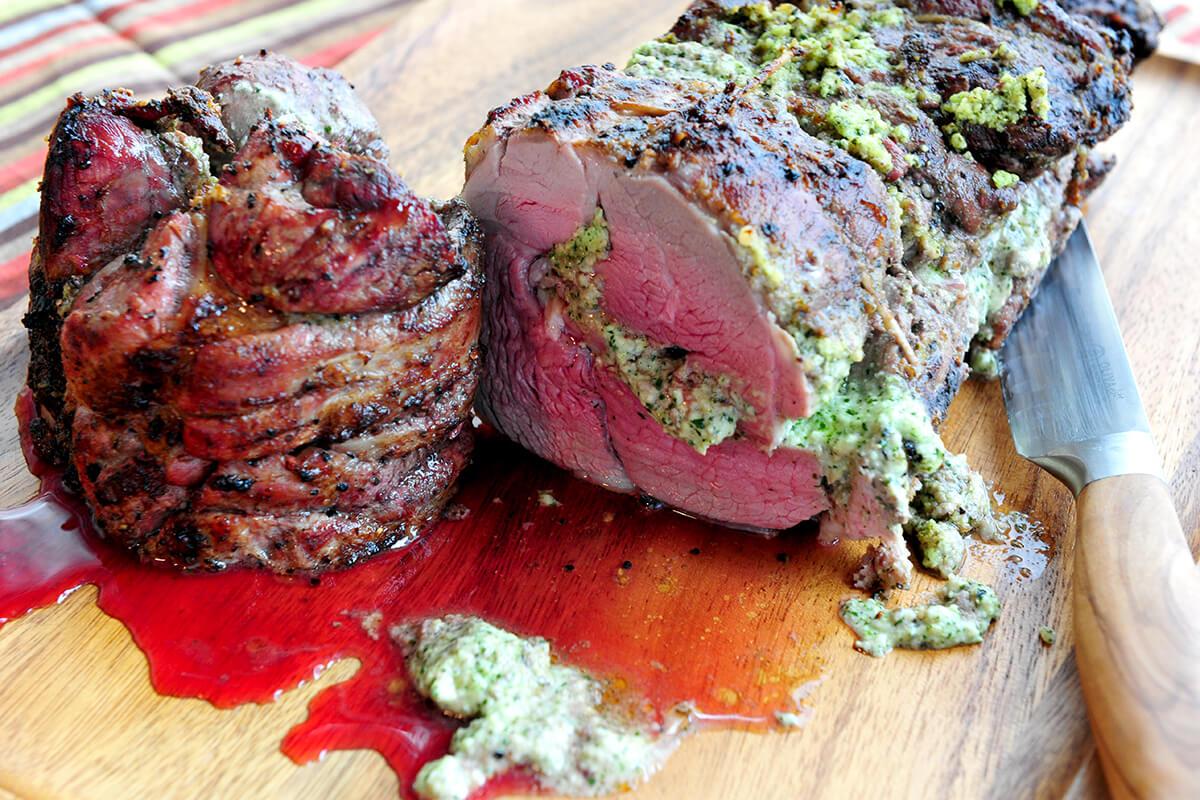 ---
Ingredients
For the Mint Goat Cheese Pesto
1/2 cup loosely-packed mint leaves
1/2 cup loosely-packed flat parsley leaves
1/2 cup panko bread crumbs
2 whole cloves garlic, peeled
Zest of 1 lemon, finely grated
3 tablespoons extra virgin olive oil
2 tablespoons walnut oil
1 teaspoon fine sea salt
1/2 teaspoon coarse black pepper
8 ounces fresh goat cheese (chèvre)
For the roast
5 pound boneless leg of lamb
Extra virgin olive oil
Fine sea salt
Freshly-ground black pepper
Butcher's string
Directions
Prepare the pesto by combining all ingredients except the goat cheese in the food processor and pulsing until it reaches a fine texture. Add the goat cheese and process until smooth.
Prepare the grill for indirect grilling at 450°F. If desired, prepare wood chips for smoking (recommended).
Trim excess fat from the outside of the boned leg of lamb. Open the leg flat (with the outside of the meat facing down) to evaluate the consistency of the thickness (or lack thereof). For easier rolling, reduce the thickness of larger areas by butterflying them from the center outward. Slice from the center, being careful to stop about 1 inch from the outer edge, then lay out the sections. Then, place a zip-top freezer bag over the top of the meat and pound it to a consistent thickness. We really like this reversible meat tenderizer to get the job done.
Spread the prepared Mint Goat Cheese Pesto onto the meat, keeping roughly 1 inch from the edges. Roll the meat tightly from the narrow end toward the wide end, and then tie securely with butcher's string every couple of inches. Brush the outside of the meat with olive oil and season liberally with salt and freshly-cracked black pepper.
Place the rolled lamb directly on the grill grate in the indirect zone, and roast with the hood closed (most of the time) until an instant-read meat thermometer inserted into the center reads 130°F for medium rare. That should require about 1 hour and 15 minutes roasting time. We suggest turning and rotating the roast every 15 minutes.
Remove the lamb from the grill and let rest on a carving board for 10 minutes before removing the butcher's string and slicing to serve.