Recipes
Mexican Street Corn Salad (Esquites)
Esquites are a real treat south of the border and are very popular among street vendors. They have the same flavor profile as its popular sibling, elotes, which are incredibly delicious but can be a bit messy to eat. This recipe is much more eater-friendly, with corn kernels served off-the-cob. We elevated this dish by fire-roasting the corn on the Shokunin Kamado.
---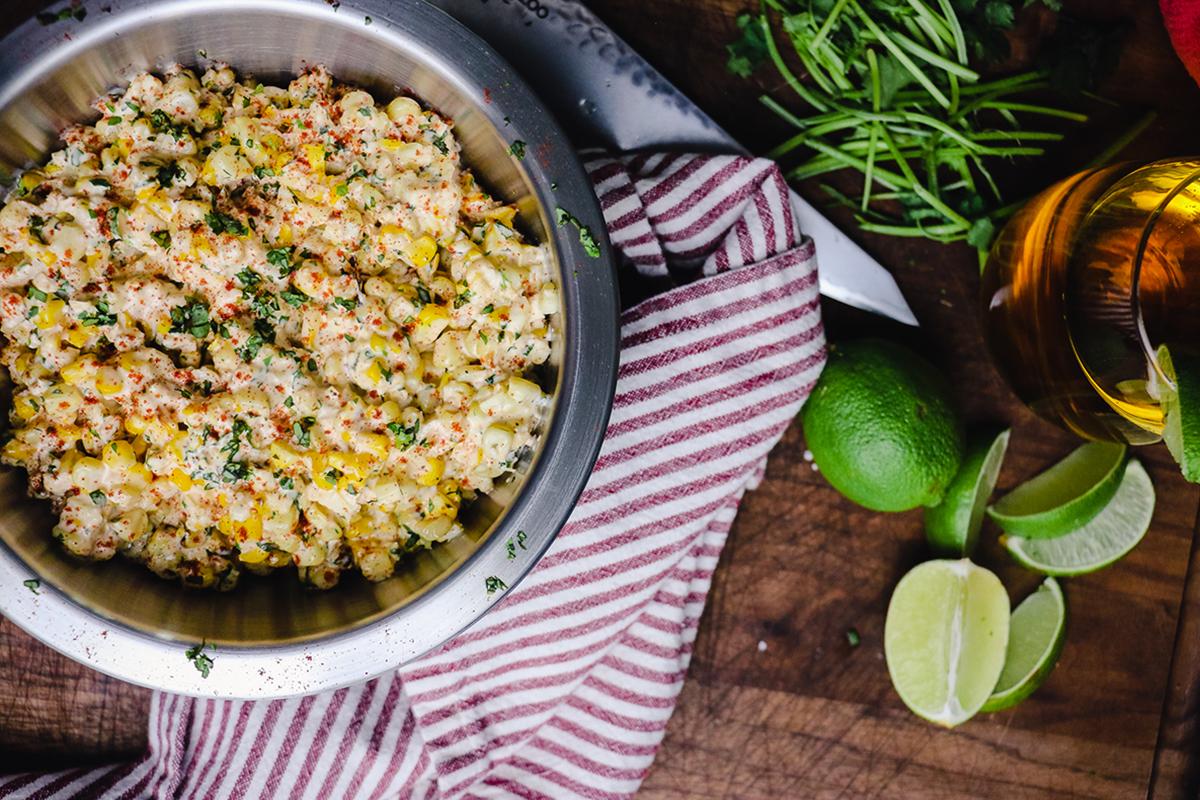 ---
Ingredients
DRESSING INGREDIENTS
½ cup cotija cheese, crumbled
¼ cup mayonnaise
¼ cup sour cream
½ cup cilantro, finely chopped
2 tablespoons fresh lime juice
1 teaspoon chili lime seasoning (We like this Trader Joe's blend)
1 teaspoon smoked paprika
½ teaspoon ground cayenne pepper
Directions
Start by setting the Shokunin Kamado up for envelop roasting, and setting the temperature to 400°F. Place corn in the center of the cooking grates and close the lid. Allow the corn to roast in the husk for 20 minutes.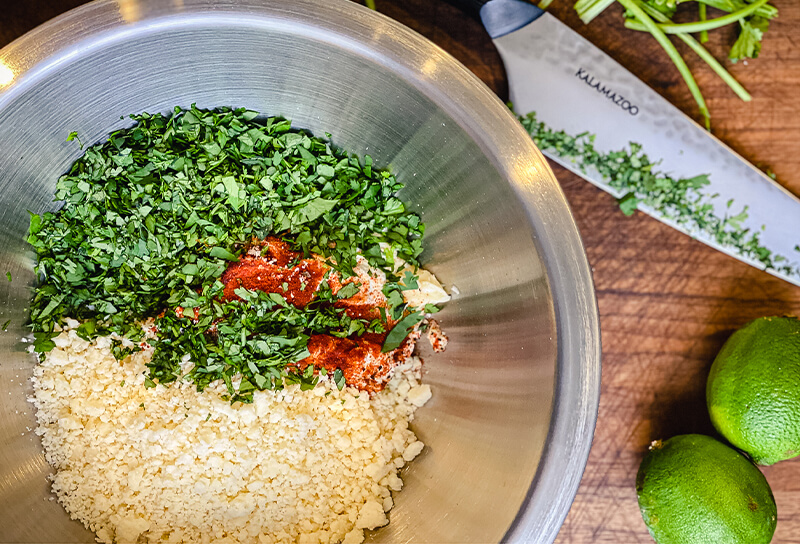 While the corn is roasting, whisk together all the dressing ingredients (setting aside a pinch of cilantro and smoked paprika) in a small mixing bowl and set aside. After 20 minutes, pull corn off the grill and adjust the exhaust vents slightly more open to achieve 450°F. Pull the husks back on the corn and lightly coat the kernels with olive oil. Leaving the husks attached to the corn makes it easier to cut the kernels off later.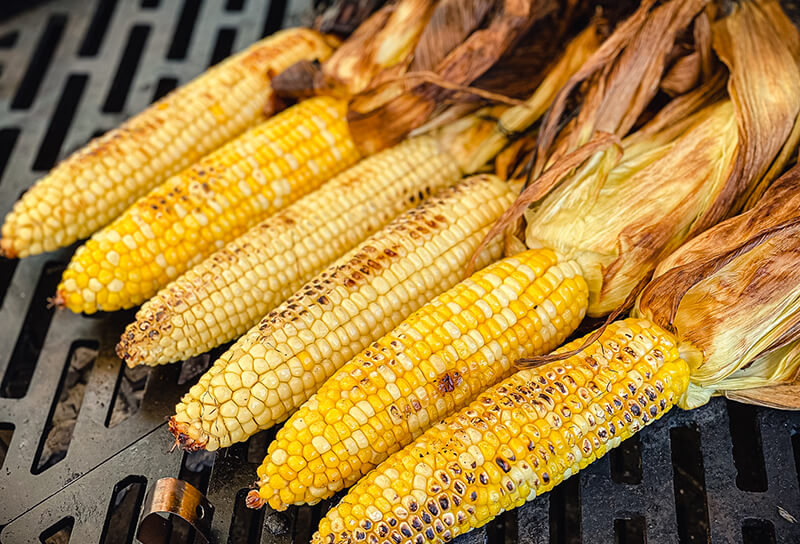 When the grill has reached 450°F, place corn back on the cooking grate, close the lid and allow corn to roast for 10 minutes or until some of the kernels get a nice roasted char on them. Remove the corn from the grill and, using a sharp knife, slice the kernels off the cob.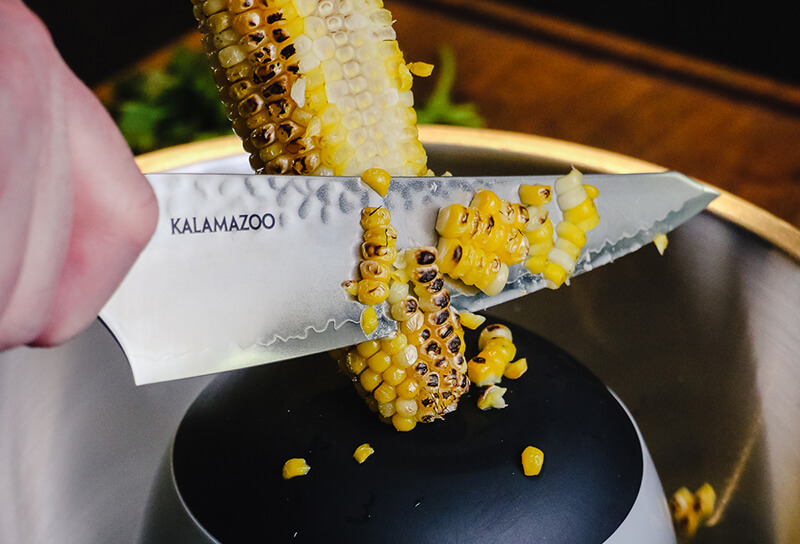 Tip: Placing a small plastic bowl upside down inside a larger bowl makes a perfect setting for removing corn from the cob and into a bowl without making a mess. Simply rest the tip of the corn cob on the inverted bowl and slice the corn off the cob.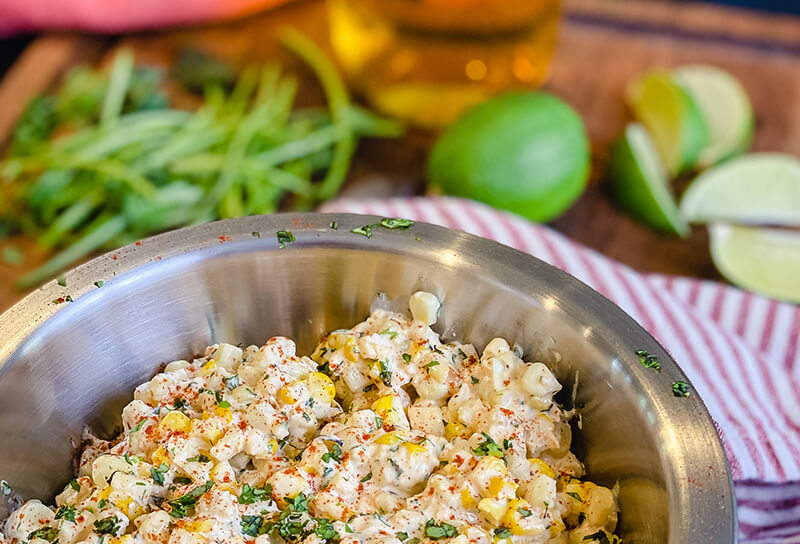 Mix the warm corn into the dressing and top with a dash of smoked paprika, and fresh chopped cilantro.