Recipes
Maple Planked Salmon with Maple Soy Glaze
A glaze that combines a soy sauce reduction with maple syrup delivers the perfect combination of sweet and savory. Great for salmon or chicken and a nice finish for grill-roasted sweet potato fries.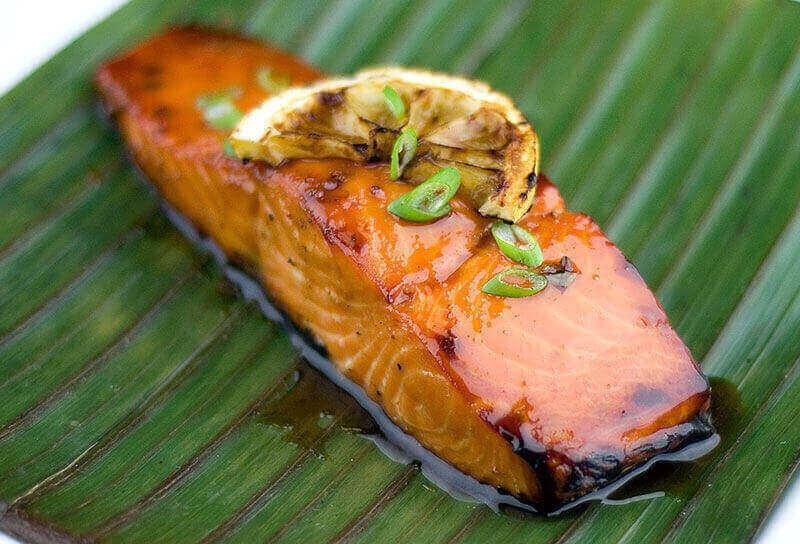 ---
Ingredients
For the Maple Soy Glaze
1/4 cup soy sauce
2 tablespoons light brown sugar
1/2 cup maple syrup
For the Planked Salmon
Maple plank(s), soaked at least 1 hour
2 pounds salmon fillet, skin removed, divided into 4 equal portions
Extra virgin olive oil
Sea salt
2 slices lemon, 1/4-inch thick
1 tablespoon sliced green onions
Directions
Preheat the grill with all the main burners on high. Once you are ready to put the planks on the grill, you will turn off the burners under the planks and proceed with indirect cooking at about 400°F.
While the grill is heating, reduce the soy sauce in an 8-inch skillet over medium heat until thickened, about 10 minutes. Stir frequently and be very careful not to burn the sauce. Stir in the brown sugar until dissolved.
Return to a simmer and stir in the maple syrup.
Return to a simmer and then remove from the heat.
Lightly brush the salmon with olive oil and sprinkle with salt on both sides. Place on the plank(s) with the skinned side down.
Brush the tops with the maple soy glaze and transfer the planks to the grill. Turn off the burners under the planks and cook with the hood closed at 400°F. Brush the salmon with additional glaze after about 10 minutes.
Keeping the hood closed as much as possible, grill the lemon slices in the direct cooking zone for about 2 minutes per side until they are nicely marked.
The total cooking time for the salmon should be about 20 minutes. The salmon is cooked when it flakes freely under gentle pressure.
Remove the salmon from the grill and serve, either on the planks or off, garnishing each portion with 1/2 slice of grilled lemon and a sprinkle of green onion slices.