Recipes
Lobster Tacos with Roasted Squash and Poblano Cream Sauce
These tacos are decadent and delicious. Grilled lobster tail is wrapped in corn tortillas with bacon, queso fresco, shaved shallots and an addictive sauce. We prefer to grill our lobster over an oak fire for an even more amazing flavor.
Serves 6 (yields 12 tacos)
---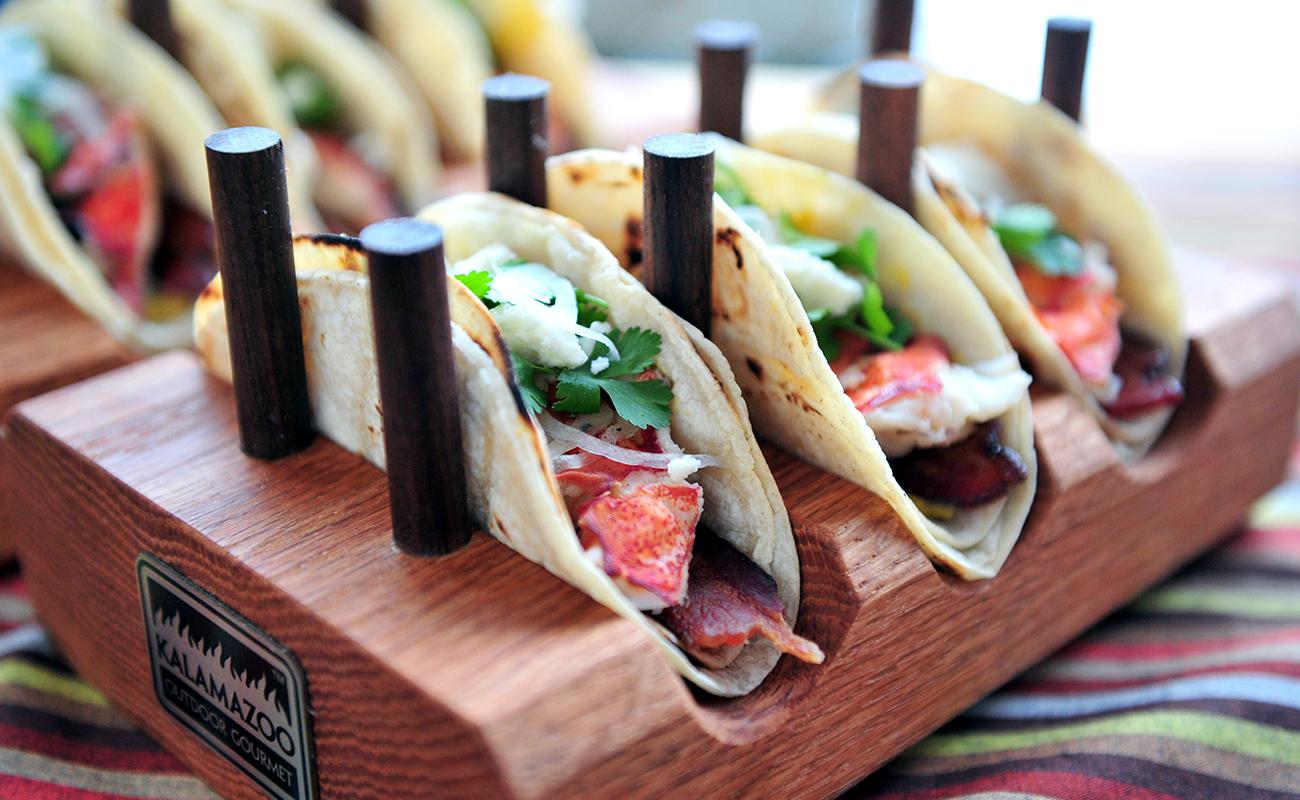 ---
Ingredients
For the Sauce
1 butternut squash, peeled, seeded and cut into 1 inch cubes
Extra virgin olive oil
Fine sea salt
1 poblano chile, stemmed, seeded and cut into quarters
½ cup crema Mexicana
For the Tacos
6 lobster tails, 7 to 8 ounces each
Extra virgin olive oil
Fine sea salt
24 white corn tortillas
12 slices bacon, cooked until crisp
6 ounces queso fresco, crumbled
1 shallot, peeled and sliced as thinly as possible (we used a mandolin set to 0.5mm thickness)
Fresh cilantro leaves
Directions
To make the sauce, toss the squash in olive oil to coat. Spread the pieces on a sheet pan and season liberally with salt. Roast for 45 minutes at 450°F. You can either do this in the indirect zone of the grill or in an oven. After 25 minutes of roasting time, add the poblano to the pan. Once the veggies have finished roasting, combine the squash, poblano and crema in a blender or food processor. Process until smooth. Season to taste with salt. Reserve.
Prepare the grill for direct grilling at 600°F, preferably over a wood or charcoal fire.
Split the lobster tails in half lengthwise. We find it easiest to use kitchen shears to first cut through the shell down the top and bottom, and then finish the job with a chef's knife. Brush the meat with olive oil and season liberally with salt.
Grill the lobster tails directly over the fire, starting with the cut side down. Flip to the shell side after about 4 minutes or as soon as the meat releases from the grill grates. Continue grilling for about 5 more minutes, or until the lobster is fully cooked. Watch for the shells to turn bright red, and move the lobster as needed to get most (if not all) of each shell turning color. When cooked, it should be easy to remove the meat from the shell.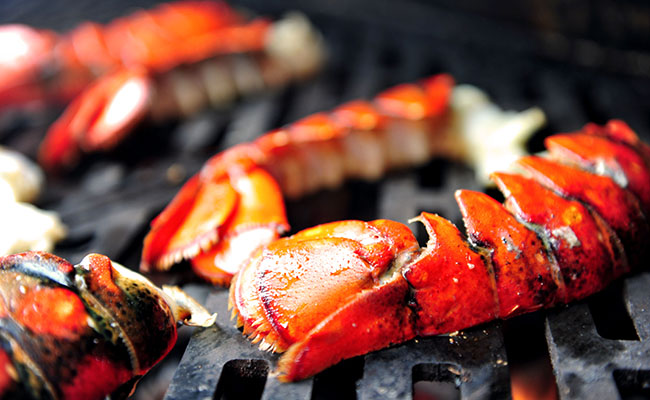 Quickly grill each corn tortilla on one side.
To assemble each taco, stack a pair of tortillas (two tortillas are used for each taco). Spoon in a little sauce. Add a slice of bacon, then half a lobster tail. Top with a little cheese, some shaved shallot and several cilantro leaves.