Recipes
Loaded Baked Potato Salad
Usually baking potatoes on the grill requires some planning to make sure they are hot and ready at the same time as the rest of the meal. We've made it easier on you because this salad can be prepared ahead of time. Generous amounts of bacon, cheese, green onions and sour cream are used to create that awesome loaded baked potato flavor.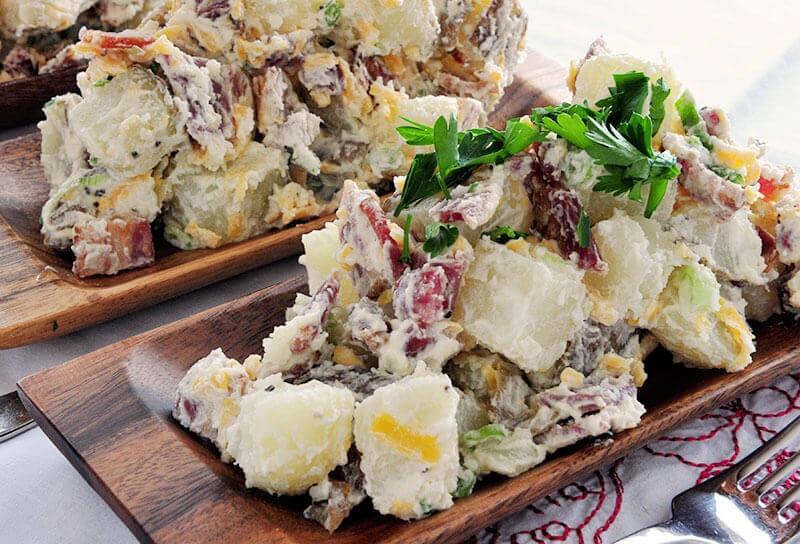 ---
Ingredients
4 russet potatoes, cleaned and cut into thirds (I recommend keeping the skins on)
1 pound bacon (I prefer thick-cut, apple wood-smoked bacon for this recipe), cooked crisp and cut up
Fine sea salt
3 green onions, sliced, green and light-green portions only
4 ounces sharp cheddar cheese, shredded
1 cup sour cream
2 tablespoons butter, melted
1/4 teaspoon smoked paprika powder
1 tablespoon bacon drippings at room temperature (optional, see note)
Freshly-ground black pepper
Flat leaf parsley for garnish (optional)
Directions
Place the potatoes in a large pot with enough water to cover. Bring to a boil, uncovered, over high heat. Once boiling, cook an additional 12 to 15 minutes or until the potatoes are tender but not falling apart. Drain well and cool to room temperature.
Cut the potatoes into 1-inch cubes and place them in a large bowl. Season with 1 teaspoon fine sea salt. Add the green onions, bacon and cheese.
Whisk together the sour cream, butter, paprika and bacon drippings in a separate bowl. Fold into the potatoes, being careful not to break up the potatoes too much.
Cover and refrigerate for 1 to 2 hours before serving. When ready to serve, season with black pepper and additional salt if needed. Garnish with parsley if desired.
Note: I normally cook bacon on the grill. However, when I want to reserve drippings for salad dressing and other uses, I cook it in the oven following Alton Brown's instructions. Place a wire rack on a rimmed sheet pan. Place the bacon strips in a single layer on the rack and transfer the pan to the middle rack of a cool oven. Set the oven to 400ºF. Check the bacon when the oven reaches temperature. Continue cooking until crisp, checking every 2 to 3 minutes. Be careful not to spill hot bacon drippings when removing the pan from the oven.