Recipes
Loaded Baked Potato Pizza
If you love potato skins, that classic pub appetizer, then you'll love this pizza. Potatoes are smashed and roasted until crisp on the grill, then joined by bacon and cheese on a hearty whole wheat ale pizza dough. Given the time involved in making the smash-roasted potatoes, we recommend doubling or tripling the recipe and making a few of these pizzas.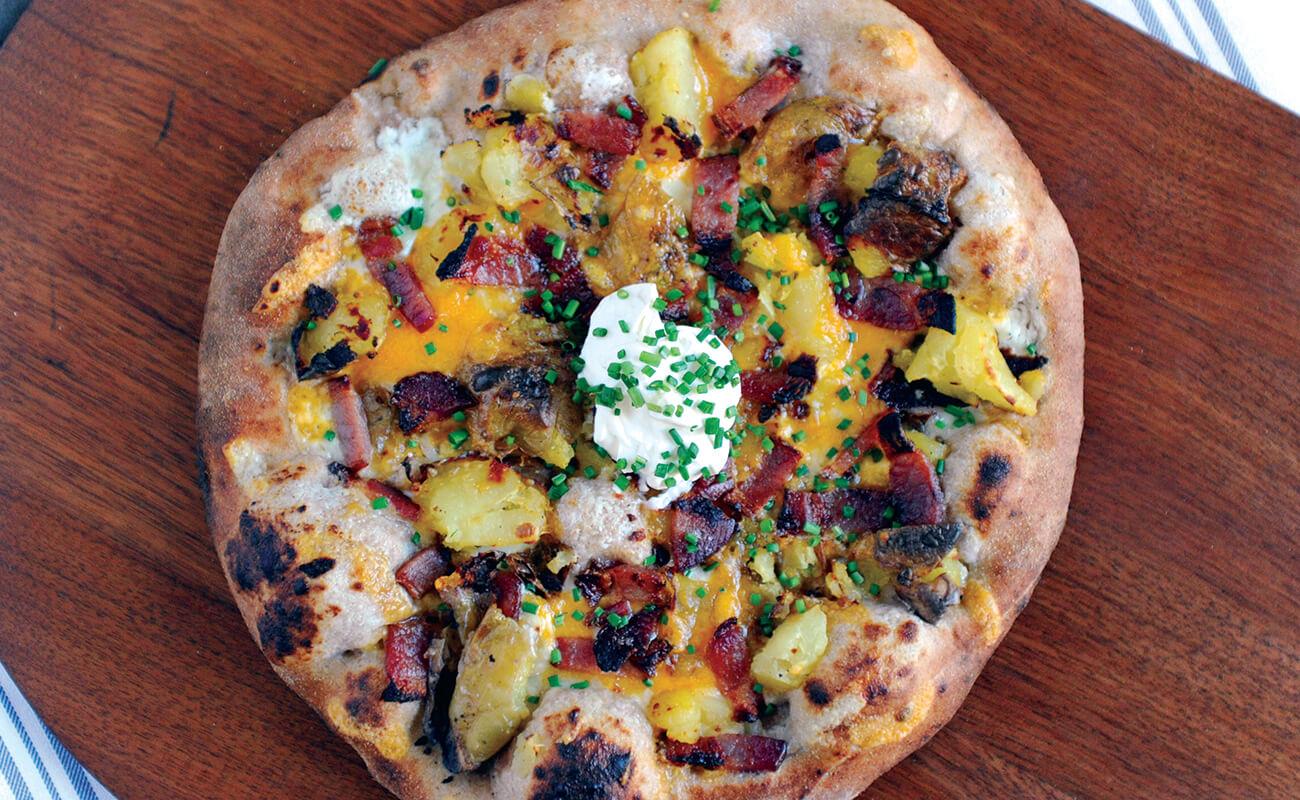 ---
Ingredients
1 10-ounce Two Hearted Ale Whole Wheat Pizza Dough ball
1 medium-sized Yukon Gold potato
Extra virgin olive oil
Fine sea salt
5 tablespoons sour cream
1 cup grated Manchego
1/4 cup shredded sharp cheddar
2 slices thick-cut bacon, fully cooked and roughly chopped
1 heaping teaspoon chives, chopped
Directions
First, cook the potato using the same basic method as our Smash-roasted Red Potatoes recipe. We suggest making extra potatoes to enjoy later as leftovers.
Prepare the grill for indirect grilling at 450° to 500°F.
Place the potato in a large pot. Fill with water to cover the potato by 1 inch. Bring to a boil over medium-high heat, then boil for 20 minutes more. Remove from heat and drain.
Place the potato on a heavy, grill-safe baking sheet. We like to use a Silpat mat placed inside the sheet pan. Smash the potato to flatten and break it open. Drizzle with olive oil and season generously with salt.
Place the pan in the indirect grilling zone, and close the hood. Roast in the indirect zone until browned and crispy at the edges, about 45 minutes total time. Rotate the pan halfway through cooking. Remove from the grill and reserve.
Working on a lightly-floured surface (we use Caputo '00 flour), form the dough ball into a 10-inch pizza. Spread 3 tablespoons of sour cream evenly onto the dough. Add the Manchego and cheddar. Distribute the bacon and potato, breaking the potato into smaller pieces.
Place the pizza on a pizza peel and then transfer to the oven or grill. Cook until the cheese is melted and the crust is nicely browned.
Cooking in a hot pizza oven will take less than 3 minutes. Cooking in a conventional oven at 500⁰F or on a grill will require closer to 10 minutes.
Remove from the oven. Top with 2 tablespoons of sour cream and the chopped chives before serving.