Recipes
Liberty Burgers
These burgers were inspired by the classic cheese steak sandwiches of Philadelphia – home of the Liberty Bell. Start with Choice ground beef and top with provolone cheese and grilled peppers and onions. Served on a toasted Italian roll, these burgers will put everyone in a good mood.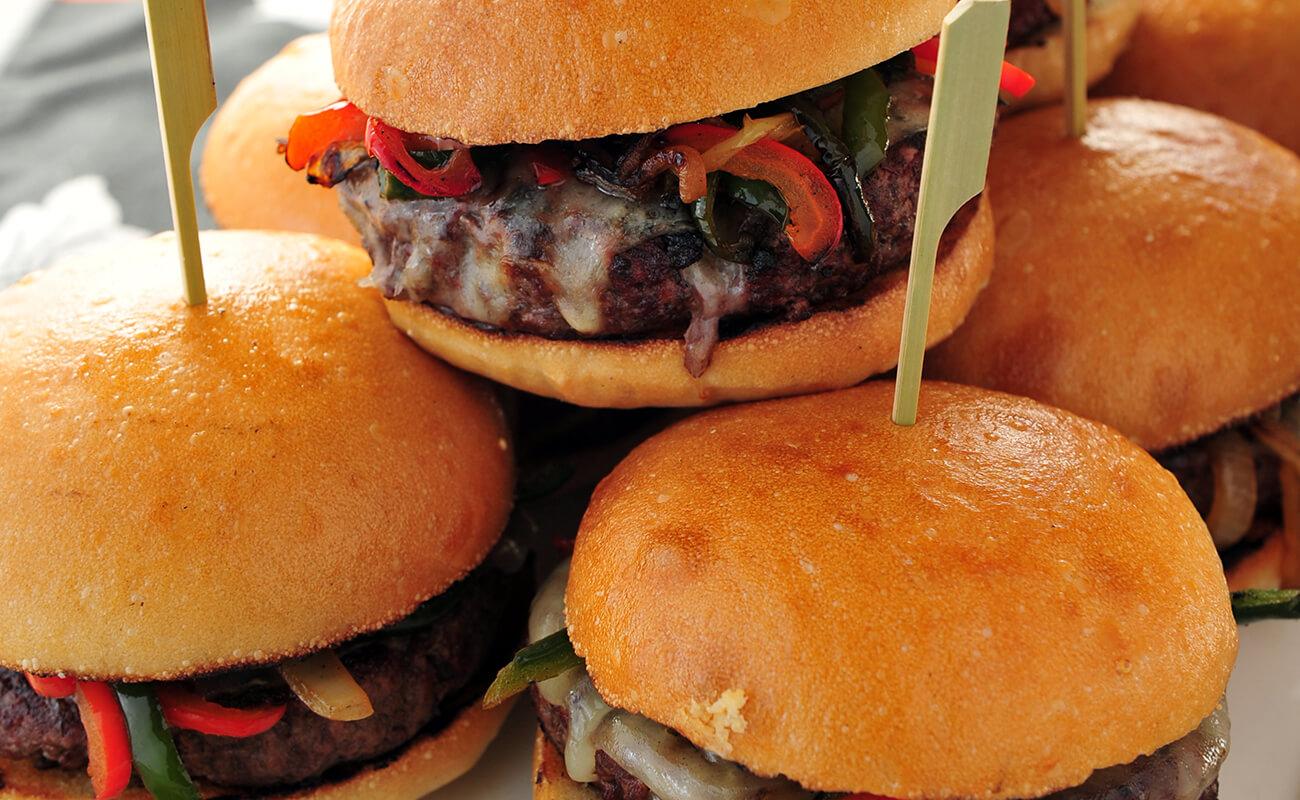 ---
Ingredients
4 pounds Choice ground round, 85% lean, formed into 8 hamburger patties
Extra virgin olive oil
Finely-ground sea salt
8 Italian rolls, sized appropriately for the burgers, split
1 red bell pepper, thinly sliced
1 poblano pepper, thinly sliced
1 banana pepper, thinly sliced
1 Vidalia onion, thinly sliced
8 slices provolone cheese
Directions
Despite the poblano and banana peppers, these burgers are very mild. If, however, you are concerned about the heat, you can substitute a green bell pepper for the poblano.
Prepare the grill for direct grilling with two temperature zones; one medium-low and one medium-high. Preheat a 12-inch cast iron skillet over the hottest part of the fire.
Brush the hamburger patties all over with olive oil and liberally season with sea salt.
Lightly brush the insides of the rolls with olive oil and lightly season with sea salt.
Toss the peppers and onion with about 1 tablespoon olive oil.
Grill the burgers over the hot zone of the fire, turning once, about 4 minutes per side.
Toast the rolls over the cooler zone of the fire during the second half of the burger cooking.
Transfer the cooked burgers to a platter, top each with a slice of cheese, and cover with foil to rest and to melt the cheese. Remove the toasted rolls from the fire and reserve. Cook the peppers and onions in the hot skillet, tossing frequently until nicely browned, about five minutes. Top each burger with peppers and onions, transfer to the rolls and serve.