Recipes
Jicama Cucumber Salad
Kalamazoo Outdoor Gourmet is a proud sponsor of Steven Raichlen's Planet Barbecue. This recipe was made on episode 103 (Grilling from Across the Pond).
Jicama is a crisp, turnip-shaped, tan-skinned, white-fleshed root vegetable that tastes like a cross between an apple and a potato. And that's just by itself! There's nothing like it for adding a refreshing crunch to a salsa or salad. Thus, jicama often turns up at barbecues on both sides of New Mexico's southern border. This salad may take people by surprise, but it's guaranteed to have them coming back for seconds. Try it paired with Pearl District Spiessbraten.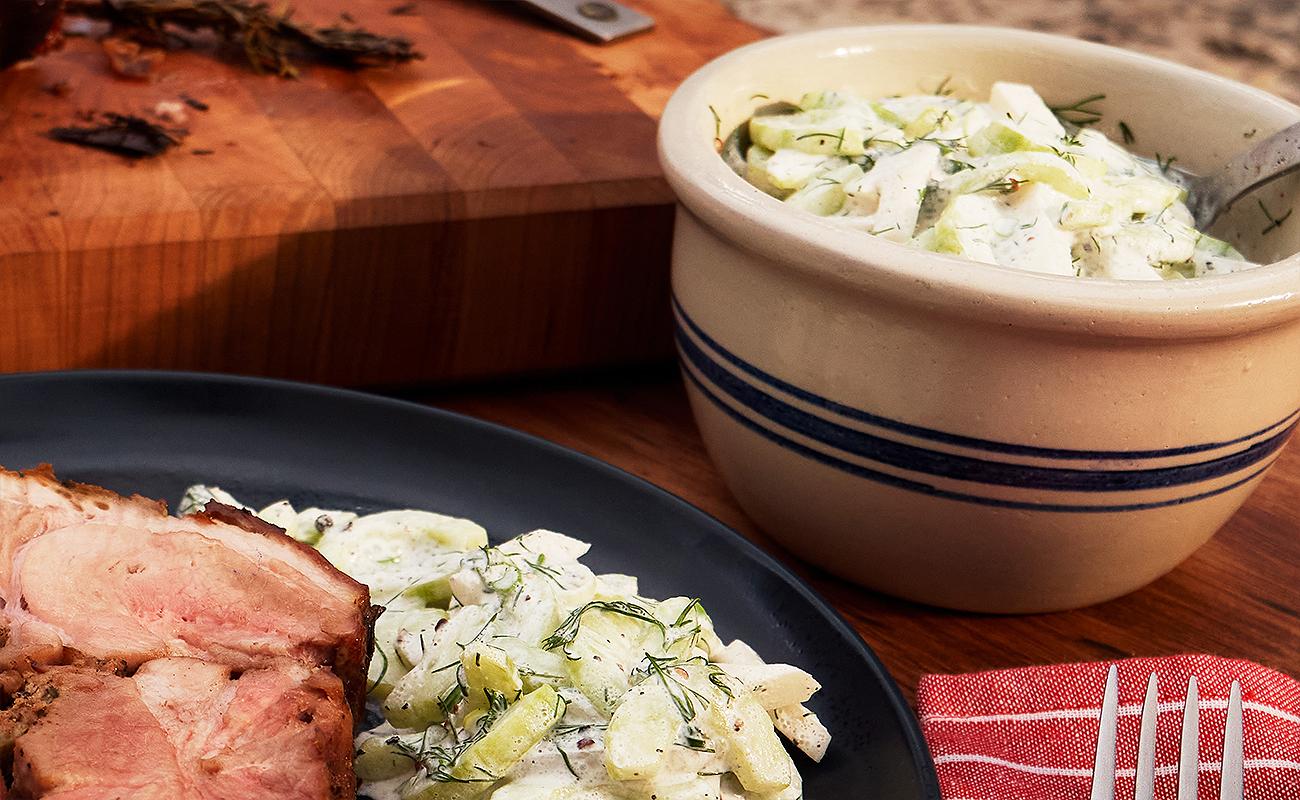 ---
Ingredients
1 medium jicama (about 1 pound), peeled
2 cucumbers, peeled
3/4 cup sour cream
2 tablespoons extra virgin olive oil
2 tablespoons white wine vinegar or other white vinegar, or to taste
1 scallion, trimmed and thinly sliced (save 1 tablespoon scallion greens for garnish)
1/4 cup chopped fresh dill
Sea salt and freshly ground black pepper
Directions
Cut the jicama into 1/4 inch sticks. Cut the cucumbers in half lengthwise and scrape out and discard the seeds. Thinly slice the cucumbers crosswise.
Make the dressing: Place the sour cream in a mixing bowl or salad bowl. Whisk in the olive oil, vinegar, scallion, dill, and salt and pepper to taste.
Just before serving, stir the jicama and cucumber into the dressing. Sprinkle the scallion greens on top and serve.
Barbecue and grilling expert, Steven Raichlen featured the Kalamazoo Gaucho Wood-Fire Grill on episode 103 of his TV show Planet Barbecue. Watch as he prepares Pearl District Spiessbraten with a Jicama Cucumber Salad on the side.