Recipes
Honey-Caramelized Peaches with Vanilla Mascarpone Ice Cream
You can thank Chef Alton Brown for inspiring this dish with his Honey Plums, but the Vanilla Mascarpone Ice Cream may just be the real star here. The cold ice cream plays off the warm peaches in the same way the richness of the cheese is a counterpoint to the brightness of the fruit flavors.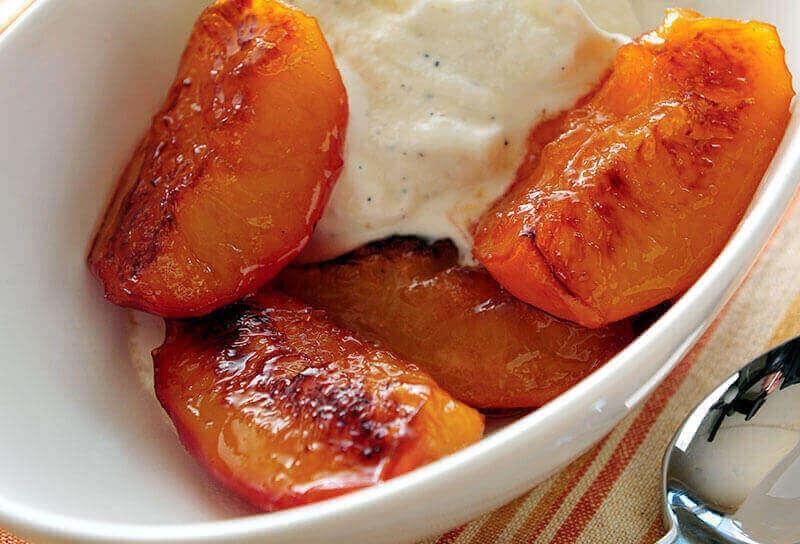 ---
Ingredients
1 cup mascarpone cheese (8 ounces)
2 cups whole milk
1/2 cup sugar
Freshly-grated nutmeg (about 1/4 of an average-size seed)
Seeds scraped from one vanilla bean
About 1/2 cup wildflower honey
6 peaches, quartered, pits removed
Directions
Combine the first 5 ingredients in a medium bowl. Whisk vigorously until the cheese is incorporated and the sugar dissolved.
Add the mixture to your ice cream maker and follow the manufacturer's instructions to make the ice cream. When finished, chill in the freezer until it hardens sufficiently. This may require a couple of hours, so make your ice cream in advance.
Cover the bottom of a 14-inch skillet with honey. Warm the honey over medium heat and add the peaches with one of the cut sides down.
Raise the heat to medium-high and cook the peaches for 5 to 7 minutes without turning them. The cooked side should be slightly browned when you turn them. Turn each slice onto the other cut side and continue cooking for about another 4 minutes.
Serve the warm peaches with the cold ice cream.