Recipes
Hickory-planked Barbecue Corn
Inspired by Elote, but with a barbecue twist. The planks perfume the corn with the scent of wood and look great roasting in the pizza oven with that beautiful open flame. The caramelized cheese and golden corn are easy to achieve with the intense, radiant heat.
---
Ingredients
¼ cup prepared mayonnaise
1 teaspoon Basic Barbecue Rub
4 ears corn, shucked and cleaned
3 ounces Parmigiano Reggiano, freshly grated using a microplane
4 hickory planks (or other wood of your choice)
1 lime, cut in eighths
½ sheet-size wire cooling rack (18x13)
Directions
Fire up the pizza oven with both burners on HIGH to preheat for at least 20 minutes. (See note below for making these on the grill.)
Mix together the mayonnaise and barbecue rub.
Cut off and discard both ends of each ear of corn. Cut each ear of corn into 3 equal segments.
Spread the freshly grated parmesan on a ¼ sheet pan.
Working with one corn segment at a time, spread a thin layer of the seasoned mayonnaise onto the corn using a soft silicone spatula. Gently roll the corn segment through the Parmigiano to coat. Do not press down into the Parmigiano. Let gravity provide the pressure. Stand the prepared corn segment on its end on a wood plank. Repeat until all of the corn has been prepared. If you are using "standard" size pre-packaged wood grilling planks, you should be able to fit 3 corn segments per plank.
Place the planks and corn on the wire cooling rack. With this size plank, you can fit 2 on the rack at a time. Add 2 lime wedges to each plank and carefully slide the wire rack with planks into the preheated oven. Use care to keep the planks in the front 2/3rds of the cooking deck (away from the back flame).
Roast for 8 minutes, turning as follows: after 2 minutes, rotate the wire rack 180°; after 2 minutes more, use protective tongs and gloves to remove the rack from the oven and rotate each board 180° so that the inside edges now become the outside edges; return to the oven and roast 2 minutes, then rotate the wire rack 180° one last time.
Remove from the oven and repeat the process for the remaining planks. Serve warm on the planks (placing the planks on heat-resistant platters).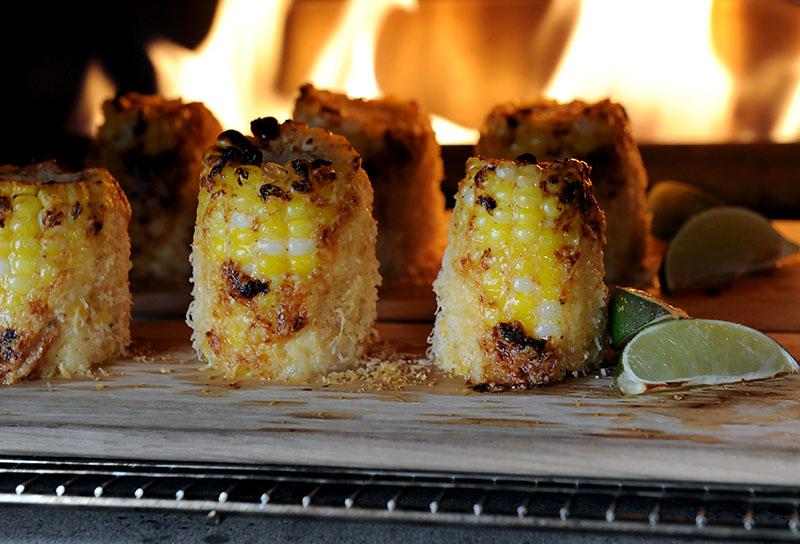 Note: To make this planked corn on the grill, prepare the grill for indirect cooking with an air temperature of 375° to 400°F. Lightly grill one side of each plank directly over the hot fire until marked by the heat. Place the corn on the grilled side of the planks, then put the planks in the indirect zone. Close the grill lid and roast the corn. Cooking time will be longer than in the pizza oven. Roast, rotating frequently, until the cheese is browned and the corn is golden, about 20 minutes.