Recipes
Guinness Chipotle Hot Wings
I don't know which ingredient makes these wings more unique: the Guinness, the mandarin orange juice or the maple syrup glaze. The combination, however, melds perfectly with the smoky chipotle chiles.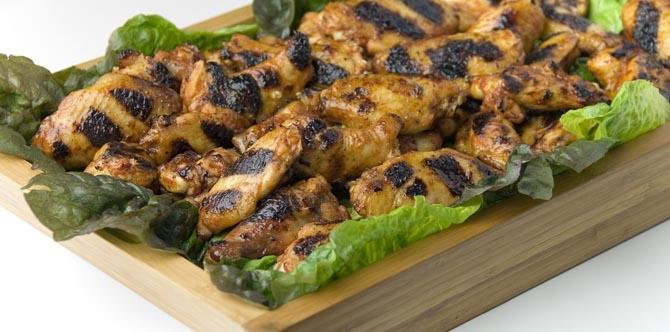 ---
Ingredients
22 ounces canned chipotle chiles in spicy adobe sauce
1 1/2 cup freshly-squeezed juice from Royal Mandarin Oranges (they're in season, but if you can't find them, use Clementines), roughly 6-8 oranges
4 tablespoons kosher salt or sea salt
2 12-ounce bottles Guinness or other stout beer
4 pounds chicken "winglets" (first and second wing portions), rinsed
3/4 cup maple syrup (about 6 ounces)
Directions
18-24 hours before you plan to grill, prepare the marinade. Combine the chipotle chiles, adobo sauce, orange juice and salt in a blender. Blend until smooth. Transfer the liquid to a large bowl and stir in the beer. Submerge the chicken wings, cover tightly and refrigerate until it is time to light the grill.
Prepare the grill for direct grilling at about 300 to 350 degrees (medium to low heat). For a charcoal fire, the coals should be totally ashed over. It is best to have a "cool zone" or indirect zone available to move the wings to as needed. The marinade will cause the surface of the wings to quickly burn if they are grilled at too high a temperature.Add the wings to the grill and discard the marinade.
Grill for about 20 minutes until the chicken is fully cooked, turning and moving occasionally to avoid burning. If cooking over a charcoal fire, allow the fire to cool as you go. If gas, turn the burners to low for the last 5 minutes. During the last 5 minutes of cooking, baste the wings with maple syrup. If the wings are not fully cooked, but they have been basted for more than a few minutes, move the wings to the indirect cooking zone, close the hood and let them cook through.
Serve immediately with plenty of napkins.