Recipes
Guacamole Three Ways: Simple, Herby or Luxurious
Guacamole Tres Estilos
I gave up looking for "the one best guacamole" years ago. Because "the best" is only the best for a particular moment, a particular set of ingredients, a particular group of people and the role it plays in their eating or snacking. Which is why I've written this recipe in stages. I want you to have an easy-to-follow guide for making the perfect guacamole for a multitude of uses, a variety of occasions. So it starts with the simplest perfect mash of avocado, garlic and salt (I know many cooks in Mexico who think that adding anything to avocados but those two ingredients is a start on the road to ruin). This simple guacamole is a delicious condiment to spread on sandwiches or grilled meat tacos that are served with salsa. Adding cilantro and lime to the basic, garlicky guacamole gives it the pizzazz to stand alone—as a topping for crispy tacos or tostadas, even as a dip. Green chile, white onion and red tomato—do I need to point out that those are the colors of Mexico's flag?—create a chest-thumping, look-at-me guacamole that's perfect with a bowl of chips at a party where the music's turned up and there are lots of laughs.
Serves 1 1/4 to 1 1/2 cups
---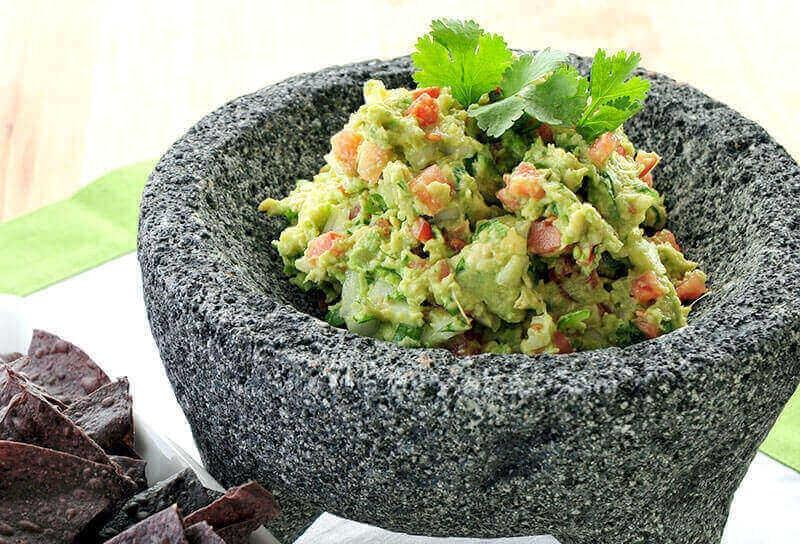 ---
Ingredients
2 medium ripe avocados
1 clove garlic, peeled and finely chopped or crushed through a garlic press
Salt
To make it herby, add
2 tablespoons chopped cilantro
About 1 tablespoon fresh lime juice
To make it luxurious, also add
Fresh hot green chile to taste (I like 1 serrano or ½ to 1 jalapeño), finely chopped
1/4 small white onion, finely chopped
1/2 medium tomato, chopped into ¼-inch dice
Directions
Cut the avocados in half, running your knife around the pit from stem to blossom end and back up again. Twist the halves in opposite directions to free the pits and pull the halves apart. Dislodge the pits, then scoop out the avocado flesh into a medium bowl.
Mash the avocado with a large fork or potato masher. Stir in the garlic and about ½ teaspoon salt, plus any other sets of ingredients you've chosen. If your list includes the white onion, rinse it first under cold water, then shake well to rid it of excess moisture, before adding to the avocado. (This reduces the risk of having onion flavor overwhelm the guacamole.) Taste and season with additional salt if appropriate. If not using immediately, cover with plastic wrap pressed directly on the surface of the guacamole and refrigerate—preferably not more than a few hours.
A Riff on "Stage Two" Guacamole: Replace the lime juice with (or, for extra-tangy guacamole, add along with the lime juice) about ½ cup homemade or bottled tomatillo salsa—perfect as a topping or a dip, especially when you need to make the guacamole ahead (the additional acid in the tomatillos helps keep the guacamole greener for longer).
Avocado Sauce: For a tangy sauce to drizzle over raw (or blanched) vegetables or on tacos, tostadas and the like, follow the above variation, increasing the tomatillo salsa to 1 cup; puree everything in a blender. If the sauce is too thick to drizzle, thin with additional tomatillo salsa. A little heavy cream, sour cream or crème fraiche can be added for wonderful richness.
My 25th Wedding Anniversary Breakfast: I resurrected this forgotten recipe that I had created the year Deann and I got married. Shred two medium-large (10 to 12 ounces total) red-skin potatoes; squeeze out excess moisture between your hands. Heat a very large (12-inch) skillet over medium and lightly coat with oil. Form 4 small potato pancakes, sprinkle with salt and press flat with a spatula. When browned on one side, flip and brown the other side. Smear with the simplest guacamole, top each with a poached egg and sprinkle with salt, black pepper and cilantro.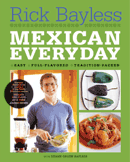 Recipe from Mexican Everyday by Rick Bayless with Deann Groen Bayless.