Recipes
Grilled Soft Shell Crabs with Corn and Leek Relish
Soft shell crabs are in season in August, and they are great off the grill. The shells become bright red and crispy over the fire. The relish of grilled corn and leeks, with a hint of champagne vinegar, makes a perfect pairing.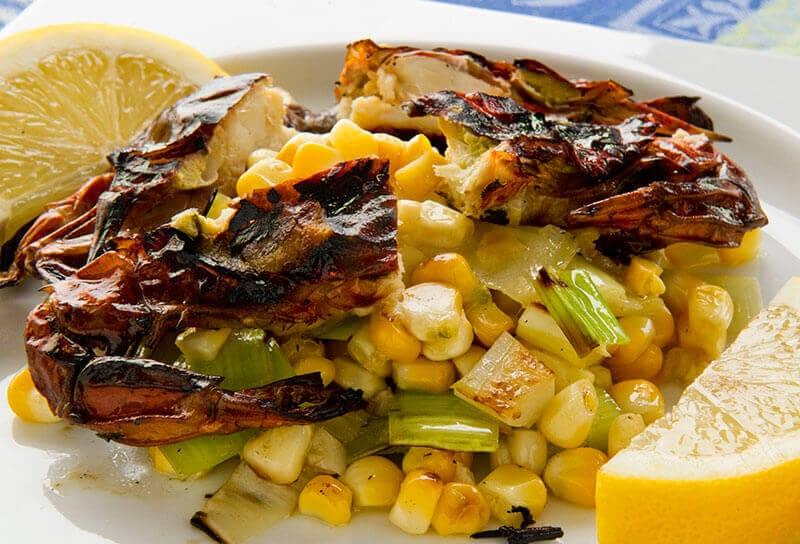 ---
Ingredients
1 leek
6 soft shell crabs, cleaned
Extra virgin olive oil
Fine sea salt
2 ears corn, shucked
2 cloves garlic (left in the papery skins)
1 serrano chile
1 teaspoon Champagne vinegar
1 tablespoon lemon juice
Lemon wedges for garnish

Directions
Prepare the grill for direct grilling over medium-high heat (about 450°F). A wood fire is preferred.
Remove the base and the top greens of the leek and discard, reserving the white and light green portion only. Cut in half lengthwise.
Brush the leek and the crabs with olive oil and season with salt.
Place the leek on the grill, cut-side-down, and the garlic alongside it. These go on first because they will take the longest to cook. Turn the garlic occasionally until browned and softened, about 6 minutes. Grill the leek until browned, turning once after about 5 minutes and grilling for 1 to 2 minutes more.
Add the corn and the chile to the grill a couple of minutes after starting the leek and garlic. Turn both occasionally until browned. About 4 minutes.
Remove everything from the grill and devote your full attention to grilling the crabs. Place them directly over the fire and grill, turning once, until the shells are crispy and marked and the tops have turned bright red. About 6 minutes total. Remove from the grill.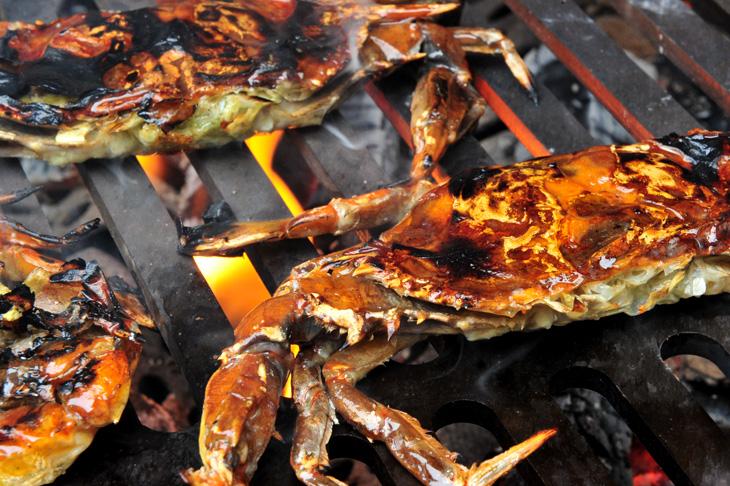 To make the relish, cut the corn kernels from the cobs, cut up the leek and chop the Serrano. Squeeze the roasted garlic out of the papery skins and into a medium bowl. Add the vinegar and lemon juice plus 2 tablespoons extra virgin olive oil. Whisk together into an emulsion. Add the corn, leek and Serrano to the bowl and toss to combine.
Serve the crabs, whole or quartered, on top of the corn relish.